If you're learning about SEO and how to climb the Google ladder with search engine-friendly articles, you've probably heard of keyword competitiveness.
In this guide, we've shared everything you should know about keyword competitiveness, including what it is, how it's measured, why it's worth knowing about, and how to rank for the keywords you want.
Key takeaways:
Keyword competitiveness, or keyword difficulty, is a measure of how easy or difficult it is to rank on Google for a certain keyword.
Keyword difficulty is largely measured by the quality and number of backlinks to the websites currently ranking for the keyword in question.
Understanding keyword difficulty will help you to target the most suitable keywords to efficiently rank on Google.
Keyword difficulty: a definition
So, what is keyword difficulty?
All of the millions of existing keywords today have a keyword difficulty score. This metric is used to measure the ease or complexity of ranking for the given keyword based on how this keyword is currently being used by top-ranking websites on Google.
Essentially, a keyword that's difficult to rank for will require a lot more time, effort, and patience on your end before you achieve desirable results for that keyword in your web copy.
On the other end, a keyword with a low keyword difficulty is easy to rank for, likely because it's not as common or as widely used by your top-ranking competitors.
The idea is to use a combination of keywords - both those that are difficult to rank for and those that are easier to rank for - in an effective search engine growth strategy.
Who defines keyword difficulty?
So, we know that keywords have their own keyword difficulty scores - but who defines these scores?
A number of platforms offering keyword research functionalities and online ranking data, including Semrush, Ahrefs, and Moz, provide information on keyword difficulty.
The exact functionality of these tools varies, but generally, to find the difficulty of a given keyword, you'd use the tool's keyword analysis to bring up data about a keyword, including its difficulty score.
Or, if you wanted to review a website, you could use the domain analysis function to learn which keywords the website is ranking for. On this table, you'd see a list of keywords, with a column for keyword difficulty that displays a number for each keyword.
The keyword difficulty number (or score) can be compared to the tool's own keyword difficulty scale. You can use this scale to determine whether a keyword is easy, moderately difficult, difficult, or very difficult to rank for.
Moz was the first to introduce keyword difficulty scores in its keyword research tool, so let's use Moz as an example of how keyword difficulty is scored.
When you search on Moz's Keyword Explorer, you'll see a list of keywords with a score of 1-100. A keyword with a lower score is easier to rank for than a keyword with a score that's closer to 100.
Moz's exact formula for calculating keyword difficulty isn't disclosed, but we do know that factors including domain authority (DA), page authority (PA), and projected clickthrough rates (CTR) are all taken into account.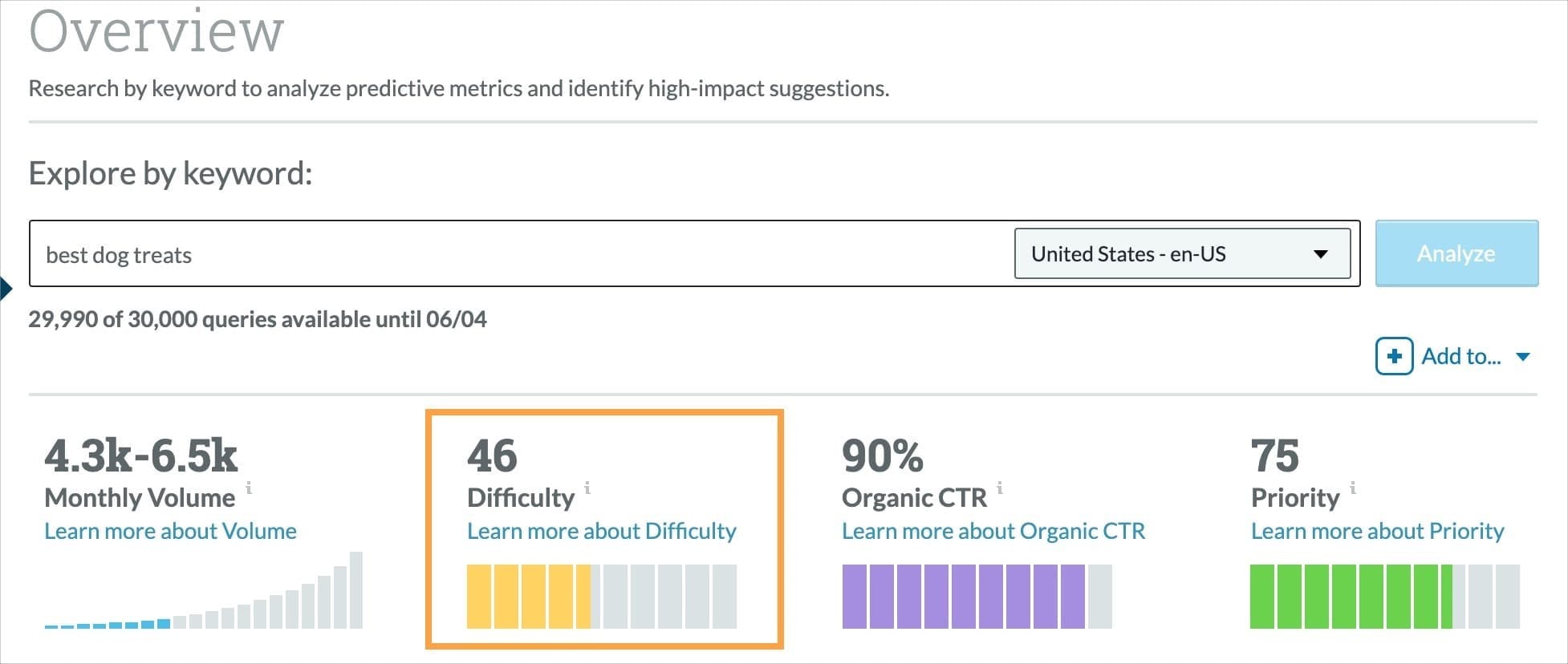 How is keyword difficulty calculated?
Keyword difficulty is calculated by using automated tools that measure the quality and number of backlinks to the top-ranking sites on search engines like Google for a specific keyword.
This calculation may also assess the competitiveness of these web pages based on their backlink strength.
The good news is that you should never have to calculate keyword difficulty yourself (which, even for a handful of keywords, would take forever). You can always use a tool to do the job for you, or hire a professional SEO copywriter who will use one of these tools to assist them in the content creation process.
What factors affect keyword difficulty?
There are a number of factors that affect the difficulty of a particular keyword. These include:
Domain authority - The website's likelihood to rank on search engines.
Page authority - The ranking strength of the specific webpage containing the target keywords, rather than the entire website.
Content quality - The quality of the content that includes the target keyword.
Clickthrough rates - The percentage of readers visiting the web page from organic search or an advertisement.
Semrush, a popular SEO tool, has recently updated its keyword difficulty metric based on a study of more than 120,000 keywords and their SERP activity.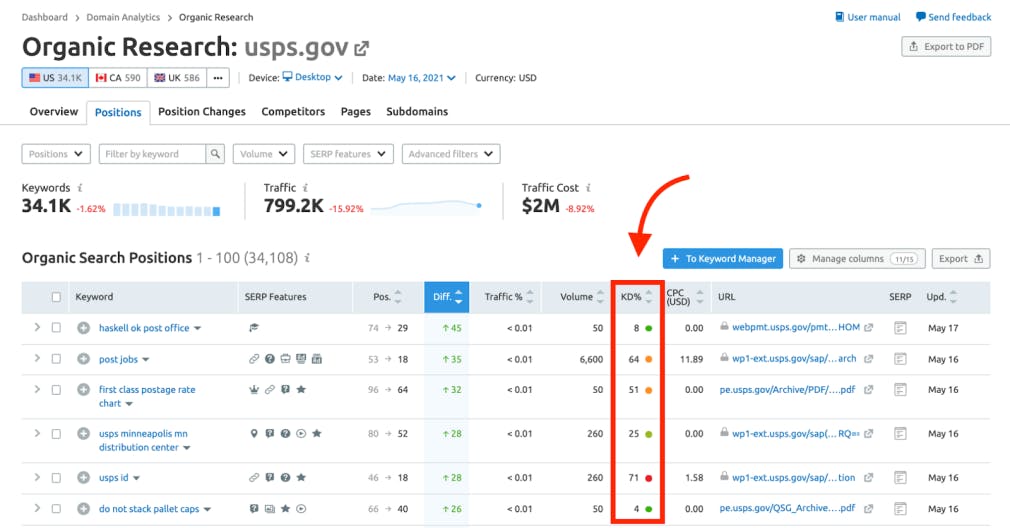 To calculate the formula for keyword difficulty, the Semrush platform uses three steps:
Step 1: SERP analysis
The first step is to analyze the SERP and identify three median values for web pages on page 1 of the search results.
These values are:
The number of referring domains that direct to these ranking web pages
The pages' authority scores
The ratio of follow-to-no-follow links that direct to the ranking pages
Step 2. Analysis of keyword parameters
The next step is to analyze the keyword parameters, considering the median values mentioned above.
The value that has the biggest effect on the keyword difficulty score is the number of referring domains to the website, followed by the pages' authority scores, then search volume, and finally, the ratio of follow-to-no-follow links that direct to the ranking pages.
These aren't the only parameters that are taken into account. Other values that affect keyword difficulty in the Semrush platform include site links, featured snippets, and branded keywords, while values that have a negative impact on keyword difficulty are no SERP features and keywords with high word counts.
Step 3. Keyword difficulty calculations
The final step is the keyword difficulty calculation. Semrush's regional database, and the number of websites in the given country of search, will adjust the formula used.
Why is keyword difficulty important?
Keyword difficulty is important because it helps you to make smart choices in your SEO strategy.
Your goal is most likely to climb the SERPs and bring more readers to your website - and being aware of the ranking potential of particular keywords in your niche can help you in this regard.
Along with factors like monthly search volume, keyword difficulty score can help you to choose the best keywords for your website - and the keywords that you should avoid.
It's important to understand, however, that in most cases, you shouldn't use a keyword difficulty score as a metric that decides whether or not you target a keyword.
Don't disregard a particular keyword just because it's one of the most difficult to rank for. Instead, you should simply use keyword difficulty to make sure you're including plenty of keywords that are the easiest to rank for quickly.
Using keywords with a low keyword difficulty score will help you to climb the SERPs in the short term. But it's important to still use those difficult-to-rank keywords to compete with your major competition and to achieve your long-term goal of appearing near the top of the SERPs across the board.
Is keyword difficulty accurate?
Keyword difficulty isn't an exact metric and is based on only a few parameters, so there's some debate over the accuracy of KD scores.
What adds to the confusion is that different tools have different methods of measuring keyword difficulty, so there's no single scale that's used across all tools. Some tools are more comprehensive than others. For the best analysis, we recommend Moz or Semrush.
How to rank for target keywords
So, with your knowledge of keyword difficulty and competitiveness in mind, how can you rank for target keywords?
Conduct keyword research
The obvious place to start is with keyword research. Choose one of the most popular keyword research tools and search for the keywords that you should be including in your articles.
In the keyword research process, you'll learn of each keyword's difficulty, so you can work out the best ranking strategy based on a combined use of easy-ranking and competitive keywords.
There's no exact formula for keyword use (i.e. "X competitive keywords for every easy-ranking keyword"). However, it's considered effective to use a combination of keywords with high, low, and mid-ranking keyword difficulty scores, which gives your article the best chance of performing well in the SERPs.
Optimize your site structure
Keyword research shouldn't only be limited to article creation. You can also use keyword research to build an optimized website navigational framework (or site structure) that makes it clear to search engines and users what your site is about.
Make sure to structure your site around targeted keyword themes or categories, which should help Google to understand how your website is relevant to users making specific search queries.
You can use your new keyword difficulty knowledge to incorporate a variety of general and specific keywords with varying difficulty scores. Be sure to use refined keywords that are specific to each of your web pages.
Create new content and optimize existing content
There's a lot more that goes into ranking for keywords than simply the keywords themselves.
Your articles should also be optimized. You can achieve this by ensuring they're the ideal length and contain the optimal number of images, headings, and paragraphs.
Trying to figure this out yourself would take hours, so we recommend using automated tools like SurferSEO, which work out everything for you and put all the important data into one handy brief.
There are a few other things to keep in mind when optimizing your content:
Ensure that your articles provide genuine value to the reader. Google is now prioritizing valuable content, which means quality is more important than ever.
Avoid keyword stuffing, which looks spammy and is a confirmed negative ranking factor.
Check your content to make sure it's plagiarism-free. Plagiarised content will also sabotage your ranking efforts.
Make sure to add tags and descriptions to your images so that Google can understand their content.
Producing perfectly optimized articles that support your mission to rank for your target keywords takes a lot of time and effort. You can't simply write a blog post, publish it on your website, and hope for the best.
Many businesses choose to outsource their content requirements to a professional copywriter to save the hassle and time involved in managing this aspect of their SEO strategy.
Final Word
Understanding keyword ranking difficulty will help you to enhance your SEO strategy and increase your chances of achieving those top spots on Google search results. However, strategizing your keyword use is only one of the many things you should be doing to level with your competitors on the SERPs.
If you're happy to put in the work and create perfectly optimized articles and web content, and you're prepared for a certain amount of trial and error, then you should see results after a few months of implementing the right strategies.
But you might prefer to hand at least some of your responsibilities over to a professional content writing service. This will allow you to free up your time and put your trust in an expert who can conduct keyword research on your behalf and use the best tools to ensure your web content is rankable as it can be.
Keyword competitiveness FAQ
What does keyword difficulty mean for SEO?
Keyword difficulty helps you to understand how to quickly rank on search engines with easily-rankable keywords. A low keyword difficulty score tells you that a keyword has a very low ranking difficulty and gives you the best chance of ranking on the SERPs without backlinks. A high keyword difficulty score means that the keyword faces the strongest competition, and a new website is far less likely to rank for this keyword. So, as far as SEO is concerned, knowing a keyword's difficulty can help you to establish the best strategy - especially for quick, short-term ranking.
How do you identify a competitive keyword?
The best way to identify a competitive keyword is to use a keyword research tool, since these tools each have their own way of measuring keyword difficulty. Keyword difficulty scores may vary from one tool to the next, but generally, the higher the score out of 100, the more difficult it is to rank for - so it's more competitive.
What does a high keyword difficulty mean?
A high keyword difficulty means that the given keyword is harder to rank on the first page of the SERPs because it has the highest competition from ranking websites. That doesn't mean you should avoid using keywords with a high difficulty score altogether, but if you want better chances of ranking in the short term, you should primarily focus on using keywords with a low difficulty score.
How much keyword difficulty is good?
It's best to focus on keywords with a difficulty score of 30 to 70 out of 100, or a percentage of 30% to 70%. These keywords are considered moderately difficult to rank for on the SERPs, meaning that they don't have incredibly high competition but they're also being searched enough by users to be worth trying to rank for.