Scale your content creation with Strategically AI
Write and install 100s of articles with just a few clicks
Get five free articles
35 content marketing examples for instant inspiration
Just a few years ago, mainstream media was the only way to advertise your products and services. This led to some memorable commercials, eventually leading to the advertised products' growth.
In modern times, content marketing is the best way to reach your target audience. Content marketing is all about using engaging content to attract and retain customers on your site, and most people who use it will agree that it's effective.
However, content marketing can sometimes be draining. If you're running new content marketing campaigns every day, it can be difficult to come up with fresh content marketing ideas.
If you're struggling with content marketing ideas, you're at the right place. This guide looks at some of the best content marketing examples to reinvigorate your creativity. 
We've prepared a solid list of content marketing examples, from social media to blog posts and visual marketing. These will inspire you to create your own lead and sale-generating projects. Our selected marketing examples are not only unique but also successful.
If you love the ideas that pop up as you read this, hire our content writing agency, Strategically, to help you with implementation. We have a team of experts that understand how the industry works.
What is content marketing?
Before we proceed to the examples, we need to understand what content marketing entails.
Content marketing is intentionally creating content to attract new prospects and convert them into leads. This includes any messaging method you use to educate or inform your target audience or persuade them to become customers.
The primary purpose of content marketing is not direct sales but lead generation and enhancing brand recognition. This type of marketing can be practised on blogs, ebooks, webinars, social media pages, and other online platforms.
Simply put, content marketing involves creating high-quality content that will resonate with your audience and turn them into dedicated followers who will continue increasing your brand awareness by word of mouth.
Advantages of content marketing
Most successful online businesses have embraced content marketing. Below are some of the major benefits they've enjoyed.
Increased email subscribers: If you write articles to market your business, you can give your readers an option to sign-up for your email marketing service. This allows you to enter them into your sales funnel and increase the chance of conversion.
Increased traffic: If you produce engaging content for your audience, they will likely frequent your sites and pages more often.
Increased sales: Since content marketing is targeted to your preferred audience, it will increase your traffic and generate the right traffic (people who will likely turn into customers).
Want in on such benefits? Schedule a call, and let's discuss your content needs.
Top 35 content marketing examples
Now that we understand content marketing and how it can improve your business, let's dive into some of the best examples.
Cars & Bids' YouTube channel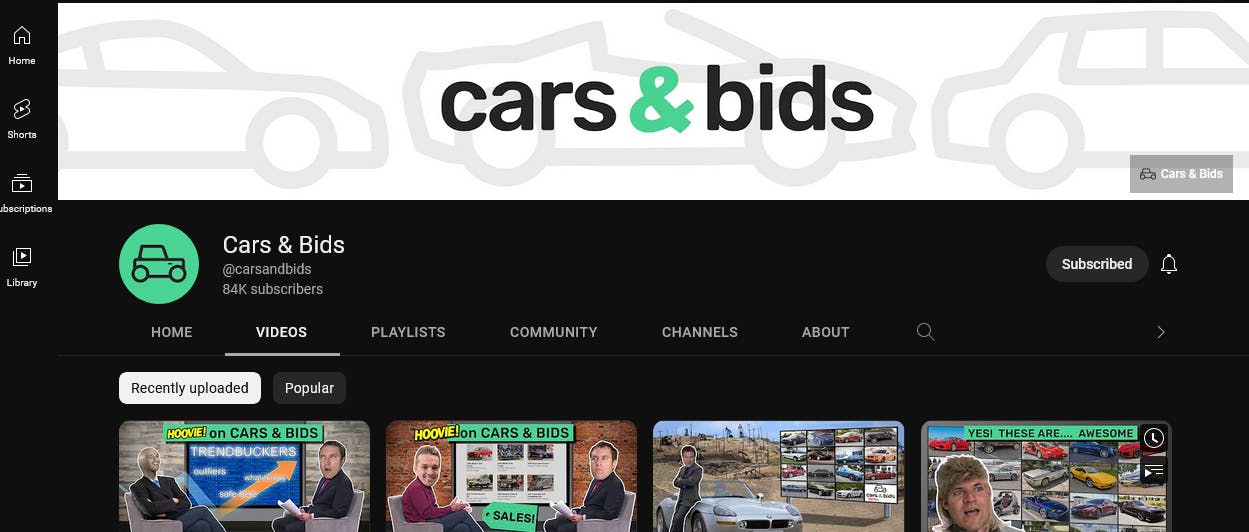 Cars & Bids is an auction site for "cool cars from the modern era." The site was founded in 2020 by popular car YouTuber, Doug Demuro. The website took off immediately thanks to Doug's huge social media following and authority in the car review sector.
However, another important factor in the website's success is its free promotion in Doug's YouTube videos. 
Since the site was launched, Doug has spent about 30 seconds at the beginning of each video on his main channel asking his viewers to check out cars and bids. The channel has over 4.5 million subscribers and 148.2k average views per video. Therefore, the Cars and Bids ad definitely reaches a wide audience.
Following this success, Doug created a separate YouTube channel for Cars & Bids in May 2020. The channel gives consumer advice, market reports and often collaborates with other respected automotive journalists like Tyler Hoover.
With this level of exposure, Cars & Bids has grown into one of the biggest online car auction sites in just two years.
Canva's design school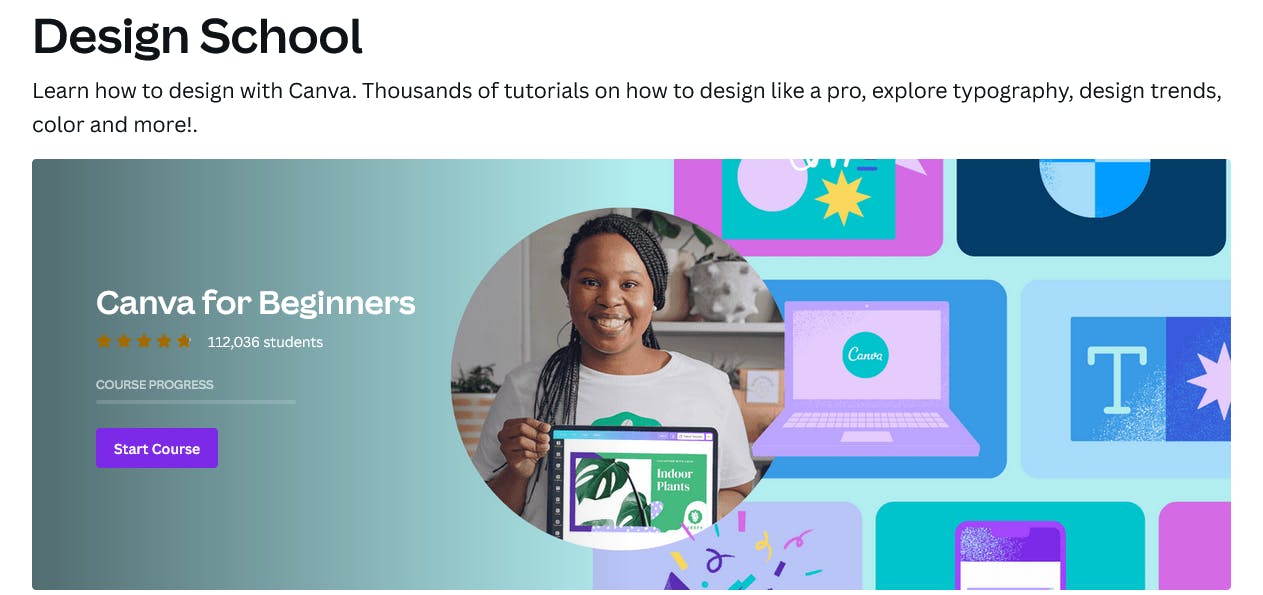 Canva is one of the most popular design tools in the world. As a matter of fact, the tool is believed to have over 100 million users in more than 190 countries.
While Canva's ease of use and functionality has helped it gain millions of customers, its content marketing strategy has also contributed significantly to this growth.
Canva's design school is a whole suite of free design courses available for Canva users. The design school offers thousands of tutorials on graphic design, typography, design trends, and more.
Students are taught all these skills using Canva, so it becomes their default choice when they decide to put their skills to use. This essentially turns all Canva design school students into Canva customers.
Duolingo's TikTok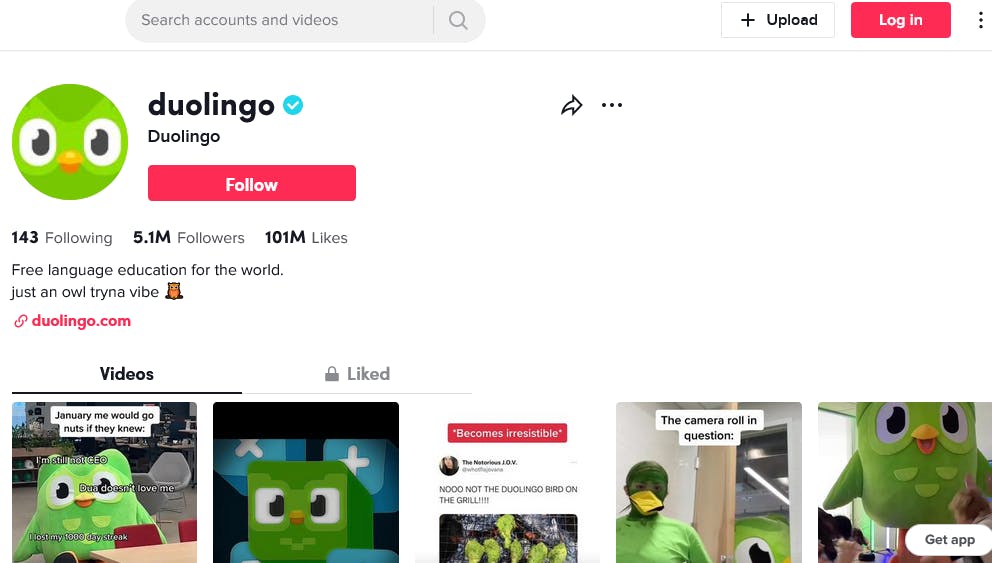 If you've used Duolingo, you probably know it as the free app that helps users learn new languages. However, on TikTok, it has a different reputation: the company with the unhinged owl mascot.
Duolingo's TikTok has some over-the-top creative and funny videos involving the company's green owl mascot.
The videos skip the safe and conservative route that most companies take on social media in favour of a more playful and lighthearted tone. Most of them mimic TikTok trends and memes while still referencing their product. 
These funny TikToks are popular with younger audiences, who are the majority of TikTok users and Duolingo's target audience. As a result, Duolingo's TikTok page has over 5 million followers and 100 million views.
For instance, this video is a meme of the Duolingo mascot marrying pop star Dua Lipa. With over 126k likes and 1000 comments, it's clear that people loved it.
Duolingo's ability to engage with its target audience and stay relevant on TikTok grows its brand recognition and strengthens its marketing strategy.
Girl With The Dogs' YouTube channel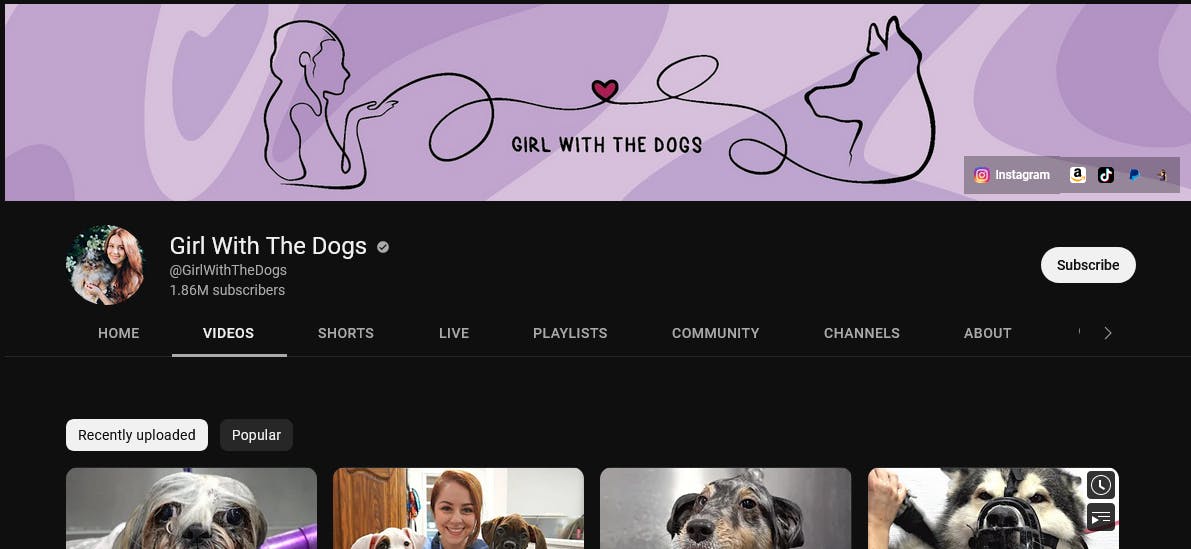 Girl With The Dogs is a pet YouTube channel that focuses on dogs. The channel's host, Vanessa, is a professional pet groomer with over 11 years of experience.
While the channel focuses on dogs, Vanessa often talks about cats, pigs, birds, and other pets.
Girl With The Dogs is unique because it provides pet lovers with high-quality, informative, and entertaining videos. Who knew a big scary rottweiler would be afraid of heights?
As a result, the channel has gained over 1.8 million subscribers, growing Vanessa's clientele massively. She also has a second channel, where she posts full-length grooming videos, further showcasing her talent for taking care of her furry friends.
Even without channel sponsors, Girl With The Dogs makes a stable revenue and donates to animal sanctuaries.
Amazon Prime's The Anime Club
Anime has become one of the most popular animation movie genres for kids and adults. As is expected, Netflix, Amazon Prime, Hulu, and every other popular on-demand service has been trying to cash in on the trend.
However, Amazon Prime stands out from the rest in how it uses content marketing to encourage Anime enthusiasts to subscribe to the service. It started by partnering with content creator and actor, Cheyenne The Geek to launch a YouTube series called The Anime Club.
In the series, Cheyenne discusses new Anime shows, reviews the classics, and tackles other Anime-related topics. 
All the shows she talks about are available on Amazon Prime, and she encourages the viewers to subscribe to the service. Thanks to The Anime Club series, Amazon Prime is one of the most popular sources of Anime.
Optinmonster's blog and webinars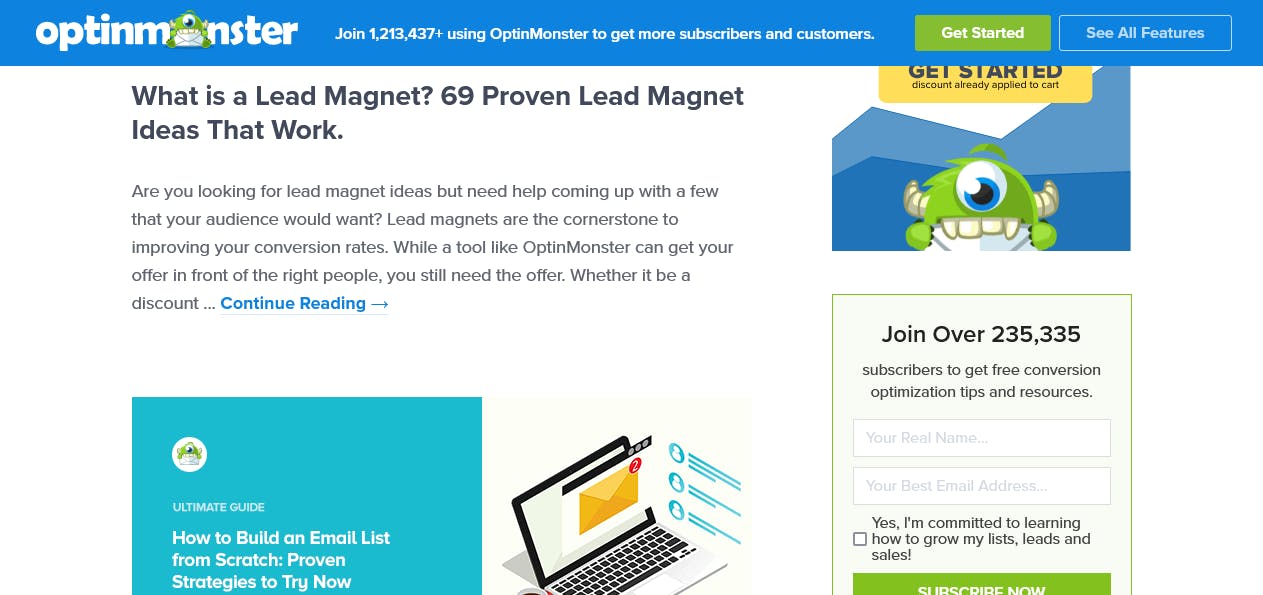 Optinmonster is a popular lead-generation software. Its blog is a great resource for new and long-term users, as well as prospective customers.
In the blog, Optinmonster covers everything from lead generation tools to tips and strategies. 
Due to the high-quality content in the blog, it's a popular stop for people who want to grow their email subscribers, drive more sales or boost their conversions.
Optimonster also has an active webinar service. The live webinar is hosted by Jeremiah, a conversion expert who teaches attendees how to:
Create irresistible offers for their audience.
Grow their email subscriber list drastically.
Boost their conversions with proven strategies.
Increase their leads in a short time.
The blog and webinar work together to inform users how to maximize the tool and boost their traffic. As a result, Optinmonster has attracted more than 1.2 million websites that use its services.
The Washington Post's TikTok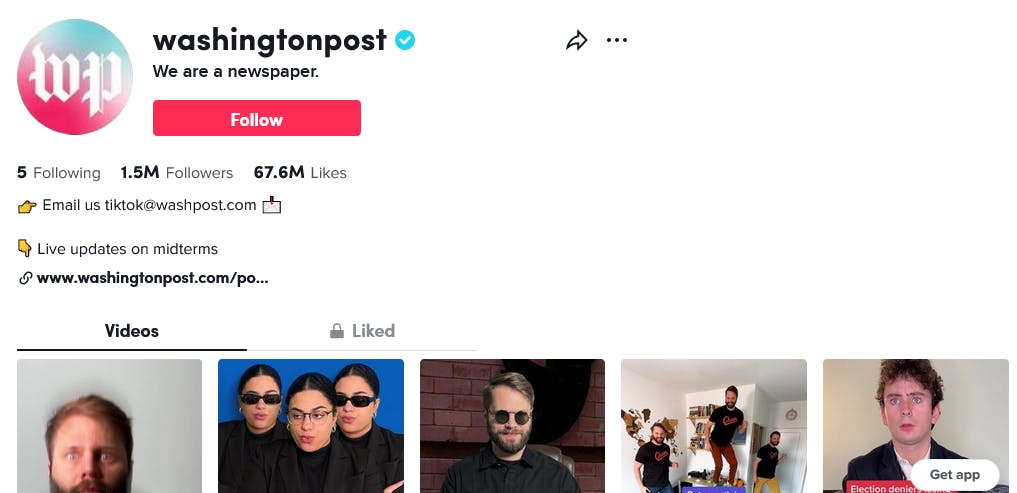 The Washington Post is one of the most recognized news sources in the world. While the paper's articles are written professionally by some of the best journalists, its TikTok page takes a different approach.
The Washington Post's TikTok converts some trending world events into funny videos or memes.
Although this would be unacceptable in mainstream media, it's quite at home on TikTok. It's also a smart content marketing strategy because no one wants to be scrolling through funny videos only to have the streak ruined by a serious news report.
Of course, the team is careful about what to make memes about and stays clear of potentially sensitive issues.
For instance, this video parodies a conversation between Elon Musk and Twitter employees after he took over the company. The video doesn't take any definitive side but reports what happened comically.
These videos are quite popular and have generated The Washington Post more than 1.5 million TikTok followers.
Digital Olympus' expert roundup
Digital Olympus is a relationship-based link-building agency with one of the best content marketing strategies.
The company interviewed more than 40 marketing experts for one of its blog posts. Each expert gave their most effective method of generating traffic from experience.
The unique thing about this blog post is that all the experts have a headshot at the top of the page. You merely click on the expert whose tips you want to read, and the page will scroll down to that section.
There's also an anchor-linked table of contents that lets you jump straight to your topic of interest. This gives users a proverbial bird's eye view of all the information.
Spotify's Wrapped playlists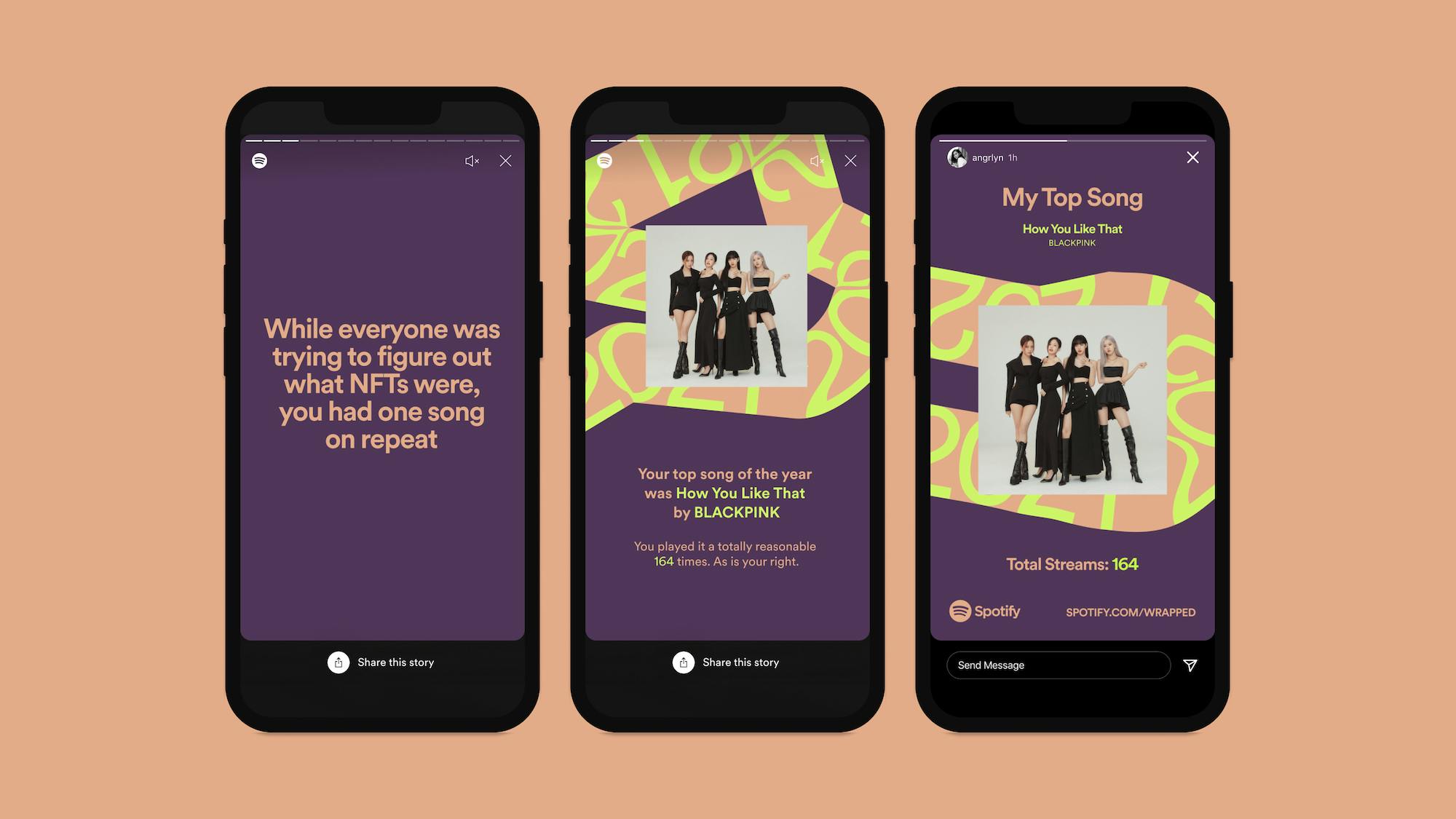 Spotify Wrapped playlists are a great and creative content marketing example. As the most popular audio streaming service, Spotify knows how to sign new users to the platform.
However, it has been fighting fierce competition from rivals like Tidal and Apple Music. One of the reasons it has managed to stay on top is by introducing Spotify Wrapped.
At the end of each year, Spotify compiles each user's most played music and podcasts into a personalized playlist.
So how does this help Spotify register new users?
You can share these custom playlists (Spotify Wrapped) on social media. As a result, the Wrapped marketing campaign always trends on social media every year as everyone shares what they've been listening to all year.
Essentially, this is free marketing for Spotify by its users. During the Wrapped period, the platform records high volumes of new users.
Buffer's Blog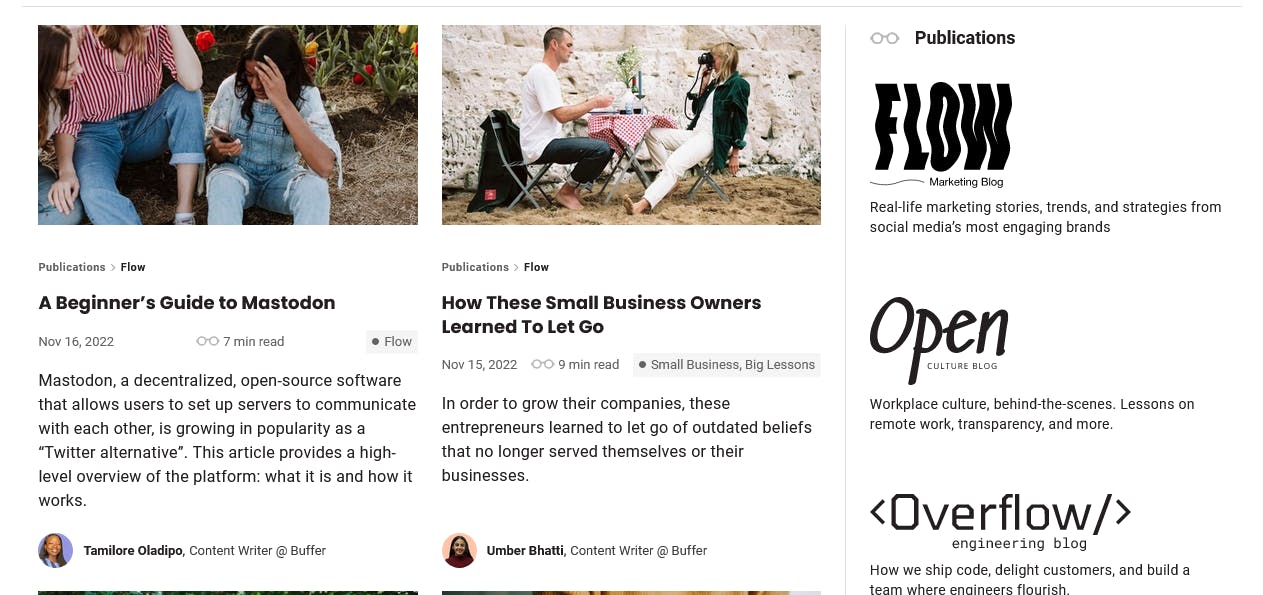 Buffer is one of the best content marketing examples due to its long and successful content marketing strategy.
The company boosted its original growth by writing multiple guest posts on high-visibility sites. That growth strategy quickly fueled Buffer's growth to its first 100,000 users.
On its own blog, Buffer initially concentrated on writing high-quality, shareable content for the people who influenced their customers.
Buffer now has four blogs, including the Open blog and the Transparency blog, where it shares its journey in business over the years. It also shares its best content through traditional email marketing.
Buffer's quality blogging has boosted its brand authority with close to 400,000 users and over 1 million followers across different social media networks.
Colgate's research page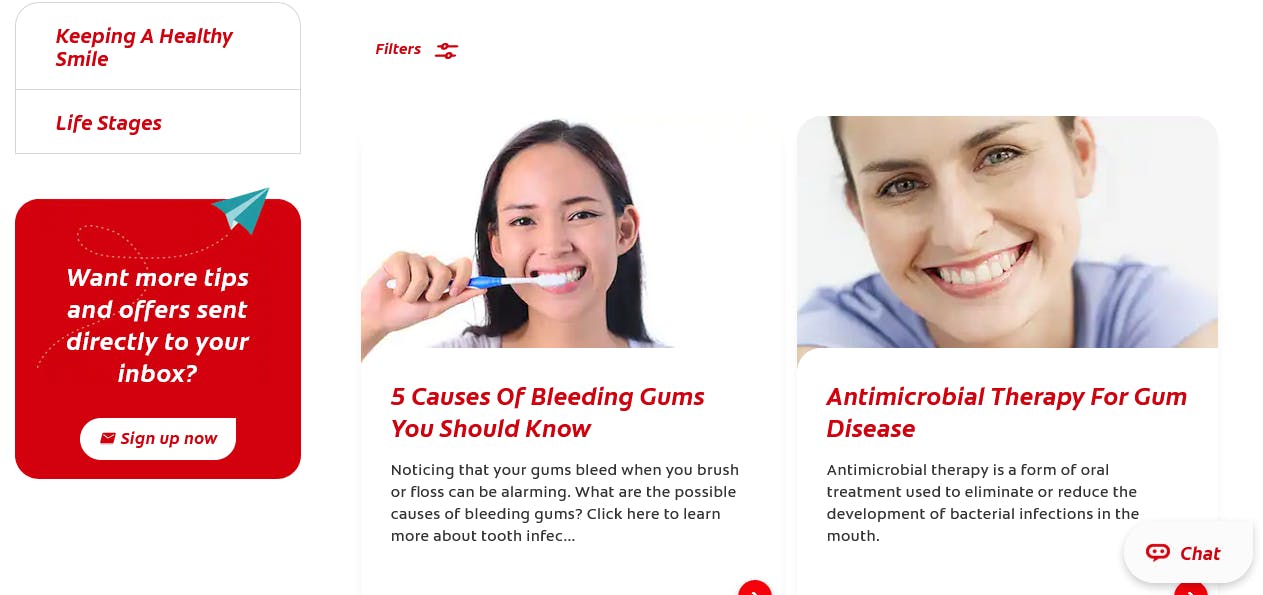 Besides being the world's leading toothpaste company, Colgate also invests heavily in oral health research. Colgate's blog tackles different oral-health-related topics using factual research.
Creating informative content is one of the best marketing strategies. It helps Colgate maintain its position as the most popular toothpaste.
For instance, the research page has over 1000 articles under the search topic "gum disease." This means that people who search about gum disease are likely to encounter a Colgate article.
Since the research page has thousands of articles to review, Colgate made a research page with sections for related content, such as "what is gum disease?" or "What are the stages of gum disease?"
Each section includes:
An explainer paragraph.
Bullet points of what to expect in the article.
Links to relevant content within the site.
This makes it easier for users to find exactly the content they need.
Intrepid Travel's Facebook page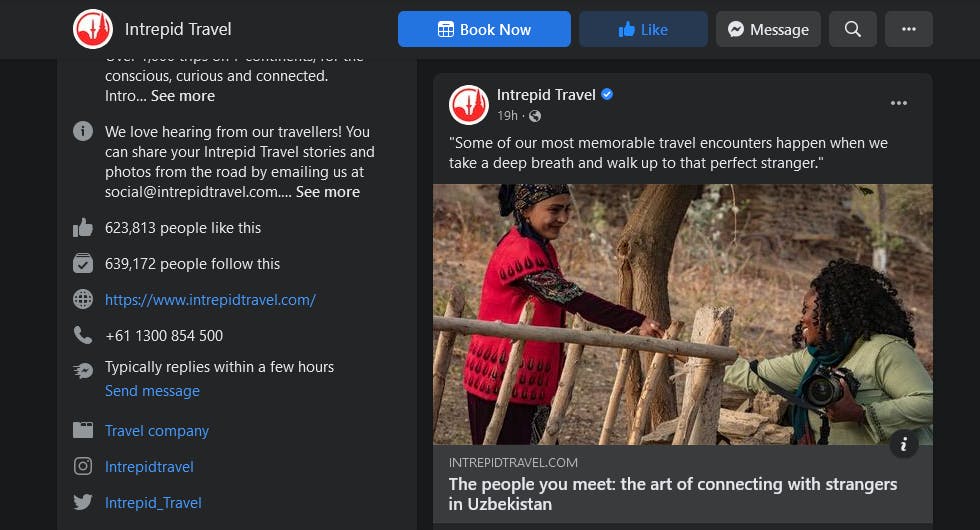 Intrepid Travel is a tours and adventures company catering for small groups. The company has different travel packages to a multitude of destinations around the world.
However, its unique content marketing strategy is behind most of its success. It has a travel journal that documents some of the best adventures customers have experienced on their travels with Intrepid Travel.
The journal also includes detailed articles on popular destinations, travel guides, news, stories, and tips on responsible travel. These are essential resources for anyone planning to travel to a new destination without local guides.
Another excellent example of Intrepid's brilliant marketing strategy is the company's Facebook page.
The marketing team posts beautiful pictures of customers travelling around the world, often captioned with motivational quotes. This encourages anyone who hasn't tried the service to try it.
Superdrug's publishing placements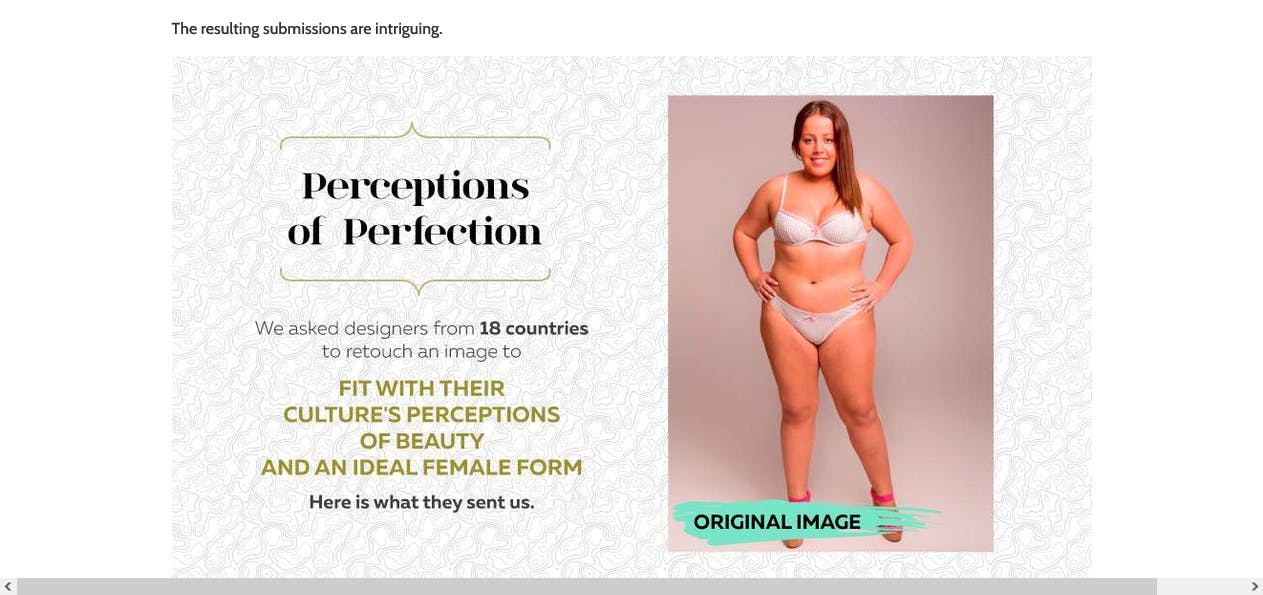 This content marketing example uses social media and publishing placements to appeal to its target audience.
Superdrug is a cosmetic eCommerce site that sells everything from toothbrushes to combs and skin care products.
The company wanted to spark a debate around body image issues. So it tasked 18 graphic designers around the world to edit a picture of a model to fit their country's perceived beauty standards.
Of course, the designers sent back varying results, which Superdrug posted on Huffington Post and Buzzfeed. This resulted in:
Around 1 million shares on social media.
3 million views on the original post.
Celebrity endorsements for the study,
International news coverage and publication in posts like Business Insider, The Telegraph and the New York Times.
In addition, the site got more than 1 million new visits within 5 days.
John Deere's The Furrow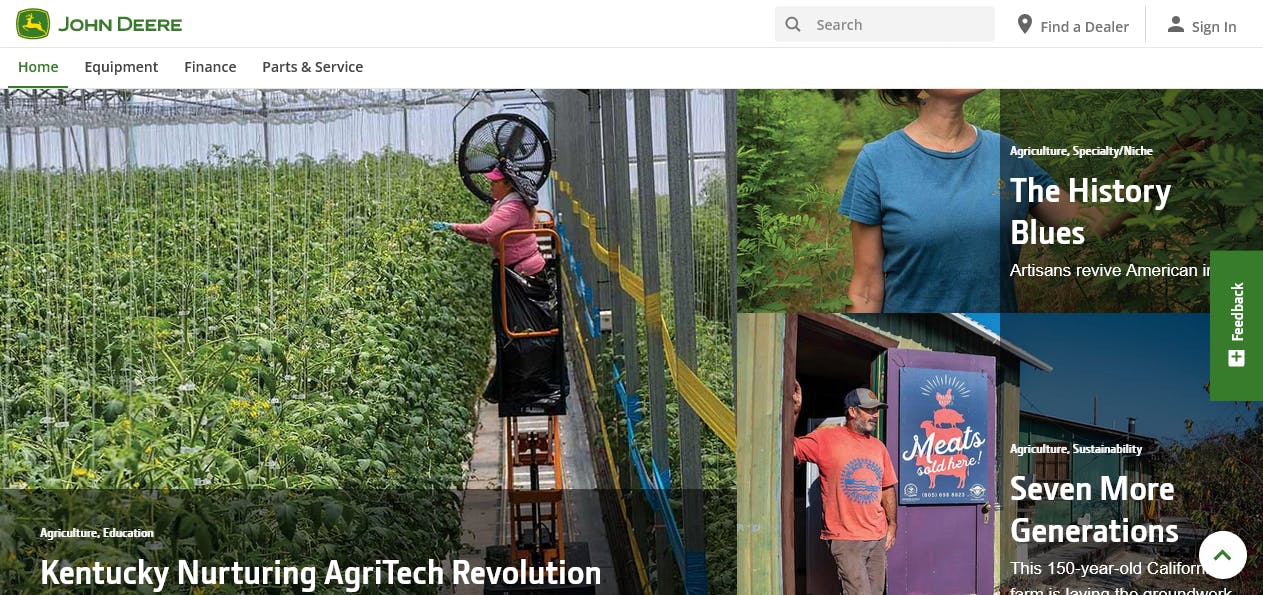 John Deere is one of the oldest American companies. However, while most people know it from the agriculture industry, the company is also a legend in the publishing industry.
John Deere's The Furrow is regarded as one of the earliest examples of content marketing. The first issue of The Furrow was produced in 1895, years before the term "content marketing" was coined. At its peak in 1912, the magazine had over 4 million readers.
Today, The Furrow has over 2 million readers globally, who access it through the same network of John Deere dealers that sold the first issue.
The publication later became a blog site covering various agrarian topics, including farming methods, equipment, and finance. On the other hand, the physical copy has less information and mainly highlights the top stories on the site.
Interestingly, the magazine's readers still prefer to read physical copies, even with digital copies being more accessible and convenient. This shows the strong impact the magazine has had on John Deere customers over the years.
Zomato's Facebook and Twitter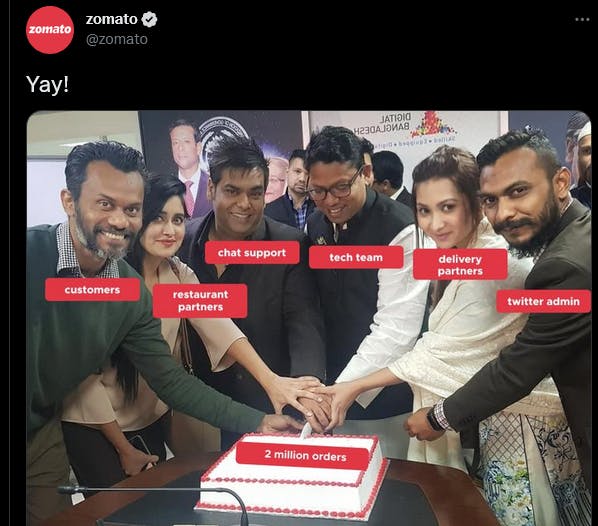 This is one of the companies on our list that maximizes visual content marketing strategies.
Zomato is a restaurant-finding app available in India and several other countries around the world. The company's social media marketing team often uses humorous pictures to engage with its followers.
The images are simple, creative, and entertaining, which keeps users returning to the page.
This strategy is definitely successful because Zomato has over 1.5 million followers on Twitter and 1.9 million likes on Facebook.
Rolex's Facebook and Instagram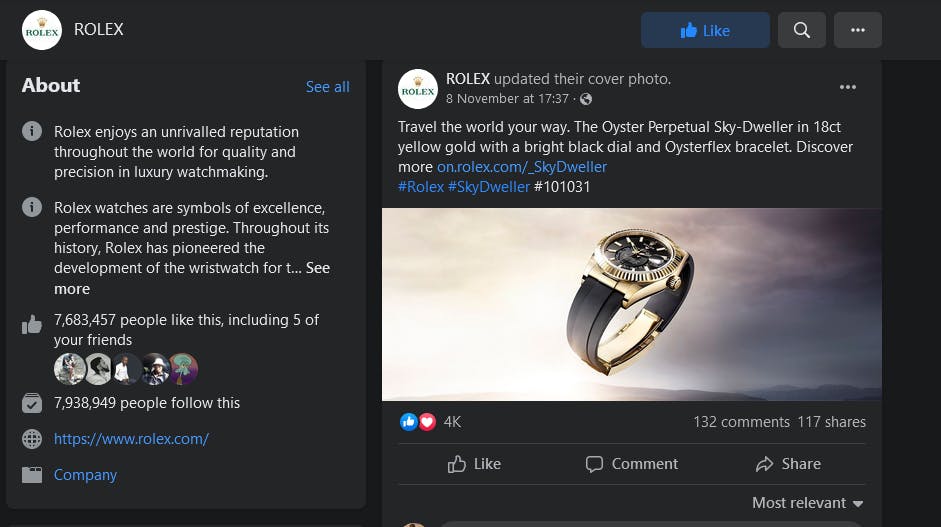 Rolex is an iconic watch and fashion brand. However, that doesn't stop the company from using modern content marketing strategies like visual content marketing to stay relevant and appeal to new audiences.
The company posts professionally shot pictures and videos on Facebook and Instagram. The pictures often convey Rolex watches' timelessness and quality. 
On the other hand, the videos often include public figures sharing their success journeys. This helps maintain Rolex's image of opulence and success. Rolex also posts some of the events it sponsors (mostly sports events.)
These quality posts have generated over 7.6 million likes on Rolex's Facebook page and more than 13 million followers on Instagram.
Blendtec's YouTube page
Video content marketing can help some of the most boring companies create entertaining content. "Blendtec's Will it Blend?" YouTube channel is one of the most interesting video content marketing examples because it tries unconventional experiments.
Blendtec is a kitchen appliance company specially dealing with blenders. While it makes various types of blenders, its popularity grew on YouTube due to its "Will it Blend?" series.
The "Will it Blend?" series tries to blend some of the most insane products. Some of the most popular videos include trying to blend an iPhone, car key fobs, and thunder snaps.
This type of content is quite entertaining, even for people who don't need blenders. It also displays Blendtec blenders as some of the strongest in the market, especially when they blend something as hard as an iPhone.
As a result, Blendtec's YouTube channel has over 800,000 subscribers, the highest of any Blender company.
Hootsuite's YouTube video
Hootsuite is a social media management app. It's, therefore, unsurprising that its marketing team knows how to tap into pop culture trends and make successful social media content.
A couple of years ago, Hootsuite created a video about their brand titled "A Game of Social Thrones."
The video is quite creative and gives a visual description of what the brand does. It was also timely because Game of Thrones was the biggest pop culture trend when it was released.
The video has accumulated over 1.3 million views and helped Hootsuite establish itself as one of the world's best social media management tools. It also helped grow Hootsuite's YouTube subscribers to more than 50,000.
Zendesk Alternative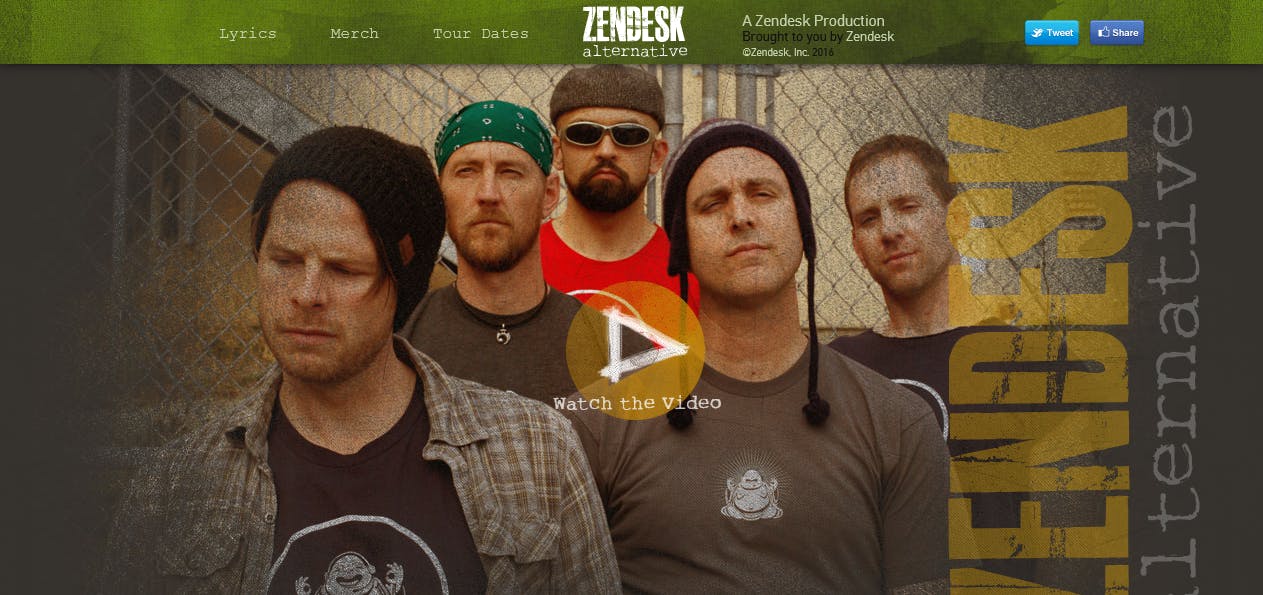 While we have many unique entries on our list, this is probably the most interesting one. Zendesk is one of the oldest and largest CRM tools in the market.
However, some years ago, it faced serious competition from free and cheaper alternatives. Since they were so many and Zendesk was the most popular, users looking for a cheaper alternative often used the search term "Zendesk alternative."
In a clever content marketing strategy, Zendesk created a fictional rock band named "Zendesk Alternative." The company bought the "Zendesk alternative" domain and even made social media sites for the fictional group.
As a result, the page ranked first on all "Zendesk alternative" searches. This reduced the  migration rate from Zendesk and reinforced its position as the leading CRM tool.
Old Spice's YouTube ad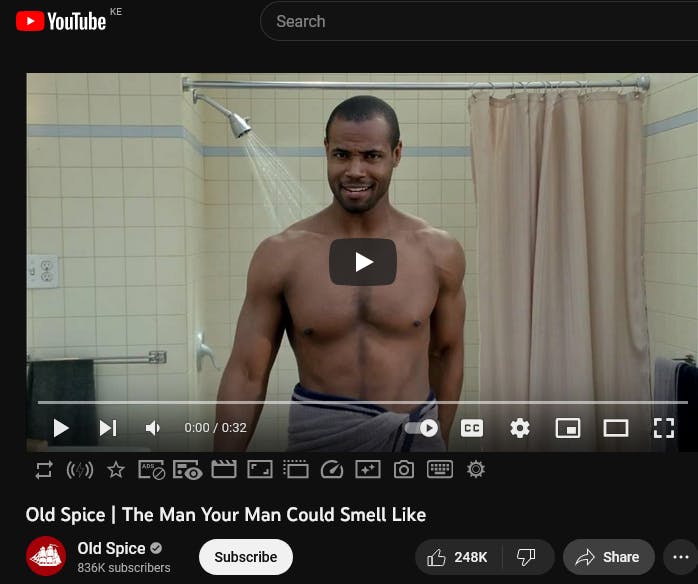 Old Spice has been around since 1937. While the deodorant company seems stable and successful now, it wasn't always like that.
In fact, the brand was losing ground quickly to its competitors. In quick retaliation, the marketing team came up with a genius marketing strategy that brought the company back to its feet.
The idea was to rebrand and abandon the old world image for something or someone new and fresh.
This was done in a series of humorous YouTube videos, some of which didn't even mention the brand. Nevertheless, the ads captured the target audience and restored Old Spice to its former position in the market.
The first YouTube video exceeded 60 million views and accelerated the channel's subscriber count to more than 800,000. Old Spice is still using this approach with new products.
WPBeginner's YouTube channel
WPBeginner is a tutorial service for everything WordPress. The site uses its YouTube channel to educate its audience on creating and maintaining WordPress sites.
The YouTube channel is supported by an active and well-written blog. That means in-depth tutorials and countless tips.
As a result, users flock to both the channel and blog as an informative source of WordPress solutions.
This has established WPBeginner as an authority in the WordPress space. It has helped countless customers and gained more than 280k subscribers on YouTube.
Squatty Potty's viral YouTube video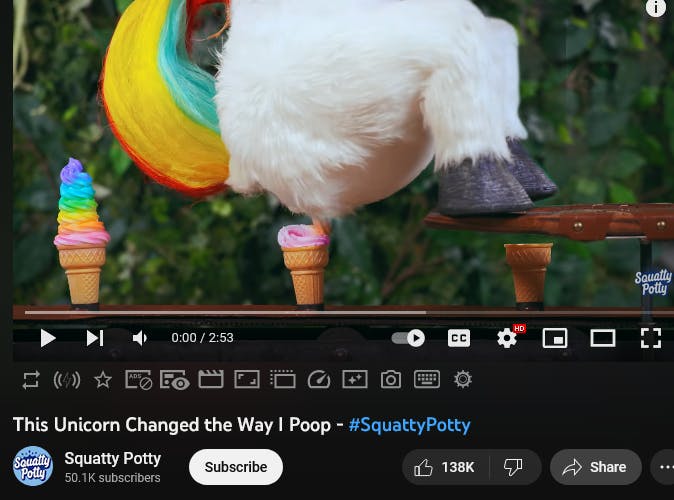 Squatty Potty is a perfect example of a company that used visual content marketing to spice up a dull topic.
The company produces a product that makes it healthier and easier for people to go to the bathroom- not one of the most entertaining topics.
However, Squatty Potty's marketing team turned it around with a creative and entertaining YouTube video that went viral. 
The video currently has over 40 million views and helped the company spread its uncomfortable message with ease.
Coca-cola's custom bottles
Coca-cola has always been known to spare no expense when it comes to advertising. The more than 130-year-old soda company can be credited with some of the most memorable marketing campaigns both on traditional and digital media.
One of the most successful Coca-cola marketing campaigns was the Share a Coke Campaign. The company started in Australia by engraving the 150 most common names in Coca-cola bottles and encouraging people to share those bottles with people with those names.
The campaign was a smash hit. The company sold over 250 million custom cans and bottles, or over 10 for each person in Australia.
Therefore, the campaign went global and saw even more success. To date, you can still customize a coke bottle with a name of your choice. 
You Suck At Cooking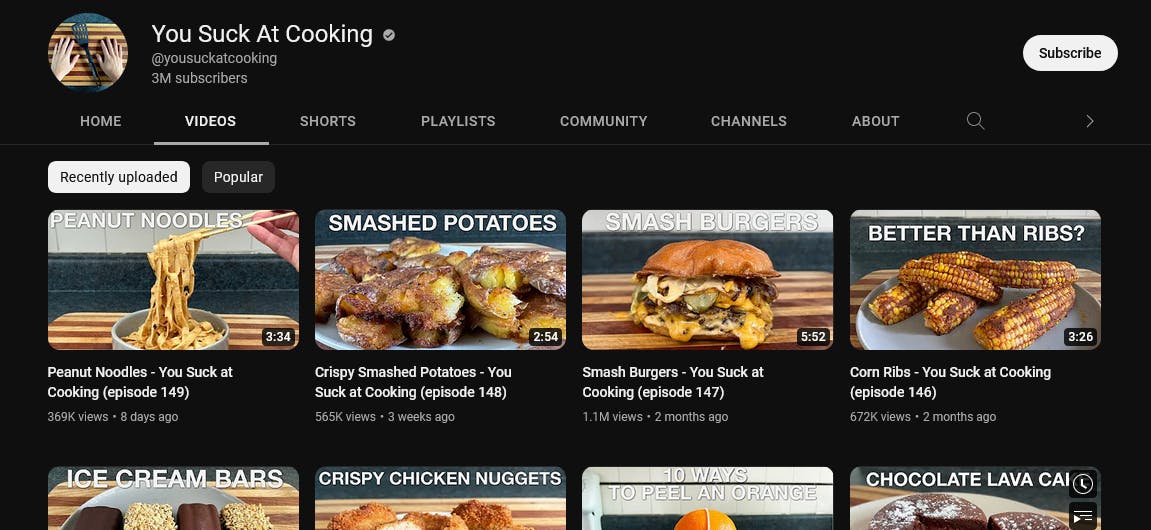 You Suck At Cooking started as a comical cooking YouTube channel. It showed people how to make simple meals with lots of humor and sarcasm in the dialogue.
Years later, the channel is still all those things, but now it focuses on selling the host's cookbook.
Due to its engaging and humorous content style, the channel has gained over 3 million subscribers and 350 million video views. Its dry humour, skits, and running gags keep viewers returning, and many eventually buy the cookbook.
UNHCR's Forced to Flee podcast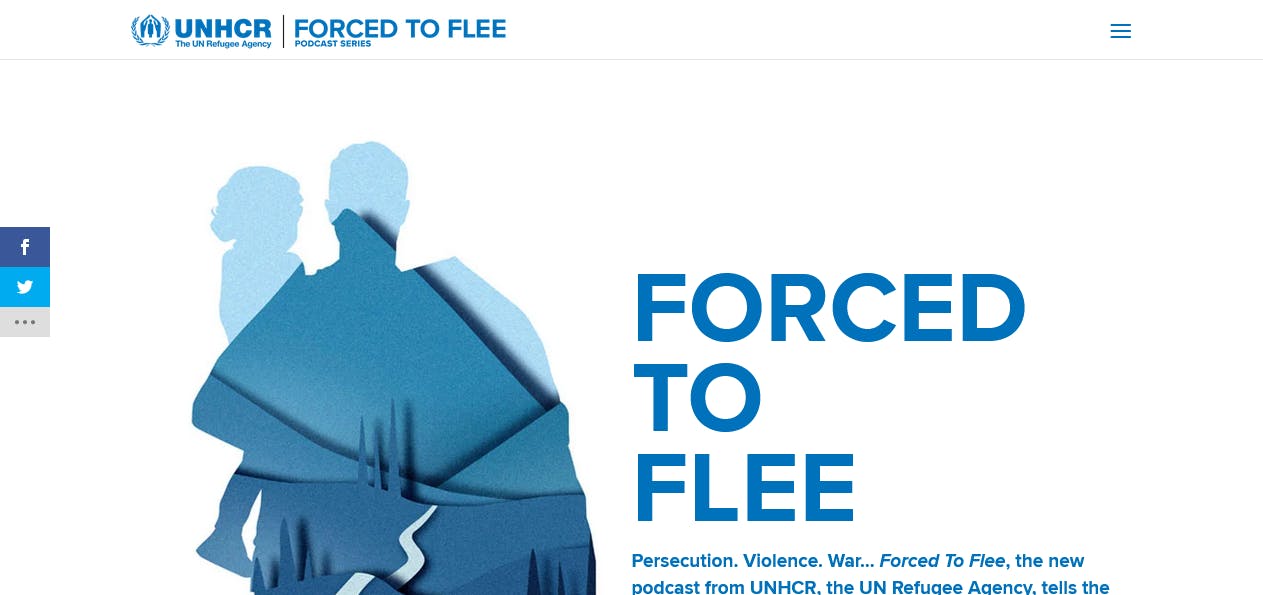 The United Nations Refugee Agency has the difficult task of sensitizing the rest of the world on the issues refugees and displaced people face. Since podcasts are at an all-time high, the marketing team has capitalized on the trend by creating a podcast named "Forced to Flee."
The podcast gives refugees a platform to share their unique and heartbreaking stories with the rest of the world.
This type of content marketing is more engaging, leaves the audience with a better idea of what the victims go through, and displays the importance of what the agency does.
Jackson Galaxy's YouTube channel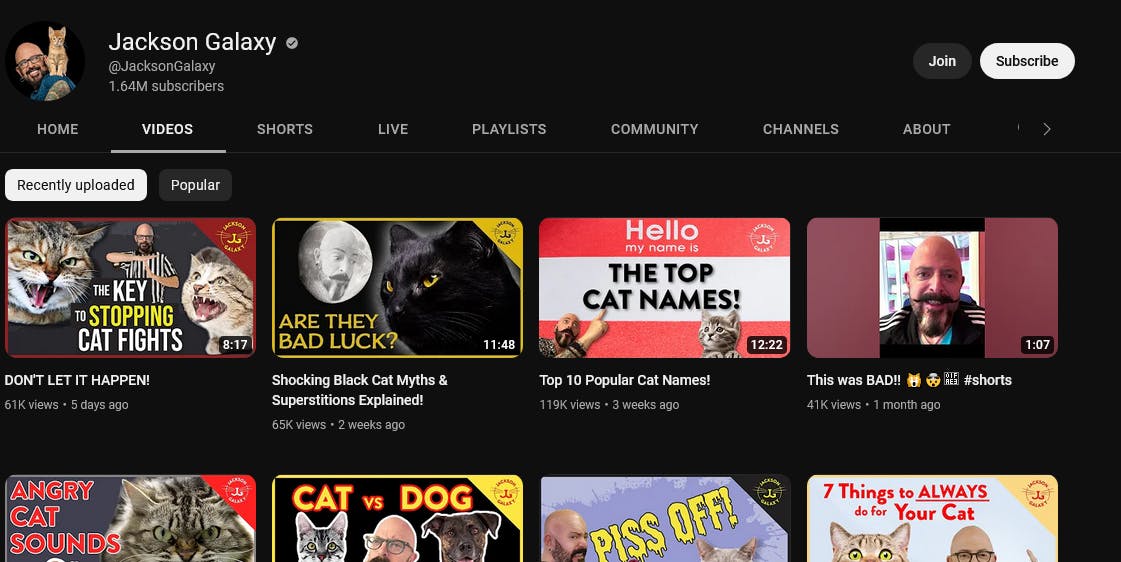 Jackson Galaxy is the former host of Animal planet's "My Cat from hell," a show about how cat owners can get along better with their mischievous feline friends. Now, he has a website offering consultations and selling cat products.
The largest source of Jackson's following is his YouTube channel. Here, he creates videos answering some of the most asked cat questions and advises about cat ownership.
He also promotes his cat ownership book and showcases some of his cat products.
The channel is pretty successful, with over 1.6 million followers, making it one of the most successful pet-focused YouTube channels.
Chewy's YouTube channel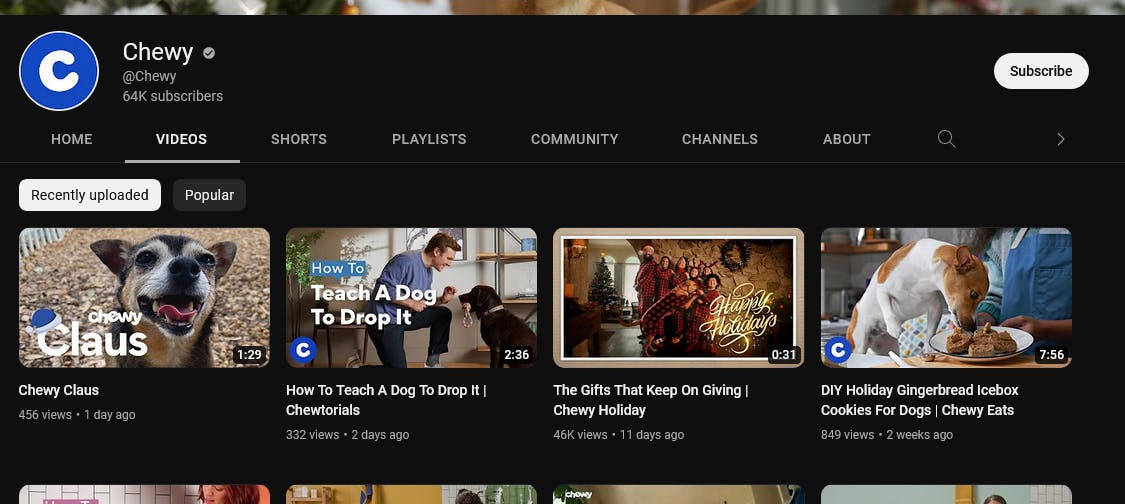 Chewy is an eCommerce store that deals with pet products. These products range anywhere from cat sweaters to dog DNA tests.
One of the best ways Chewy has been able to redirect traffic to its site is through its YouTube channel.
The YouTube channel covers everything from pet grooming, training, and feeding. This channel is an excellent resource for new pet owners just getting used to living with a pet.
Chewy also advertises its products and services on its YouTube channel, encouraging viewers to shop on its site. This has drastically increased its traffic and set it up as one of the fastest-growing pet eCommerce sites.
Prime hydration drink's tasting reviews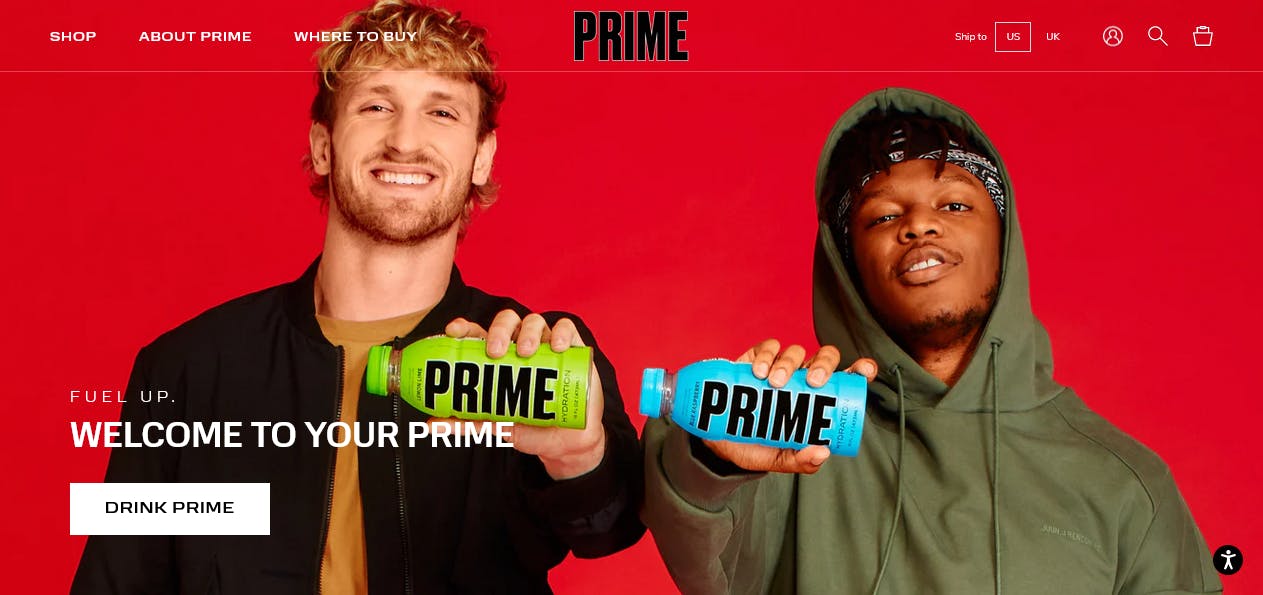 If you spend considerable time on YouTube, you've probably seen the Prime hydration drink.
Prime is a sports hydration drink by American YouTuber Logan Paul and his British counterpart, Olajide Olayinka Williams "JJ" Olatunji (known professionally as KSI.)
Despite being launched in January 2022, the drink has performed exceptionally well and is often out of stock in most retail centres.
Logan and KSI have over 50 million YouTube subscribers between them, so it's not surprising that they convinced millions of people to buy the drink at launch.
However, a more important content marketing strategy has been the numerous tasting review videos the drink has passed through all over YouTube.
Since both founders are quite influential, they've convinced some of the biggest influencers to make videos trying the drink and post them on their pages. Logan even got Kevin O'Leary (from Shark Tank) to try the drink and give him some business advice.
These videos all went viral before the actual launch of the product.
As a result, fans were so hyped for the drink's launch that it was sold out in a few hours. Since then, Prime has had millions in sales and doesn't seem to slow down. As a matter of fact, the drinks are still pretty hard to access in the UK. They are often hoarded and resold for huge profits by scalpers.
Venngage's free product
One of the best ways to get users hooked on your products is to give them a free related tool. This also gives you a chance to showcase what your paid products can do.
Venngage lets businesses use its free tool to create compelling visuals. This version gives users access to a wide variety of infographics, templates, brochures, and presentations.
Once you use the free version, you might get interested in paid products like more customizable templates and advanced image uploads.
Townsend Security's content offer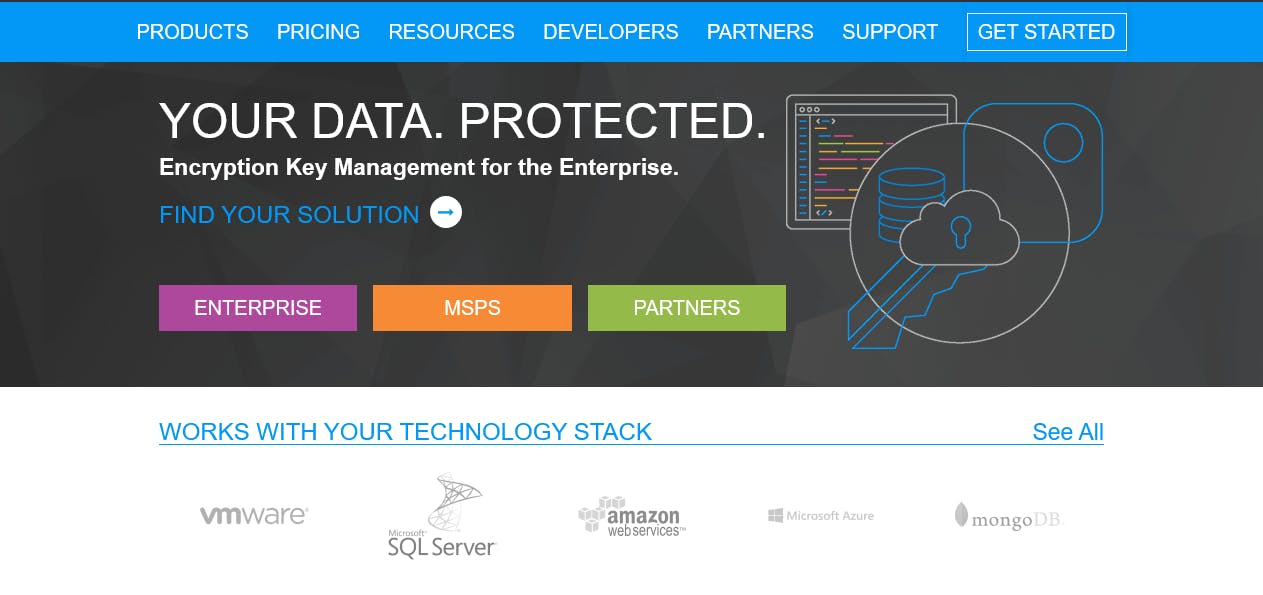 Another tried and tested content marketing strategy is exchanging something for your prospective's contact information (email in this case.)
Content offers often include:
Workbooks.
Guides.
Webinars.
Templates.
It can be time-consuming to create high-quality content from scratch. One of the best ways to create a valuable content offer is to repackage your website's existing content.
Townsend Security created a pillar page for encryption key management.
This repurposed and repackaged the site's content on its page into a guide. This allowed visitors to take the information with them instead of having to search for the pillar page every time they wanted to read about encryption key management.
RafflePress blog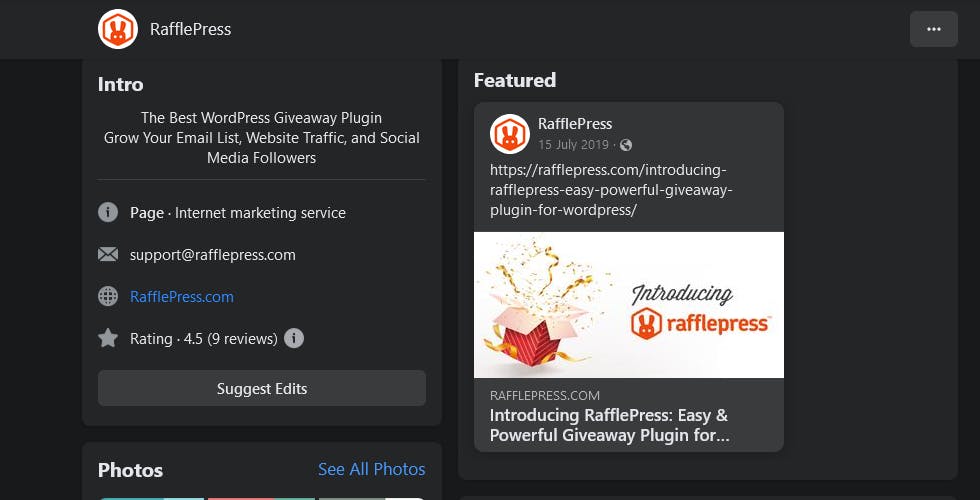 RafflePress is one of the best free WordPress tutorials. The website gives you tools, tips, and resources to help you grow your business.
Its blog is one of the most important resources for novices interested in WordPress and anyone who'd like to maximize their WordPress site.
However, some of the site's traffic also comes from its Facebook page, where it has been working to strengthen its presence.
As a bonus, RafflePress posts customer testimonials in its Facebook comments, further increasing its brand authority. This free social proof helps prospective customers head to the company's website or blog.
All said and done, even something as simple as sharing customer testimonials can help you generate leads and increase conversions.
LinkedIn's LinkedIn page
No one is better at using their LinkedIn page than LinkedIn itself. In fact, the company has an ebook on its own approach to marketing on LinkedIn.
The book titled "The art of winning" gives users informative tips and stats on how to increase their sales through the platform. 
LinkedIn continues to sell users tips and guides on successful content marketing techniques, so it's definitely working.
Simply Business guides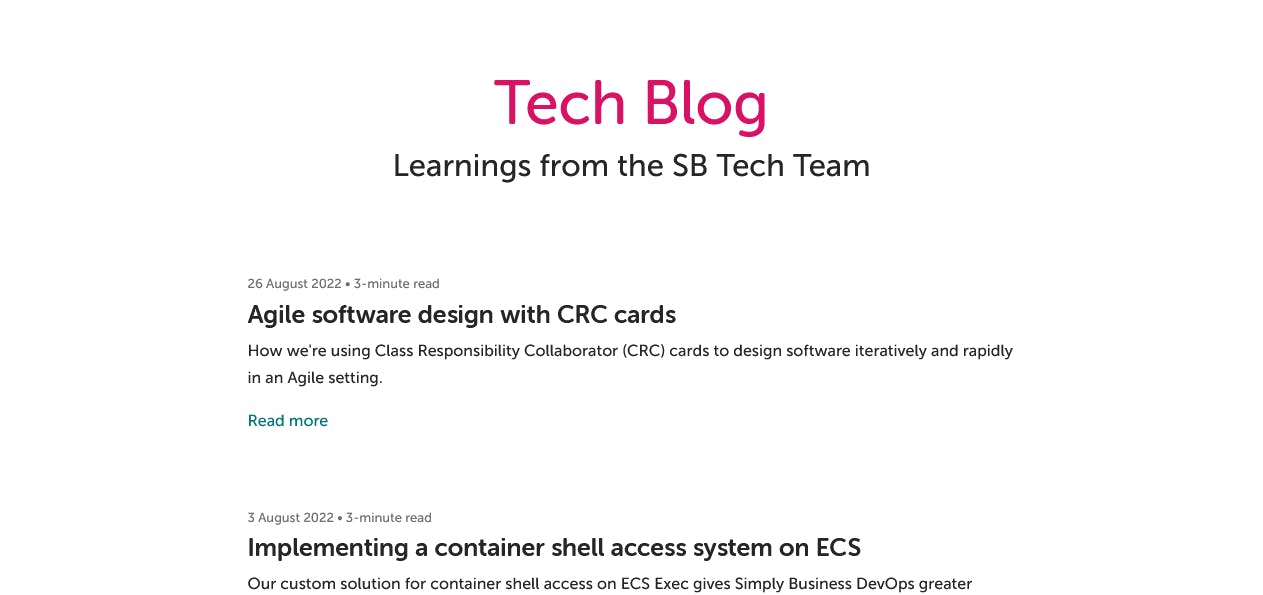 One of the best businesses known for producing informative tips and guides is Simply Business from the UK.
While the company deals with insurance, it can still wow its audience with well-written pieces that are informative without being boring. Its customer education guides have generated tons of shares and likes and raised its profile.
Charmin's sit or squat app
Charmin's sit or squat app is another great content marketing example. The brand has always had humorous ads since its tv days, which have carried through to digital media through its sit or squat app.
Sit or squat helps people find clean bathrooms when they need them, which of course, is not the easiest thing to express.
The app is available on Android and iOS and has over 100,000 downloads, which is quite impressive for an app of this kind.
The Joe Rogan Experience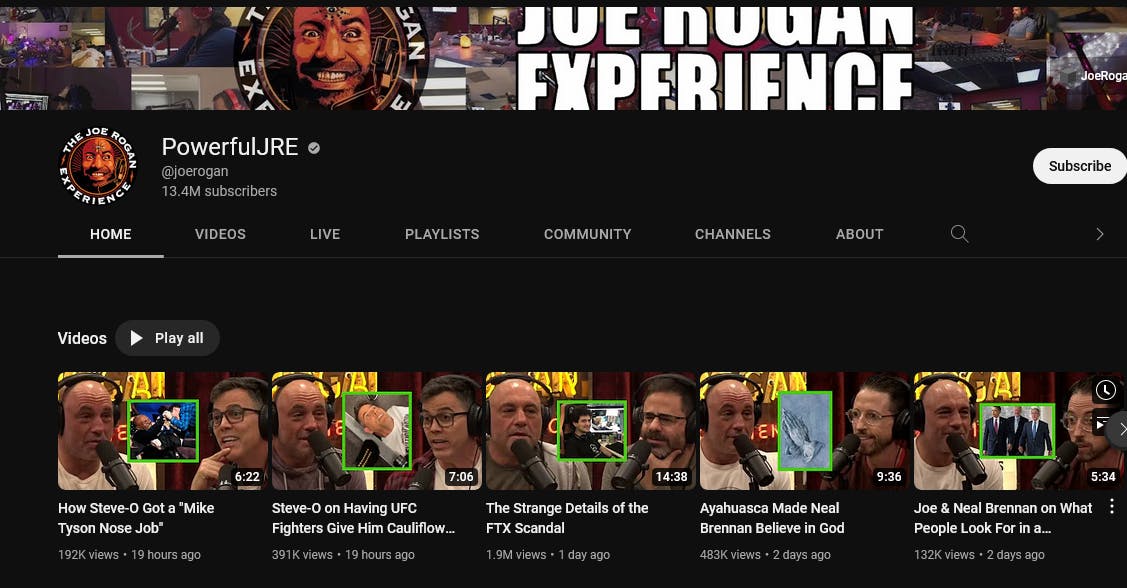 If you listen to podcasts regularly, you've probably heard of Joe Rogan. The Joe Rogan Experience has grown to be the most widely listened-to podcast in the world, with more than 8 million subscribers.
While he has faced his fair share of controversies, most people can agree that Joe Rogan has a competent team of content marketing geniuses. This is because Joe does not only record an audible version of his podcasts but also streams it on video.
This opens the podcasts to people who prefer visual content. As a result, he promotes two pieces of content with a single shot: For every audible podcast, he has a YouTube video.
It's even more interesting that his YouTube channel has more subscribers than his podcast.
With this audience, he's able to market new guests, upcoming comedy shows, affiliate products, and more.
To sum it up
Content marketing is a great way to improve your company's brand recognition, grow your leads and improve your sales.
One of the best ways to unleash your creativity is by posting engaging content on your blog and social media while marketing your brand. You can also create entertaining visual content to post on YouTube or TikTok to appeal to your target audience.
The best part? You don't have to struggle alone using trial and error. Get a trusted team that "gets" content. At Strategically, we can help you with content strategy, SEO content creation, ROI calculation, and content audit. Let's start!