Building trust with your target audience is essential to the success of your business and marketing strategy. One way to do this is to prove that your products work and solve their pain points. 
How can you do that? With the help of case studies. In a case study, you take an opportunity to show just how effective your product or service can be. But for a compelling case study, you need to ask the right questions and deliver valuable insights.
We'll share the most burning and needed case study questions you can ask your clients to find out what they want. These questions will also help you to tailor your products and services to meet their needs better.
What is a case study?
Businesses must comprehensively understand their potential customers' needs and behaviors when it comes to decision-making and product development. Case studies are an excellent tool for understanding the behavior of a particular individual, organization, or event.
A study seeks to investigate practically every area of the user's life, looking at the activities and motivations that make up who they are. This analysis is invaluable to businesses as it gives them the insights they need to develop products and services tailored to their customer's needs and wants.
Not only do case studies provide valuable data, but they can also be used in various fields, such as social work, education, and medicine. Companies can use the collected data to show the effectiveness of their product or service for a specific problem. 
Also, case studies can help with successful marketing. You can use them to showcase the successes of your business's strategies and tactics, giving potential customers a better understanding of how the services or products could benefit them.
What are the benefits of case studies?
Case studies can be invaluable tools in the business world. They comprehensively understand a business's situation, allowing all stakeholders to analyze data, understand the context, and draw lessons from a real-life situation.
You can use them to build trust with your customers. These studies prove that you have solved similar problems of other clients in the past. 
Some of the significant benefits of case studies:
Accumulates a considerable amount of data
Assists in the development of hypotheses
Increases brand reliability and loyalty
Creates a case for more investigation
Reveals fresh insights into a subject
Uses storylines to bring in consumers
The methods of a case study
Case studies are generally qualitative and are constructed on interviews, observations, and in-depth subject analysis. They can describe an event or phenomenon by providing detailed information about its context and circumstances.
While various steps are involved in conducting a successful case study, the following points outline the general process for how a content writing business can do this.
Identify a subject
The subjects could be previous customers who have had success working with your business and are willing to provide insight into their experiences. It should be someone who can accurately represent the business and will be a positive reflection on its services.
Collect data
Listen carefully to everything the subject says. Use the collected data to illustrate your service's success in solving the subject's issues. It should include quotes from the subject, compelling statistics, and other relevant information showcasing your strategy's effectiveness.
Analyze and interpret data
After collecting the essential data, analyze and interpret the information. Flesh out the story that the data are telling and decode their implications. Doing so will help your agency create a compelling case study that accurately conveys your service's value.
Write the case study
Now you can craft a narrative that explains the project in detail, including information about the strategies and results.
For added credibility, include quotes from the client or other third parties involved in the project and visual elements such as screenshots, images, or graphs. It will help show the reader the tangible results and make the report more persuasive.
Publish the study
Finally, publish the study on your website and other digital platforms. It will showcase the expertise and results of your services and position the business as an authority in the field.
By following these steps, your content writing agency can effectively conduct a case study to promote the services and drive more business. 
Still trying to figure out how to start one? Check these wonderful examples. 
The categories of case study questions
Most of the case study questions fall into these categories.
Estimation questions
These questions allow you to make informed assumptions from data and business knowledge to determine the market size.
Business case study questions
These inquiries measure your analytical skills and ability to make judgment calls in light of the available data.
Value proposition questions
In addition to business principles, research techniques, and intuition, these questions assess the capacity to recognize client behavior and preferences.
Logic and reasoning questions
These questions are more general and primarily connected to non-business themes, measuring analytical thinking and creativity.
Of course, there are other question types, many of which cross two or more categories. These classifications are meant to help you prepare case study question lists.
The best ways to perform a business case study interview
Once you've found your subject willing to talk to you about how your service led to their company's success, you'll need to draft your interview questions. It will help your readers know your company's contribution to their success. 
Get ready
Gather as much information about the client as possible. It includes their background, history, financial status, and anything relevant to the case study you're trying to write. You can even contact the sales team to learn more about customer preferences.
Once you've gathered all that data, it's time to conduct a mock interview with someone familiar with the client.
Ask open-ended questions
These encourage the interviewee to talk and expand on their answers. For example, you can ask, "What was the biggest challenge you faced when working with X?" They might respond, "Our team didn't have much experience with a writing solution." 
You could follow up with, "How did our content writing service company help your team overcome that challenge?"
Keep records
When performing a business case study interview, recording and transcribing your conversations can be very helpful. They will work as sources and references whenever you need them.
How to format questions for your case study
Creating a solid structure for your case study questions can produce better results. 
And one of the most important things you can do when creating a case study is to ask questions that give you the information you need to make a compelling case for your service.
You'll probably get stuck in a rut and ask the same old questions, but that will not help you sell anything. You want your case studies to be tailored to your interested leads as possible, so it's necessary to make your questions more specific.
For instance, you should inquire about the client's brand, other solutions they've tried in the past, and how they feel about the outcomes. And you can only ask those questions to a brand, a person, or an organization if you are familiar with them.
What defines a solid case study question?
A good case study question should initiate a dialogue and give the subject control over the narrative. Questions should be open-ended, allowing prospects to tell their story. You must know how to make these questions relevant to your product or service.
Case studies are the most effective when you present them as a solution instead of making them your company's advertisement. It shows the audience you care about your clients, whether they are big or small businesses, and want to help them grow. It lets them know your company is concerned with customer satisfaction and long-term success.
Well-crafted case study questions send a strong message to customers at the decision stage of their buyer's journey and turn them into loyal customers.
What makes a questionnaire perfect for a case study?
One of the most important things you can do when developing a case study questionnaire is to ensure that it doesn't feel like an interrogation. The last thing you want is to let your clients feel like they are being investigated.
To avoid this, create a list of questions that sound like having a friendly conversation. You just want honest answers from them to use the information in your case study report with integrity.
The following are just a few of the key topics your questionnaire has to touch on:
The issues the client had before selecting your service.
Reasons they chose your company.
How did your products solve their problems?
The measurable outcomes of the provided solution.
Data and metrics (if available) that demonstrate the effectiveness of your products.
Need help with showing your service's worth to your potential customers? Try our expert white paper writers. They will craft compelling papers to educate your audience about your authority in your field or the effectiveness of your services. 
The most important case study interview questions
Here we'll outline the most fundamental case study questions you should ask.
Begin with the background
When drafting case study questions, the first thing is to determine why you're doing it. Outline questions based on the primary issues you want to emphasize. 
So, what questions will allow you to explain how you solved others' problems? 
Ideally, you should ask previous clients about their company's history. It's an excellent method to introduce them to the readers. Then, begin the report by introducing the initial problems.
We'll provide a list of case study interview questions below that you can ask your clients to learn about their industry. Remember to modify them depending on the client's business and your objectives.
Give a brief description of your company and its beginnings.
The customer has the chance to describe their business at this point, including information about the company size, work environment, etc. In addition to getting helpful background information, it's a simple way to start a conversation with the client.
Who are your ideal clients?
The readers of your case study will get a better insight into their industry by knowing the target audience.
Explain your position inside the organization.
The interviewee's answer will give a better understanding of the obligations they're entitled to.
What are some of the most prevalent difficulties that firms in your industry face?
Request the subject to elaborate on this topic as much as possible. For example, they might struggle to find a service for writing high-quality content or plan an effective SEO strategy. That way, the readers can get some ideas about the topics to be discussed. 
What concerns or obstacles prompted you to seek out our product or service?
Give specific examples of these challenges. Suppose your client took professional content writing services from you to solve their issues. 
The readers should learn as much as possible about the issue since this will help them understand why others took your company's service. It will also make it easier for them to make a purchase decision.
Why was this particular problem a top priority?
If your customer has a particular problem, the readers will benefit from knowing about it. They will learn about which issues to prioritize.
How did this issue affect your business?
Explain the significant impact of the issue, so the readers become curious to seek your solutions.
What other viable solutions have you attempted in the past?
This will show readers that the customer considered alternative solutions before selecting your service.
How many people work in your company?
The client's description will help your readers to compare their company size with the highlighted firm.
How long have you been operating your business?
From this information, your readers can evaluate if the challenges are more relevant to a fresh or starting firm or an established one.
Build your connection
The most important questions you can ask clients are about their connection with your business. Answers to these queries will give you a deep understanding of why they chose to work with you and what makes them repeat customers.
When speaking with a new client, find out what made them choose your company over others. In the case of repeat customers, ask them how they found you, the reasons to pick your content marketing service, and most importantly, what made them come back.
You can include some questions like the following:
When have you signed up as a client of ours?
The readers will feel more confident about your product's performance if they attribute a timeframe to it.
How did you discover our company?
Ask the subject about how they found your service. Was it through a referral, an online search, or a case study? It'll show that you are a dependable brand with a track record of producing outcomes.
From when have you been searching for a solution to your problem?
It will give the customers an idea about how difficult (or easy) it is to find a solution to that particular problem. 
Why did you pick our business over the main competitors?
It will answer why the client chose your product over competitors. Let them explain this point in detail because it may bring in more leads.
How was the buying procedure for our service?
The readers will get the chance to know how smooth and straightforward the purchasing procedure of your service is. This is an essential point because many customers make the buying decision based on the purchasing experience. 
How did you plan to use our product to enable the solution?
Your readers will better understand how they can use your product to solve their problems.
Allow your clients to explain your solutions
Now that you've established the primary problem and explained why your client picked your service, it's time to move into specific questions. Now you'll ask about your client's experience regarding your product. These queries will elicit the most valuable information for your target audience. 
Try to ask direct questions to create a solid case study based on those answers. That way, potential leads experiencing the same problem will consider buying your service.
How did our product solve your problem?
This is one of the most critical questions since it serves as the foundation for the case study. It will educate your audience and convince them to try your service. 
The responses are a testament that your business does an excellent job for the clients. It also gives you the ground to declare, "X firm utilized our service and accomplished Y."
Which aspects of the service you found most helpful?
The elements will help the readers understand the value of your service better.
Was this service a substitute for a similar tool you previously used?
The subject could have used other services first. If so, providing this data could influence your readers' decision-making process and convince them to select your product over competitors.
What are the benefits of choosing our company over others?
The subject should highlight the unique values they received by choosing your business over your competitors. It's crucial for persuading potential customers about the worth of your service over the competitors.
Did you get in touch with the customer support team at any point during the process?
Customers may encounter various issues when utilizing your service. User experience on customer assistance will persuade the readers that you have their back when it matters the most. 
If yes, how was our customer assistance?
Readers will feel more confident if your clients perceive your customer service helpful.
How many employees in your company utilize our brand?
Readers can assess whether your solution suits their business needs with this information.
How many teams or departments in your company use our service?
This will illustrate how far your service has spread throughout departments.
How did you feel about the configuration and implementation process?
Readers can understand how accessible your service is from your clients' experiences.
Who was engaged in the execution of our product?
This will provide readers with a better understanding of who should be engaged when using your service. 
How did the rollout go?
Find out as many details as you can regarding the rollout. We can only hope that they'll praise just how easy it was.
What kind of comments have you heard from your employees regarding our service?
If the conversation has gone well, you can anticipate positive feedback from your client's staff. So, this feedback will help you stay one step ahead of your competitors.
Define the product's advantages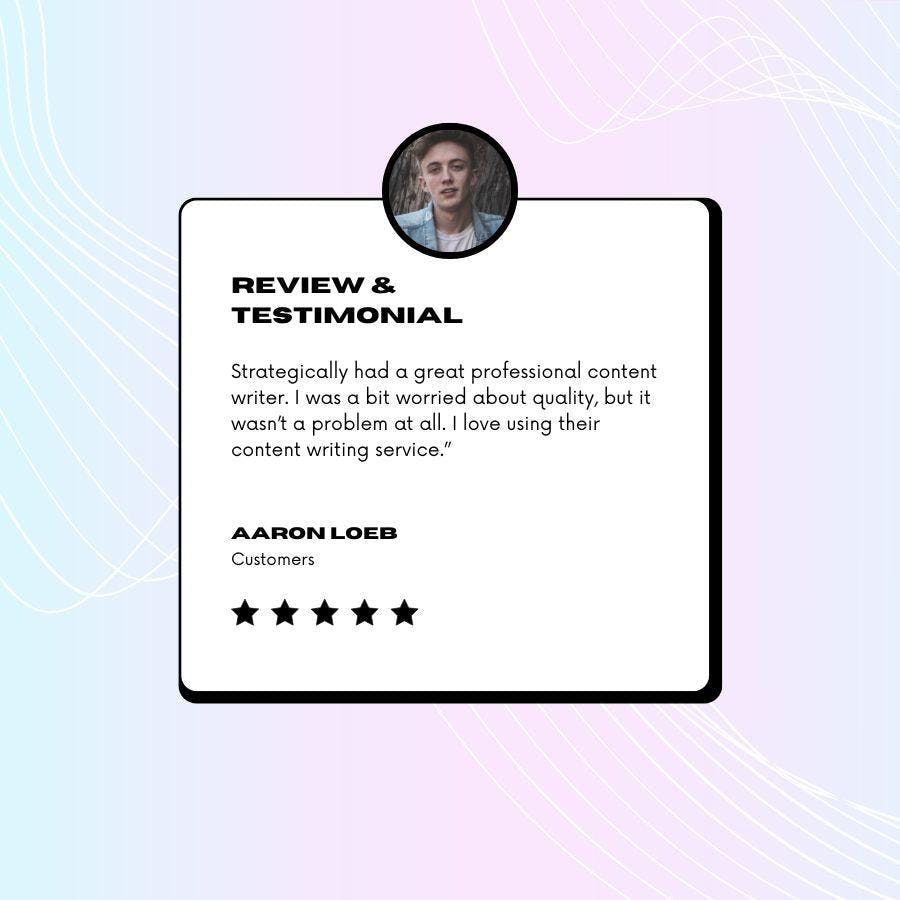 Here comes the most crucial part of the interview. You'll ask the client about particular outcomes and the metrics they used to monitor the performance of your service.
How did our service handle your particular problems?
When it comes to solving issues, your clients can often better explain the contribution of your service than you.
What sort of measurable results did you observe?
Any data provided by your respondent will highlight the significance of your product.
How has your business changed since you started using our service?
Your clients now have the chance to emphasize how your solution helped them achieve their measurements and objectives.
Which metrics or KPIs did you track to see if our solution effectively resolved your issue?
It'd be best for the customer to provide as many figures and data as possible. The more, the better for you.
How did your original issue affect your business? Does the problem still exist or get fixed?
Let them comprehensively answer how the problem initially hurt their business and how your services resolved those hurdles.
What's your suggestion to other customers who'll use our services for optimum results?
Suggestions from your existing client can play a vital role. Make sure that they specifically talk about the features of your service.
Fortify your relationship with the client
Now, we'll list questions that'll fortify your relationship with the client and make it long-lasting. 
Ask them the case study questions listed below.
Do you believe our product was beneficial for your business? How so?
This is a great question to ask at the end of a case study interview. It's an excellent way to grab the attention of your potential customers. You can ask the subject how your company offers a valuable product and service and why they think that is.
How much time does a new employee need to become familiar with our product? 
Your potential leads will know the estimated time to train a new employee to use your solution. It's good for you if a newbie can easily and quickly get up and running.
What are the reasons to recommend our service to a customer or friend?
Ensure that your client describes the aspects they'd emphasize when recommending to a customer.
Have you spoken to any of your coworkers about our product?
It's a great opportunity to get more potential leads and a referral.
What would happen if your team didn't use our service?
The answer will focus on the value your service provides and its importance.
What else can we do to help your company gain your objectives?
This can be helpful in terms of making sure you're giving them exactly what they want and need. It will also help with building a long-term relationship with them. 
What would it take for your company to derive the biggest return from our product?
You'll be able to provide more assistance to them through this information.
What feature of our company do you admire the most?
It'll illustrate the value of your service in detail to the readers.
What makes you choose to work with us?
The subject is likely to talk about how professional and efficient you are. It may make the readers gain confidence in your work ethic. 
Talk about the future objectives of your client
Try to get more involved with your clients by discussing their future objectives. They know what they want, but they want assistance in obtaining it. And your relationship with them will become stronger if you demonstrate that you're prepared to go above and beyond to assist them.
How can we assist you in achieving your company's goals?
You'll learn more about how you can support your clients more effectively. 
What objectives do you have for the following three months? 
Your organization can make a particular strategy to help the clients by learning their objectives.
How can we assist you in achieving long-term objectives?
If you know your customer's specific requirements, you'll be able to provide more effective solutions.
Conclusion
Case studies are an effective way to market your business, one that you should plan on integrating into your marketing strategy sooner rather than later. If you want your brand to stand out amongst thousands of competitors online, we urge you to set up a case study questions campaign for your business. You'll be amazed to see traffic and leads acquired through this content. 
Are you looking to build more trust with your target audience? Let our industry-leading content writing agency help you craft the perfect case study questions to get the results you desire.