A website title, according to Google's ranking guide, is a huge ranking factor. Also called a title tag, SEO title, or page title, it dramatically impacts whether your website will be shown in the search engines. This article will explain a website title and how you can pick one that the Google bots will love. Ready? Let's go.
Website titles explained
First, let's consider the basics. What exactly is a website title, anyway?
A website title is a short title that explains using HTML what the website page is about. As such, it neatly conveys to the search engines the relevance of a website page in relation to the search term input by a reader.
For example, on our content writing agency website home page, the website title is "Professional content writing services," and you can see it here at the top of the browser page: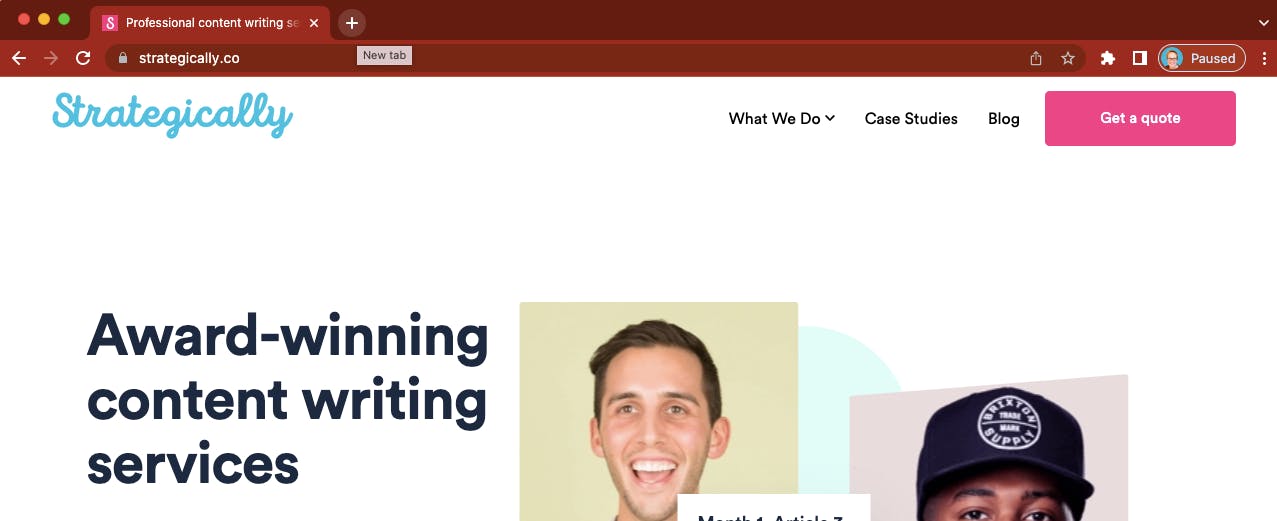 A type of meta tag quickly conveys to the reader and the search engine what the page is about and that it is highly relevant to someone searching for a "content writing service."
You can also see it when you search on google in the list of results here: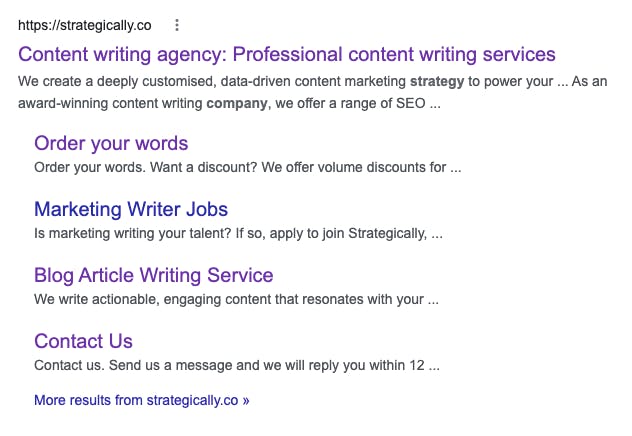 Is a website title important for SEO?
Many factors are essential for search engine optimisation (SEO). Your website title is one of them; in fact, it's often seen as one of the most significant SEO ranking factors, along with the wider context of the content on your website.
Your website content and its meta tags, including the website title, are all incredibly important when it comes to search engine optimisation. Your content and your meta tags need to be tightly aligned with the searcher's intent; otherwise, Google or other search engines won't deem your website or webpage relevant to the search, and therefore, it won't get shown.
In other words, an SEO title needs to be relevant to the searcher's query to show up in a decent position in the search engine results pages (SERPs). For example, if your website title is "Premium cat food" but your page is about affordable dog food, there's no chance it will rank for someone searching for "budget dog food".
Obviously, this is an extreme example, but it highlights how it's highly unlikely that your website will be displayed with a mismatch between the searcher intent and the SEO title. A good SEO title should address the reader's pain point (why are they searching for a solution), use a tone the reader resonates with, and offer a solution to the reader's problem.
Nail this, and you're off to the races.
Let's go back to our dog food example:
Customer pain: Looking for cheap but healthy dog food
Resonates with the customer: Price-conscious
Solution: Is your dog food cheap and healthy?
An SEO title for this website page could be:
Healthy dog food from $5 per packet
But think about it for a moment, if I was to exclude even one of these elements from the website title, it would make it less compelling:
Healthy dog food
This only addresses one part of the customer's pain, and they may be left wondering whether they can afford it. It's not shown by Google as it's deemed as premium rather than budget-friendly, and those readers that do see it on Google don't click on the site as it doesn't address their price concerns.
Ahrefs noticed an almost 38% increase in organic traffic after changing the website title for one of their pages. Let's take the keyword "best dog food for allergies" and look at the SERP results using Surfer's SERP Analyzer. Here you can see that all of the results in the top positions include the keywords that clearly answer the searcher's question at a glance.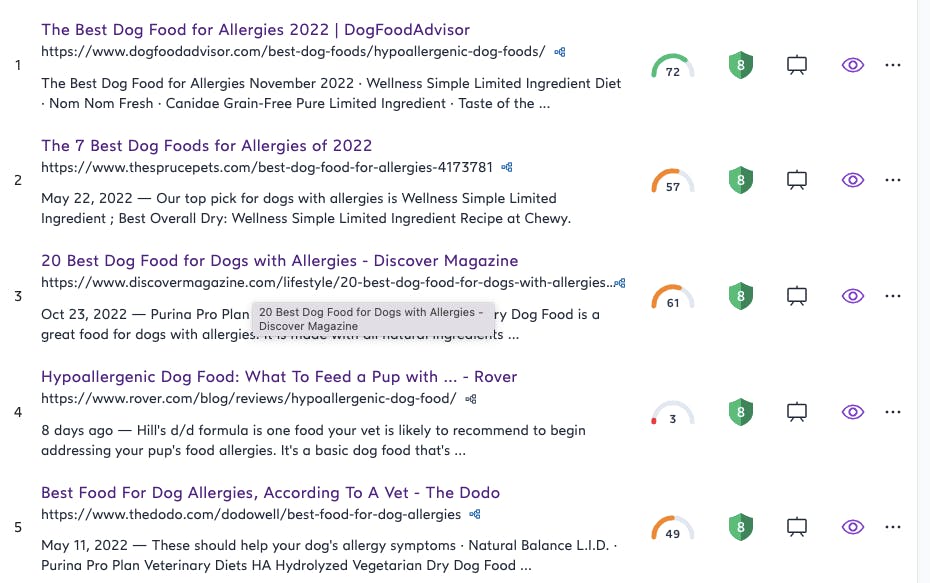 How to find the website title
If you're conducting competitor research and trying to find out how a website ranks for a specific keyword, it's always a good idea to take a peek at what they are using for their website title.
Alternatively, if you need to check the website title on one of your pages, you can also use this method.
To find the website title, head over to the page on the internet.
In the top Chrome bar, click View.
From the dropdown, select Developer and then View Source.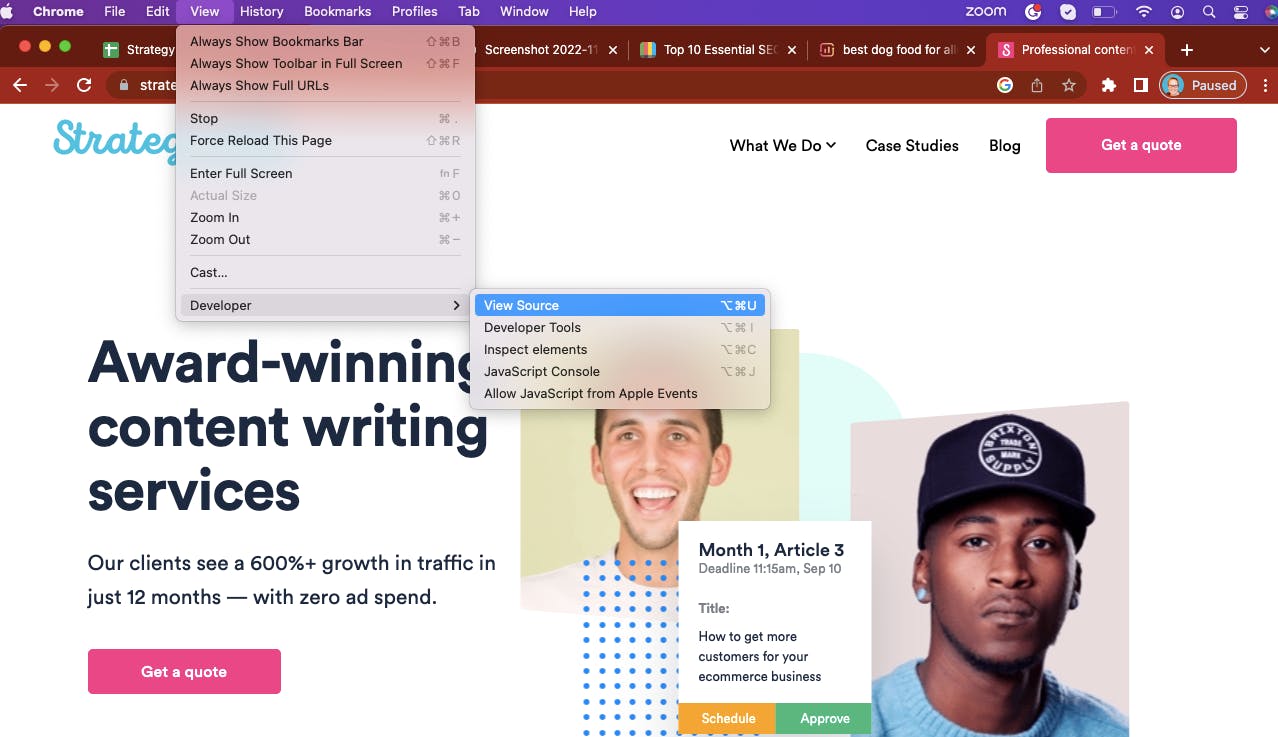 Next, search the page for "title" using Option + F on a mac. This will bring up all results for the word title on the page inside the code.
The title tag will present slightly differently depending on your code; however, it should be possible to search through each mention of "title" and find the page title like this: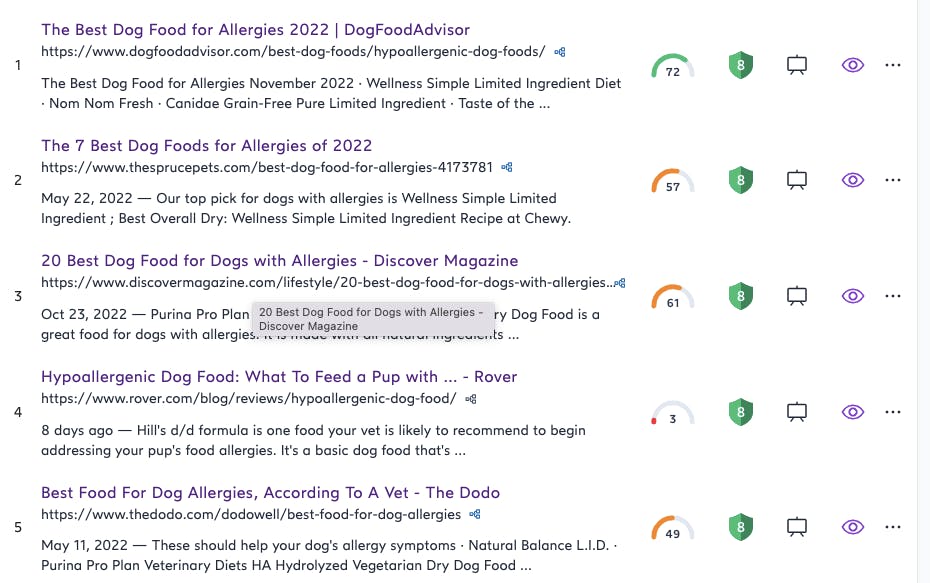 6. Every internet browser allows you to view the HTML source code of any web page you visit. 

Here you will be able to see whether your title tag is correct or whether you need to update it. Let's discuss how to ensure your website title is correctly optimised.
Title tag best practices
When you create a website title tag, it is important to base it on a few core premises. These include:
Although you are limited in characters, the title tag must still offer a detailed explanation of what the page is about. It should be a teeny tiny description of the contents of a page giving both the reader and the search engines enough information to understand what the page is about.
It should encourage the user to take action and click through to your website. Along with being descriptive, a title tag must meet the search intent and encourage the user to click through. Remember, a user is being shown your website page in the search engines if it relates to the search query; the better it answers that query, the more likely the user is to click through.
Your title will be displayed wherever there is a thumbnail display of your page. For example, if you share the link on social media or messaging apps like Skype, a thumbnail of the page will be displayed, including the page title. Make sure this makes sense to a user with no prior knowledge of the page or site, as it's all they have available before choosing to click on your page.
Try to add as much information as possible about the product or business. Are there any compelling reasons to click through? Do you offer free shipping? Are you cheaper than your competitors? Let your customer know in the title tag, as this is your chance to compel them to visit your site.
Now we've covered the overall inclusions for the title tag, let's look at how you should format it:
Your title tag should not be longer than 60 characters, including spaces. Why? Because it will get truncated (chopped off for the layman) in the SERPs. If you're unsure if it's the correct length, use a tool like Meta Tags to double-check. You can enter your title, and it will show you how it will appear in the search engine results and whether it will be truncated.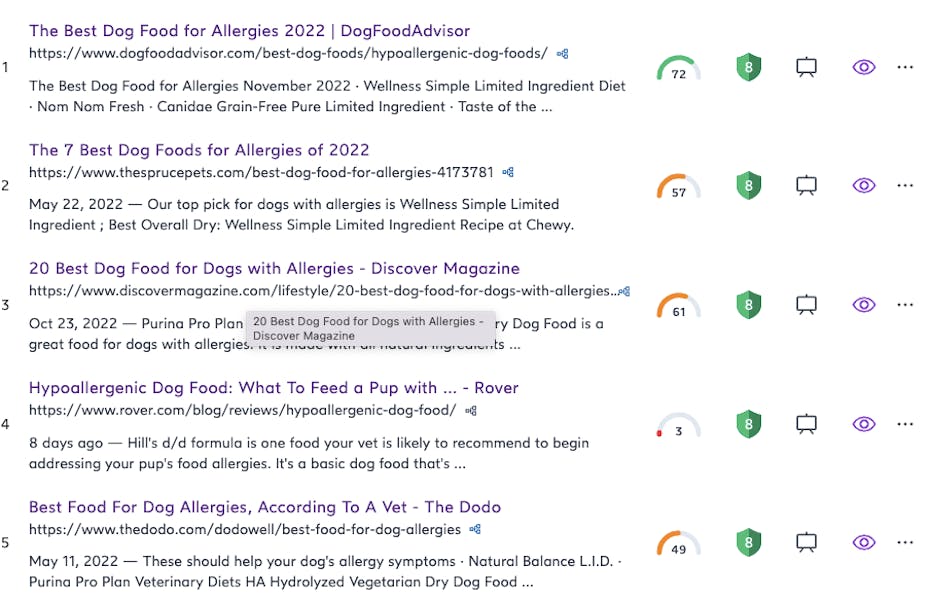 Always include your primary keyword in the title tag. If you don't, you're missing a huge trick.
Use the most important words at the start of the title tag, as long as it makes sense to do so grammatically.
Add your brand or business name at the end of the title tag as a separate section.
Decide and stick to a format for capitalisation. We like to use the APA title case; however, this can vary depending on your brand style guide. The point is to make a choice and be consistent. You can use free tools like this to check you've correctly capitalised your title:

Include a call to action inside the title tag. A compelling call to action will depend on the type of page (product or blog page, for example) and what you would like the reader to do. If my dog food example leads to a product page, I would consider "Buy Now" as the call to action, but if it was a blog, I might use "Read on." The important thing is to tell your reader what to do next.
Capitalise words except for prepositions, articles, and conjunctions.
Include call-to-actions based on the goal of page content (e.g., to learn about a product in informational articles or to purchase the product).
Summing up
Title tags are crucial for SEO because they tell the search engines that your page tightly aligns with the user's needs. They are also important for click-through rates (another ranking factor) as they meet readers' needs and compel them to take action.
Are you looking for help with SEO content writing but unsure where to start? We can help. As an expert content writing agency, we've written more than 8 million words of SEO-optimised content. Get in touch today.