Scale your content creation with Strategically AI
Write and install 100s of articles with just a few clicks
Get five free articles
A well-crafted newsletter is a powerful tool for encouraging subscribers to take action and driving business growth. It's like the beating heart of your brand. You can stay connected with the customers and keep them updated on recent blog posts, upcoming events, ongoing sales, and other things with email newsletters.
However, setting up successful email campaigns can be challenging. You need to find the right mix of content, design, and formatting to create something that will stand out in the inbox and generate engagement.
Think about it from the perspective of email subscribers. Do you open all the emails in your inbox? You read only a few of them, rarely respond to the call to action, and go straight for the "unsubscribe" button most of the time. 
That's pretty terrifying; how can you survive that competition and make your customers follow your instructions?
That's why today, we're going to explore newsletter examples that work perfectly for various brands. We've picked some of our favorite sites and explained how their newsletters hit it home. These emails successfully catch readers' attention, gain social media followers, or drive year-round and seasonal sales.  
Characteristics of the best email newsletters
Every perfect email newsletter has at least five characteristics that make it successful. Let's discuss these features so you can craft effective newsletter templates for your business.
Captivating subject line
The subject line of your email is the first thing that catches the subscriber's attention. It should be short, catchy, and to the point to ensure your recipients open the email.
Relevant content 
Newsletter content must be relevant to the subscribers. You can select topics that interest the readers and ensure the content is up-to-date. Keeping content fresh and exciting is key to engaging readers and keeping them coming back for more.
Personalization
Personalizing emails is essential for creating a better connection with the reader. This could mean using the reader's name throughout the email, providing tailored content based on the reader's interests, or offering something similar to the reader's past purchases. Personalization can make readers feel valued and respected and keep them returning for more.
Clear formatting
The newsletter design and format should be straightforward to navigate. Use headings and subheadings, provide images and videos to break up the text, and insert bullet points to highlight important data. Good formatting makes it easy for readers to find information quickly.
Distinct CTA 
The best email newsletters always end with a call to action. It helps guide the reader to take the desired action, whether to purchase a product, sign up for a service, or read a blog post. 
A well-crafted call-to-action can be the difference between a reader taking action and simply deleting the email.
Get service from seasoned marketing writers to ensure your emails don't land in the trash folder!
How to make an email newsletter more effective
You must do a few key actions to make the best email newsletter for your future projects. Let's see what they are and how you should implement them.
Set precise goals
The very first thing you should do is to set a precise goal with a clear subject line. You can only communicate with the users if you're sure about the outcome or purpose of the email campaigns. 
Customize newsletter content 
In the best newsletter examples, you'll see the contents are properly tailored for the target audience. Keep track of customer behaviors and interests from relevant data and create different types of newsletters for different audiences.
Also, segment your emails by customer type, demographics, or other relevant criteria. This way, you can craft more personalized and engaging content for each subscriber.
Do A/B testing 
A/B tests are the best ways to improve any digital marketing strategy, including email marketing. There are many A/B testing tools to test your email newsletters quickly. Check which newsletters influence the customers and redesign the new ones based on the findings.
Focus on your brand 
Your email newsletter should be a reflection of your brand identity. Ensure the design, content, and tone are consistent with your overall branding. 
Everything from the color palette and font choices to the content you share must remind the audience of your service or products. Each newsletter design should be visually appealing, and the content should be meaningful to your customer base.
Make it mobile-friendly
There are 4 billion people who use their email daily, and 46% of them use their mobile phones to do that. So, no matter the type of content you include, the newsletters must be mobile-friendly.
You will likely win out on potential leads if the content looks good on mobile. Make all the links, images, and buttons optimized for mobile devices. 
The best email newsletter examples that work
There are various email newsletter types covering different topics. We've discussed 16 top categories and given specific examples to demonstrate how they work. 
Product newsletter
These newsletters are mainly sent to promote new products and provide ongoing offers, updates, or other exciting announcements.
In product newsletters, you should focus on promoting products and their features. You can also use catchy images of the products and highlight the customer pain points. 
So, keep scrolling to see a few perfect examples of product newsletters for your upcoming products.
iBuyPower
If you look into this email from the iBuyPower site, you can see tempting deals on new products. The following newsletter example teases the audience about limited edition products, which is genuinely intriguing.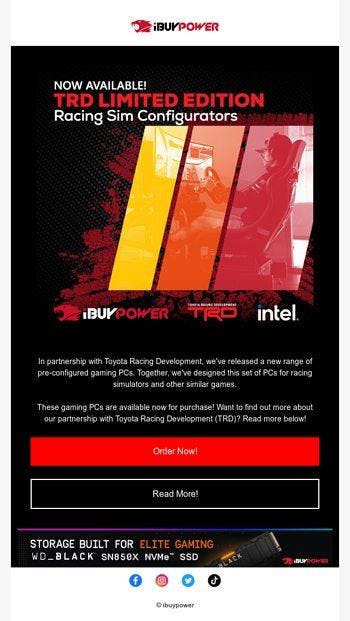 Credit: Email Tuna
The header text focuses on "Limited Edition," so users instantly understand what the deal offers. Also, if you look at the design of this email, it's something tailor-made for people who like gaming. 
Since gamers are the primary consumers of these products, the email has been designed to grab their attention. Using softer colors or more generic fonts won't drive these people to hit that "Order Now!" button.
Super Anime Store
Super Anime Store outlets around the country send newsletters regarding their new products, discounts, and coming events.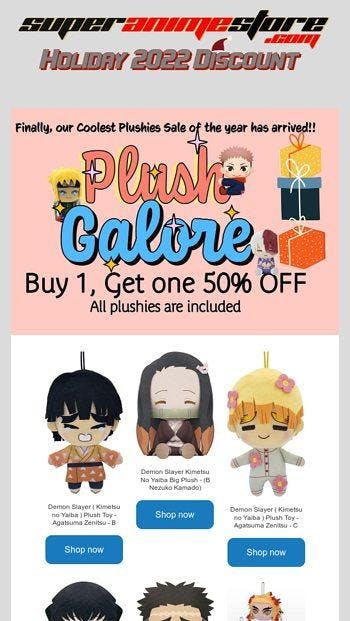 Credit: Email Tuna
This particular email focuses on the "discount" part to push the sales of anime plushies. You can also see the phrase "Coolest Plushies Sale of the year," which hints at the deal's exclusivity. Such use of clever language will convince many people to grab the offer. 
The email features plush dolls of famous anime characters to make you go, "I want it ." Moreover, the CTA button "Shop now" right under the products makes purchasing easier.
Holiday newsletter
One of the best times to engage with your customers is the holidays. Since most companies offer lucrative deals and discounts this time, a large number of people wait for holiday shopping and spend big. 
You can send them newsletters containing great offers, greetings, or exclusive launching of products. To make the best holiday newsletters, get help from the holiday email templates or create a unique one that can resonate with your customers better. 
As your audience will be in a festive mood on holidays like Christmas, Easter, and the New Year, it's easier to promote your business and push brand recognition. Let's see some fantastic examples of holiday newsletters to convert your subscribers.
Brooks
The shoe brand Brooks is our first choice for the holiday newsletter examples.
Credit: Email Tuna
The example shows that the design or theme focuses on a holiday campaign, "Christmas." 
Also, the "express free shipping offer" makes it clear that the company is sincere about delivering the products before Christmas. Such thoughtful offers always increase brand loyalty.
Swarovski
Swarovski is known for its unique crystal-made jewelry, decorative, and many other items.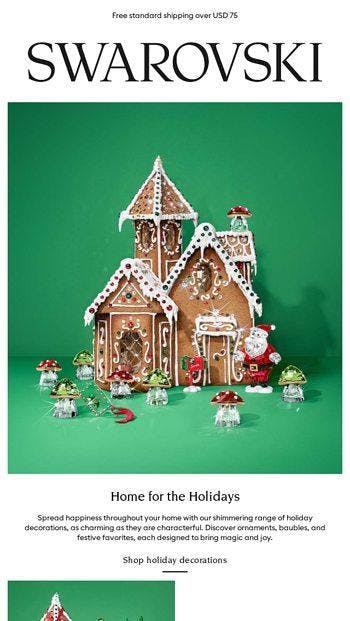 Credit: Email Tuna
The above newsletter example shows that the company is promoting its holiday decorations. The image is the most genius touch, featuring a gingerbread home decorated with Swarovski crystal ornaments and baubles.
Belk
The American department store chain has some excellent examples of holiday marketing.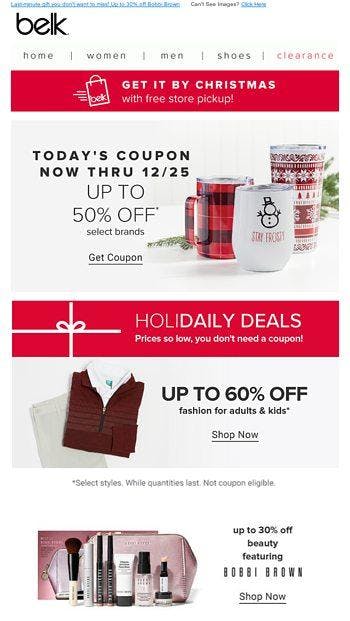 Credit: Email Tuna
From the given newsletter example, you can easily see all these deals are for holidays. Belk has also taken a straightforward approach by focusing on only product images and discount percentages.
Event newsletter
Event newsletters are a part of email marketing, focusing primarily on the events of your business or brand. These emails offer different deals or updates on events happening currently.
Bed Bath & Beyond
The Bed Bath & Beyond chain retail stores often offer tempting deals and host events.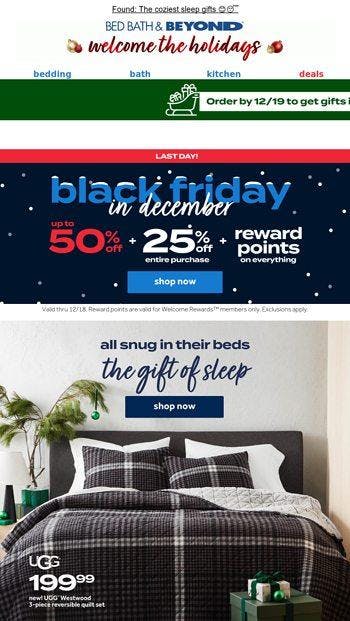 Credit: Email Tuna
Customers don't have time to keep track of the events happening at the retail stores. So, brands must be proactive and send subscribers alerts about recent or upcoming sales. In this newsletter example, the company informs about the Black Friday discounts. 
Putting the words "LAST DAY!" in a red banner and the discount amount "up to 50%" in red color catches attention immediately and creates a sense of urgency. Also, the CTA button has been used twice to increase the chance of clicking. 
ShirtPunch
Shirtpunch is a famous brand that sells t-shirts and toys related to pop culture themes.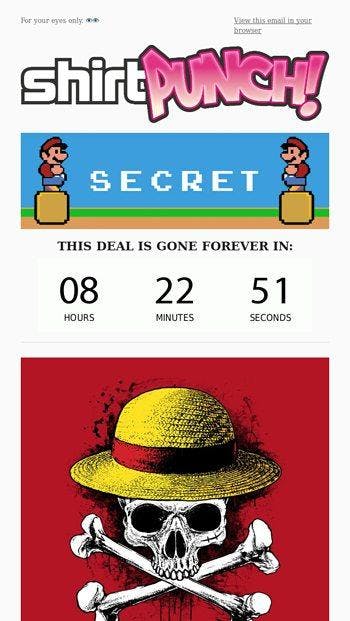 Credit: Email Tuna 
The newsletter is an excellent example of how to pique the customers' interest and push them cleverly to buy the products. 
The company does this by using the word "SECRET" and a countdown timer. Aso, the giant image of the shirt design will make people, especially One Piece fans, at least check the product.
GQ Magazine
GQ is a monthly magazine for men. It focuses on men's culture, fashion, style, fitness, and many other things.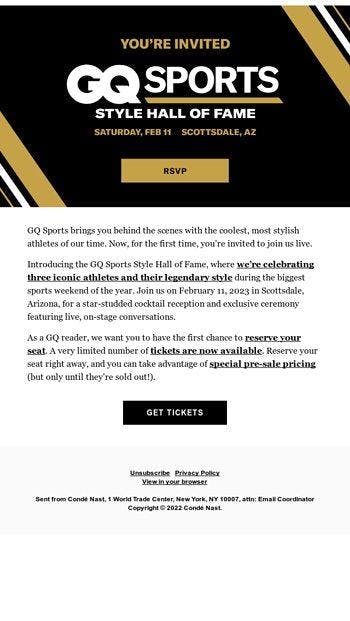 Credit: Email Tuna
You can see an invitation to an exclusive event in the above newsletter example. The content is the star of this email since it conveys a personal touch and makes the invitee feel quite special.  
The event's exclusivity is well displayed through the choice of gold, black, and white colors. 
Membership exclusive newsletter
These emails are mainly sent to the members of a community or course subscribers. They can also target regular customers to convince them to become exclusive members to get extra rewards or discounts. Let's see how it works.
Craftsy
For the membership exclusive newsletter example, we've picked one from Craftsy, a subscription-based service.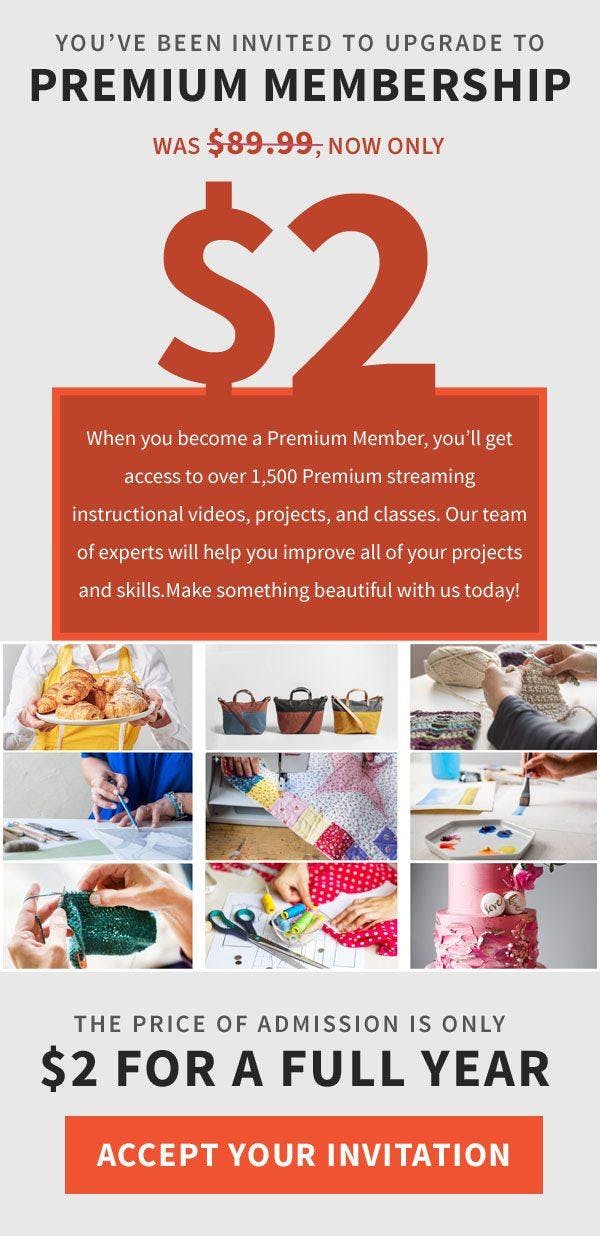 Credit: Email Tuna
This website offers hundreds of online courses on different crafts, arts, hobbies, and other lifestyle topics. Paying for multiple courses can be expensive; that's why they offer premium membership at a low price through email. 
If you look at the sample, you can see the premium membership price is the focal point. The big, bold font in red color is almost impossible to miss. The membership benefits are in a box underneath the price, giving the readers more reasons to click on the invitation button below.
The Correspondent
The Correspondent is a publication agency that discontinued its service in 2021. 

Credit: Email Design
However, the above email is an excellent example of how to rope in members who have stopped paying. 
Just read the content. It creates an emotional tie while subtly pushing the FOMO by giving a gist of the recent publications. The CTA button is pretty genius too. It reads, "Ok, I'm back in!" that mimics the voice of someone who is already convinced.
Blog newsletter
Both blogging and email marketing are great ways to promote content marketing and boost communications for the greater good of your business. However, you must be friendly and conversational in the newsletter for the best results.
You can send weekly newsletters summarizing the recent blog posts and stories featured. If your audience is more active, send them daily updates using RSS feeds.
Let's see what an effective blog newsletter looks like:
zZounds
Blog newsletters work great for promoting blog posts. We can see the example from zZounds regarding this matter.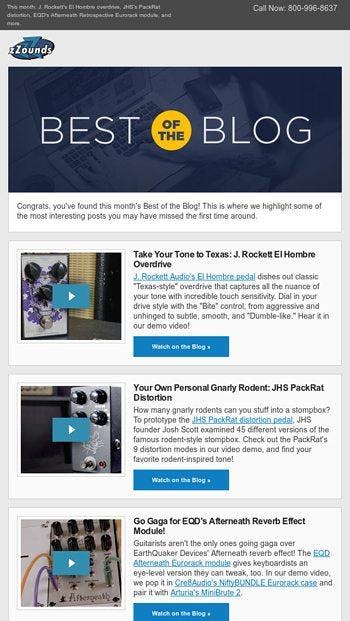 Credit: Email Tuna
Although this eCommerce site offers deals on musical instruments, it has a blog section covering music-related topics.
The email here contains a round-up of posts featuring an image, blog title, excerpt, and add read more button. Readers will immediately know what the post is about from the excerpt. If that makes them interested, they can easily read the post by clicking the CTA button.   
News newsletter
Like blog newsletters, these emails contain the most important updates or sensational or breaking news of the day. The headlines are usually attention-grabbing, luring the readers to visit the website to read the full article. 
Let's see an example of this newsletter category.
Glamour
Glamour is a women's magazine covering news and articles about fashion, trends, celebrities, and beauty.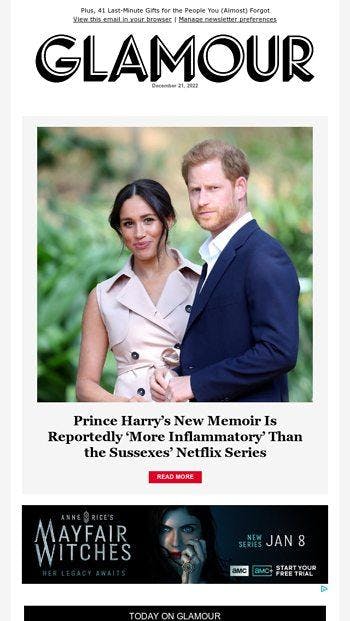 Credit: Email Tuna
See the example above if you want to know how their newsletters work. By looking at the big image, the readers will immediately understand what the article is about. 
Also, the title is kind of, dare we say, clickbaity. Have you noticed the use of the phrase "More Inflammatory" inside the quotation mark? This phrase alone will intrigue many people to click the "READ MORE" button.  
Business newsletter
Business newsletters may seem the same as eCommerce newsletters, but there are slight differences between both types. In a business email marketing strategy, you need to focus on making the emails more valuable through different case studies, educational content, personalized offers, and many more.
These newsletters have different goals, like giving the recipients monthly or weekly updates and nurturing new subscribers to make them long-term customers. 
Let's look into an example to see how these things work.
RainbowShops
There are plenty of businesses that have an excellent email marketing strategy. RainbowShops fashion retailer is one of them.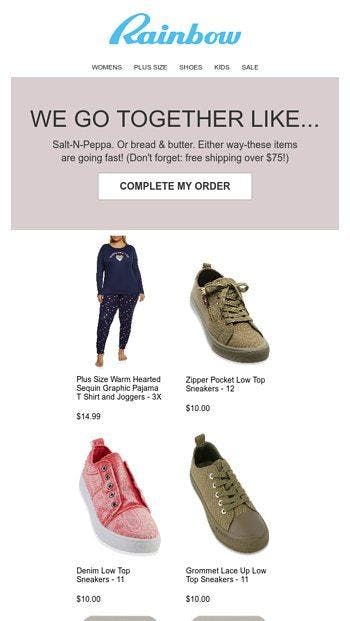 Credit: Email Tuna
The most vital point of this newsletter is the clutter-free, simple design that highlights the featured products. The main focus is selling the products, that's why the images are so large. 
Since you can see the pictures more clearly, you're more likely to have thoughts about buying them or adding them to the cart. So, it's a good enough newsletter for this category.
Ecommerce newsletters
Only a beautiful design does not make a newsletter good. You need to build a relationship with the customers to promote your business. So, think of providing something in the emails that the recipients will find valuable. Only that can increase engagement and boost sales. 
Let's use one of the eCommerce newsletter examples from Zulily for better understanding.
Zulily
The eCommerce company Zulily offers a discount on washable rugs in this newsletter.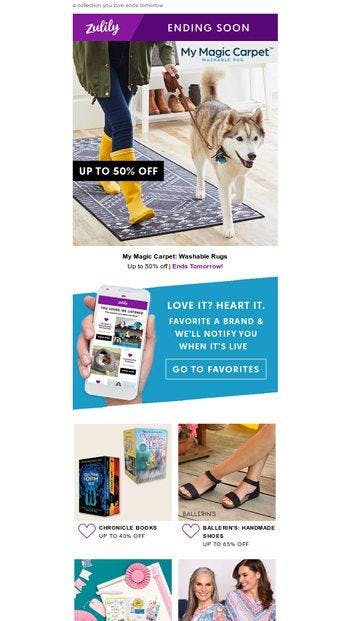 Credit: Email Tuna
Just look at the image in the magic carpet product. It shows a woman with dirty gumboots and her dog walking on the rug. Why? Because this carpet is washable. 
Without using any texts or catchy headlines, the brand is successful in conveying the message and grabbing attention at the same time.
Banking newsletter
Not only eCommerce brands and startups need newsletters to promote their brand value. Financial institutions like banks can also utilize this powerful tool to communicate with customers to build better connections.
For banking systems, a newsletter can provide monthly updates, statements, announcements of new features, and information about packages and cards.
Ando
The bank supports the fight against climate change and actively donates to several green initiatives. So, most of its newsletters are targeted at people who take "baking with purpose" and "banking with sustainability" seriously.

Credit: Really Good Emails
Everything in this newsletter, from the color choice to copy text, makes Ando's alliance with sustainable causes pretty evident. The copy offers a 20% discount on the insurance and mentions a campaign to plant trees. It has everything to attract its target audience, environmentalists who need financial assistance. 
Restaurant newsletter
The food business is quite different from other business types. Since food appeals to our senses, newsletters from restaurants and eateries should have high-quality food images to tempt customers. There could be incentives for placing more orders and offers to promote the reservations with special deals.
Let's see some of our favorite restaurant newsletter designs for inspiration.
Arby's
Arby's is a famous sandwich chain restaurant in the United States. Check how it crafted the words in the newsletter when introducing a premium wagyu burger.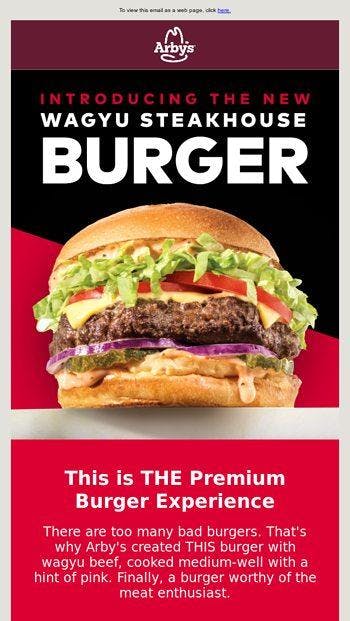 Credit: Email Tuna
Of course, the focus is on the image because it's the launching of a burger. A hungry customer seeing this picture, especially the big patty and the dripping mayo, will be immediately tempted to place an order. 
Also, the copy highlights the premium aspect of the burger, which will make many people curious even if they don't eat fast food regularly. 
The color palette is carefully chosen for the customer's physiology. It has to be red because the color is known to increase hunger.
The Cheesecake Factory
The second example is the Cheesecake Factory serves mouthwatering cheesecakes and other items to millions of hungry Americans.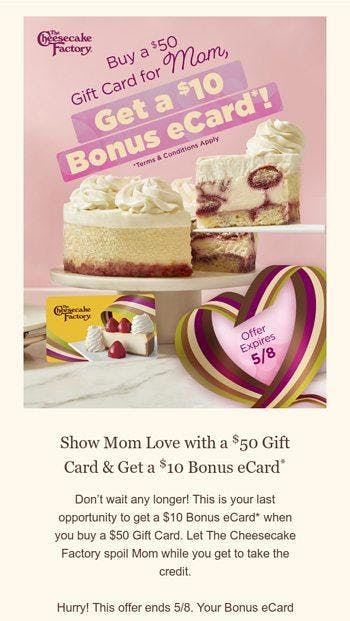 Credit: Email Tuna
The emails contain images of delicious cakes and other food items to lure you into purchasing. Also, you can see from the newsletter example that they also offer discounts and cards to attract you more.
Non-profit newsletter
Non-profit organizations or NPO use different email marketing strategies in their campaigns. Usually, these newsletters contain high-quality photographs or visuals to evoke an emotional response. 
Also, the email copy should be straightforward to highlight the cause or event the organization is promoting. 
Let's see how WWF sends a newsletter to educate its subscribers and make them take action simultaneously.
WWF
WWF is a nonprofit organization that works for wilderness preservation.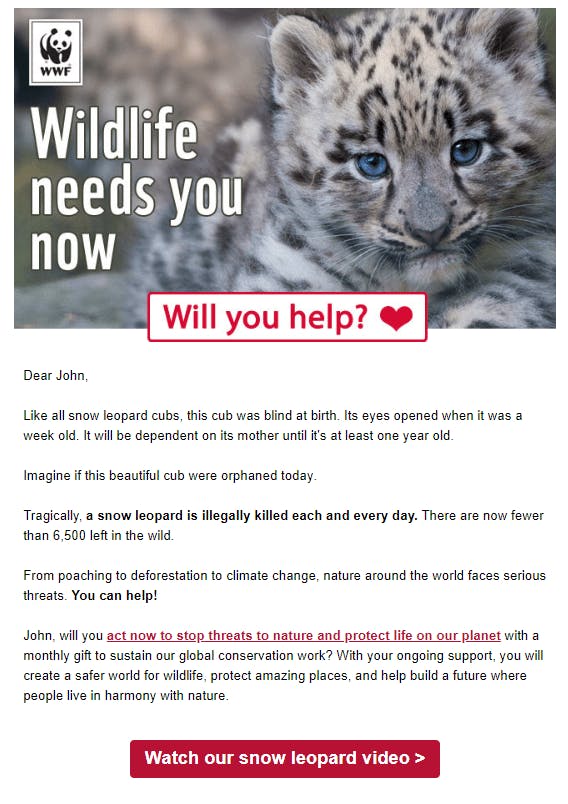 Credit: Classy
These non-profit organizations mainly send newsletters to people interested in charity work, such as animal lovers concerned about saving wildlife.
If you look at the example above, you can see the headline seeks empathy and subtly pushes the readers to make a decision. The emotional copy tells the story of a blind leopard cub and draws attention to the illegal killing of leopards. Paired with the copy is a heartwarming picture of that blind cub, which will make any animal lover emotional and donate to the cause.
When the purpose of a campaign is to make the subscribers donate, this newsletter has done everything correctly. 
Real estate newsletter
The real estate industry also benefits from email marketing like any other business. They can promote their properties and inform the audience about available listings.
Let's see how some real estate companies send newsletters to engage with their customers.
Zillow
Zillow is a real estate marketplace company that offers exciting deals on properties.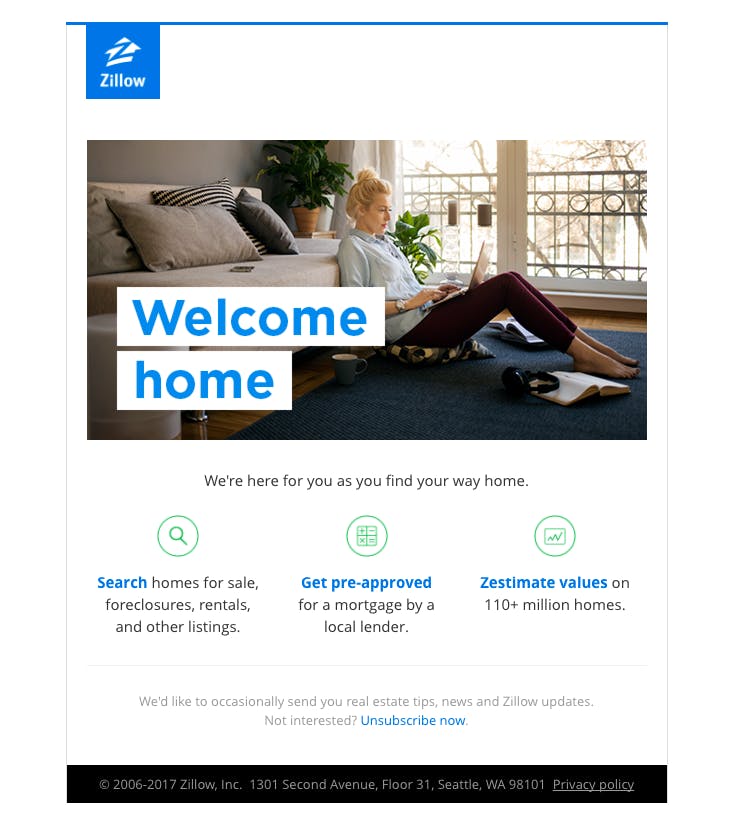 Credit: Pinterest
This newsletter is part of Zillow's business campaign, highlighting the company's primary purpose: helping people find their ideal homes.
In the above example, there's a big picture that highlights a decent and peaceful home. There isn't much text, so it's pretty simple and easy for the customers to make decisions and click on the CTA buttons to go to the next steps or other pages.
Webinar newsletter
Do you want to build a better relationship with your potential customers and nurture them? A webinar newsletter is all you need. You can send a monthly or weekly newsletter offering instant solutions to handle their problems and promote your brand at the same time.
You must add a summary of your events and relevant content in webinar emails. You can include CTA and links to your websites or landing pages. Remember to add the speakers' images and credentials to enhance credibility. Now let's see an example of webinar newsletters.
Entrepreneur
Entrepreneur is a great website that offers many blogs, news, magazines, and opportunities for people interested in entrepreneurship or who want help in their entrepreneurial journey.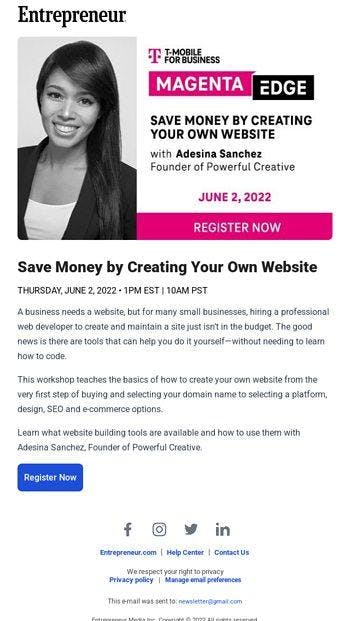 Credit: Email Tuna
This site also offers webinars held by successful and experienced entrepreneurs. The above example uses a guest's image to increase the event's credibility.
Also, the headline is catchy as it contains everyone's favorite topic: Saving Money. If you are interested, you'll read the texts for more information. Two CTA buttons are given in contrasting colors, making them stand out from the rest of the texts and elements.
Travel newsletter
Travel newsletters are targeted at people who actively travel or want to travel. These newsletters are usually sent by travel agencies and websites, offering exciting deals and updates about tourist spots or hotels. Let's see how this type of newsletter works.
Spirit
Spirit is an airline service that offers traveling at a low cost.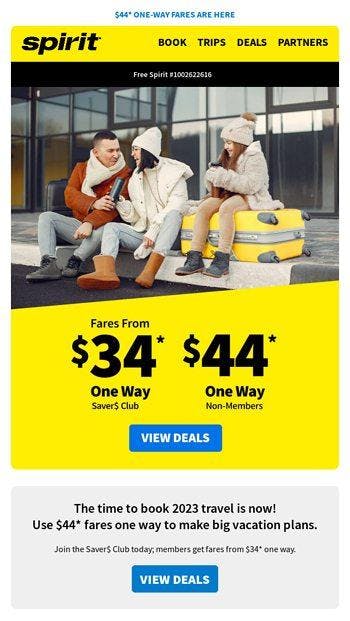 Credit: Email Tuna
In the newsletter example above, you can see Spirit offering tickets at low prices for their club members. Also, there are other exciting deals that you can see by clicking the "VIEW DEALS" button. The dominating yellow color is fun and somehow matches the spirit of traveling.
SaaS newsletter
Software as a Service (SaaS) companies usually send newsletters about product announcements, updates, or promotional offers like discounts or sales.
For this reason, these emails are also like product newsletters but for specific types of products. You can also compare it with eCommerce or business newsletters.
Splice
Splice is an online platform that offers music collaboration and video editing.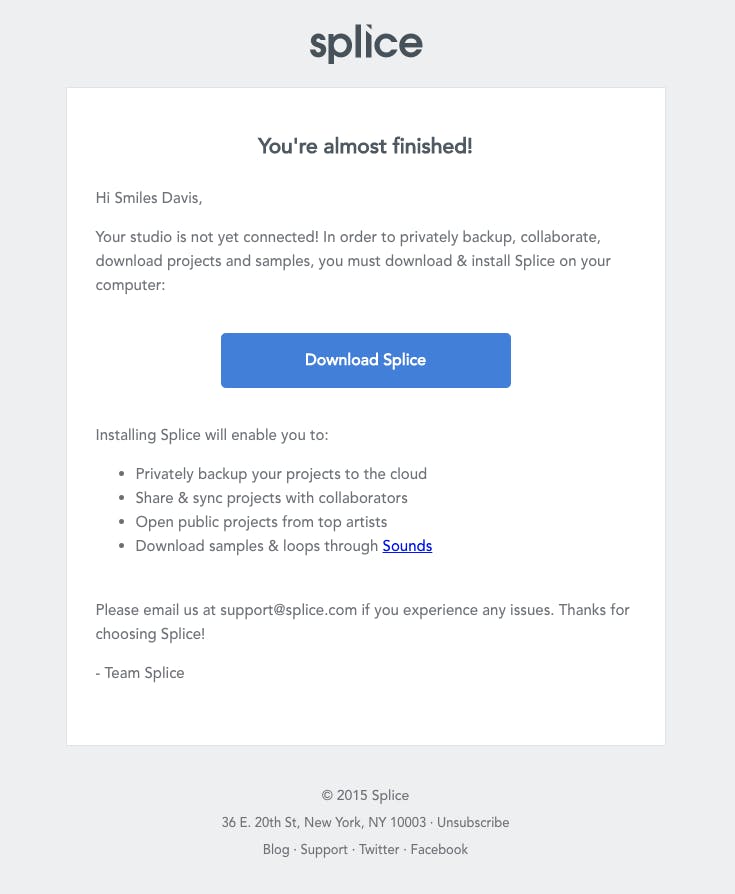 Credit: Pinterest
The newsletter example shows that the email is simple and precise. It's a reminder email with a motivation push in the headline. The ultimate goal is to convince the users to download the desktop software, and it does so by listing several benefits of the tool. 
Technology newsletter
Technology newsletters are about technological trends, events, news, products, and many more. If you are a bleeding-edge tech gig, you are probably already familiar with these newsletters. Let's see an example.
TechBargains
TechBargains offers promo codes, deals, and coupons on hundreds of products from different companies.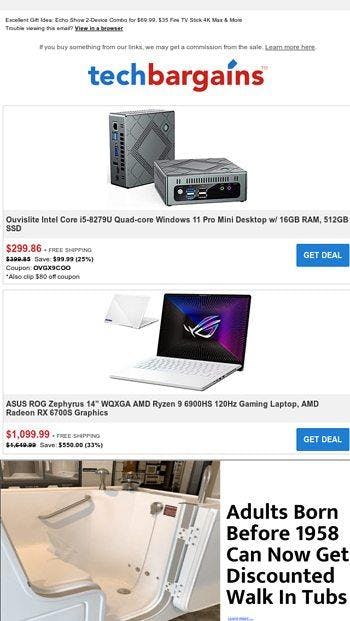 Credit: Email Tuna
The above newsletter example shows deals and discounts on different tech gadgets, like laptops and CPUs. If you want, you can directly go to the product website without visiting TechBargains. 
Also, the email clearly shows the featured products' current prices and how much you can save. People who purchase tech products will surely love this straightforward approach.
Conclusion
Crafting the perfect newsletter for your business or brand is not easy and takes a lot of time and effort. You need to choose strategic content, a clear goal, and a brand-specific design to achieve your desired outcome.
Since we've shared many newsletter examples in the previous sections, we hope they're enough to give you the confidence and knowledge to create newsletters that work for your business.
Many platforms share free newsletter templates, excellent sources for inspiration and gathering ideas. However, the best practice would be to collaborate with a copywriting service with skilled content writers and designers to create a professional newsletter campaign.