Amazon's affiliate program has grown into one of the internet's largest and most widely used affiliate marketing programs. It gives millions of users a way to monetize their sites and blogs by earning commissions from product referrals. One of the best features of the Amazon Affiliate Program is that there are minimal requirements to join, so you can jump in at any time and earn commissions immediately.
Becoming an Amazon affiliate can be very lucrative if you can write compellingly about products or services. Amazon's affiliate program allows its customers to create links to Amazon products in their blogs, websites, and other online content. When visitors click on those links, which leads to them purchasing a product or service within 24 hours, the material's publisher earns a commission ranging from 4% to 10%.
Interested in digital marketing? What are the steps to getting started? Undoubtedly, opening an Amazon associates account is one of the best starting points. Let's dive into everything you need to know about earning passive income online as an Amazon Affiliate.
What is the Amazon affiliate program?
The Amazon Associate Program is one of the easiest ways for online retailers and new affiliate
marketers to get their name out there. Affiliates (Amazon Associates) earn affiliate income by promoting products from customized links. This can be especially valuable if you're just starting and looking for quick traffic and revenue growth.
The great thing about Amazon is that whether your niche is books, clothing, or even electronics, you can find a way to monetize it using the Amazon affiliate marketing program; it has something for everyone. However, certain products may not be eligible for commissions, such as gift cards and Kindle eBooks.
What an amazing opportunity, and you don't need to carry any inventory! You simply insert your Amazon affiliate link to their products through your website, YouTube channels, or email campaigns. It's really that easy! You earn money every time someone clicks through and buys a product or service on Amazon.
Joining the Amazon Associates Program is relatively straightforward. Once you sign up, you'll gain access to tons of helpful resources that will help you track and promote your content effectively. If done correctly, Amazon affiliates can be highly profitable—especially those running online stores selling digital products such as ebooks and online courses. Some companies even offer associate certification programs where successful affiliates can become partners who earn commissions without being website owners or having their own blogs.
Here's a quick rundown of how the Amazon Affiliate Program works:
Create an Amazon associate account on the Amazon associates homepage
You get an associates ID
Once your application is approved, you can begin creating affiliate links in your Amazon portal
When you create affiliate links, include them in your blog post or website
Earn commission when someone clicks on your link and makes a purchase
Amazon affiliate program requirements
To become an Amazon Affiliate, you'll need to apply for an account and have your application approved. While the approval is at Amazon's discretion, the company makes it easy by  requesting very little information on your application. You will need to provide the following information:
A valid email address
At least one website URL
Tax information
Preferred store ID
Once Amazon approves your account, you can start making money as an Amazon associate! However, keep in mind that only the products listed on their Amazon associates API are available for commissions.
This restriction helps ensure transparency between customers and sellers. For example, suppose there were no limits on items that affiliates could list. In that case, an unscrupulous individual could technically create thousands of affiliate links overnight and generate  commissions from fake products. That would be bad news for everyone involved!
So how do you know which products are eligible? It's simple: If it can be bought or sold on Amazon, you can advertise it using their product-advertising tools. There are many categories and subcategories, such as books, electronics, and sports equipment. When you find a product that interests you, click to learn more about its listing requirements. Some may require you to use specific text or images to earn a commission, while others allow you complete creative freedom.
Steps to become an Amazon affiliate
Becoming an Amazon affiliate is an excellent source of passive income, especially if you know the right steps to take to succeed! Let's walk through the essential steps to setting up your account, choosing the right niche, writing the correct content, and more. By following these simple steps, you can start earning more than $100 each month in commissions from sales on Amazon!
Create a blog or a website
One of the requirements to become an Amazon affiliate is to have an active Youtube channel, a blog, or a website. The blog or website must have content relevant to Amazon and the people using your site. The more relevant your website is to people searching for it on Amazon, the easier it will be to make money as an affiliate marketer. Also, briefly explain the goals of your website and the niches your affiliate links are targeting.
If you're experienced in creating websites or writing online content, then becoming an Amazon affiliate could be a great side business idea. Once you've set up your website, simply find a product on Amazon that interests you and create your affiliate account.
Sign up with Amazon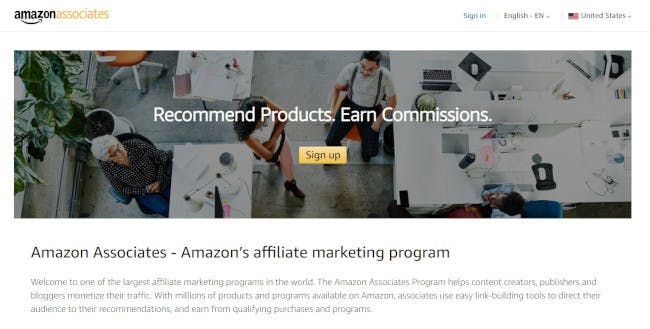 Sign up with Amazon
To join Amazon as an affiliate, you'll need to set up your Amazon Affiliate account. Make sure you are comfortable with Amazon's terms and conditions, so there are no surprises down the road.
Add account information
Add account information
Your name, phone number, house address, preferred email address and website address, blog site, or Youtube channel are all mandatory. We strongly recommend against using your primary email address; when the sales start rolling in, so do the emails from Amazon at all hours of the day and night. Having an affiliate-only email helps keep things organized and separate.
Create and add a store ID
You must create a tracking ID and link it to any websites or blogs where you plan to promote Amazon products. Creating a store ID similar to your website name may be best. Many successful affiliates use their name or brand as their ID—but it can be whatever you want! As long as you remember to include it in all links back to Amazon, your readers can still follow these to make purchases if they choose.
The tracking ID is the only way that Amazon knows which products were purchased through links from your site(s). 
Choose your payment method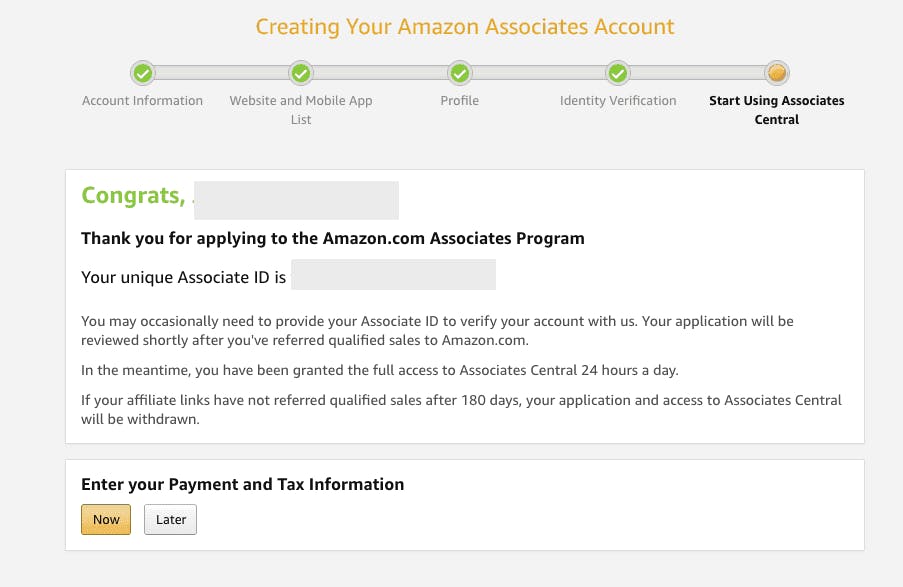 Choose your payment method
Amazon has three methods of payment for Amazon affiliate members. They can deposit commission earnings directly into your bank account or pay you by check or gift card. Consider your goals as an affiliate and choose a payment method that best fits your needs. Only 52 countries accept direct deposits, so it is vital to check if your country is eligible.
How to create Amazon affiliate links
After adding all mandatory item information, the next step is to create your Amazon affiliate links. To do this, follow these easy steps:
Go to your associates central page and click on the "Links and Banners" icon situated atop the navigation menu. In the drop-down menu, click on "product links".
Input the product's Amazon standard identification number (ASIN), or look up the product on Amazon in the space provided. The ASIN is an alphanumeric 10-character code unique to each product. You can get the product ASIN from the information section of a product.

How to Create Amazon Affiliate Links
Click the "go" icon. Ensure you double-check the product before generating an affiliate link.
Select the "get link" button on the search result.
If you find these steps rather long, you can generate your Amazon affiliate links on the Amazon associate website. Go to the product page and click on generate links. When you successfully generate an affiliate link, you can use it on your website, blog, or youtube channel.
How much do Amazon affiliates earn?
How much you earn from the Amazon associates program depends on the engagement and volume of website visitors, your content marketing strategy, and your website's niche. An Amazon affiliate can earn as little as $100 a month to as high as six figures in a year. According to ZipRecruiter, an Amazon affiliate in the United States earns about $58,620 yearly. However, it's possible to make more than this with the right marketing strategies.
If you're a newbie in the amazon affiliate program, don't get discouraged if you make less than the average, as there are varying average pay rates for associates. For instance, the payment percentage in the luxury beauty product category is 10%, while the physical books product category is 4.50%.
When you know each product category's commission rate, you can calculate your potential earnings more accurately. Although the commission rate affects how much you earn, your website's conversion rate also plays a huge role. Your conversion rate indicates how many visitors actually buy the products of the affiliate links they clicked.
How to generate sales as an Amazon affiliate
The easiest way to generate sales as an Amazon affiliate is to make content-based posts on your site that are optimized for search and then drop a few relevant affiliate links into your post. This will likely net you a decent amount of traffic, and if even 1% of your traffic buys something from Amazon, you'll earn roughly $1 per sale—not too shabby!  
To give a concrete example, you might write a list of ten games everyone should play before they die and include Amazon affiliate links to each game's description.
Being an Amazon affiliate can be especially lucrative if you have any tech or gaming-related mobile apps (or blogs where people are likely to buy video games). With enough website traffic, there's a ton of potential profit. Here are tips to help drive traffic to your website and generate at least three sales a week. 
Choose a niche
A clear niche is essential to make sales as a website owner and Amazon affiliate. Too many niches on your website can confuse your visitors as you're not specific about your services. For instance, if your blog is about music, ebooks, DIY, and beauty, becoming an Amazon affiliate won't be a great idea.
It would be best if you were passionate about the niche you carve for yourself. Creating content around your niche won't be difficult if you are interested in that line. Do niche research if you're unsure about your focus. Find out Amazon's best-selling products and categories on Amazon and other eCommerce sites. 
Choose a high-demand product
Once you have a niche you're passionate about, you need to select products suitable for affiliates. Here are some tips to help you choose a good product.
Ensure your selected products have lots of related products available on amazon
Check the product listing section to check if the selected product brings in steady sales (be on the lookout for the best-seller tag).
Check the product reviews. Are people reviewing it? Are the reviews positive? Only go for products with high and positive reviews.
Write product reviews on your selected products
As an Amazon affiliate, you can generate sales by comparing your affiliate products with others in the same industry. For instance, you can review different makeup products if your niche is beauty. With comparison posts, you offer your visitors alternatives increasing your chances of generating sales. Also, writing comparison posts and product reviews allows you to add your affiliate links naturally. 
Utilize search engines and social media
Your website needs traffic for you to earn commissions from Amazon by referring people to them. Amazon affiliate links require some level of work, such as posting banner ads or writing sponsored posts.
You need to find high-converting keywords and phrases, optimize all images within your text so they appear well in search results, and ensure your copy reads well and gets clicks through to product pages. Finally, track everything using tools like Google Analytics to know what works best over time.
Additionally, it'll help if you use google paid ads and pay-per-click ads. Although ads are a little on the high side, you can create an advertising budget for PPC, as Google only charges you when someone clicks on your link.
Blog
Blogging is crucial to be a successful amazon affiliate. Consistent blogging allows you to mention your products and include your affiliate links. If you're just starting a blog, it's important you consistently put up posts. However, in a bid to populate your blog, avoid poor-quality posts. You only need a few well-researched posts to increase your amazon referrals and drive traffic to the site.
How to create content for your Amazon affiliate website
When creating content for your amazon affiliate website, always ensure your content solves a problem and provides answers to questions people may have. This is where keyword research is crucial, as, with the right keywords, your target audience will see your post, thereby increasing your website's traffic.
In addition to this, as an amazon affiliate, you need to be knowledgeable about SEO. Your content must be search engine optimized if you want to generate sales. 
Here are some tips to help you create optimal content for your amazon affiliate website:
Structure your articles
Readers will most likely overlook an article that's written like an essay. A well-structured article shouldn't just have a body, conclusion, and introduction. Rather, it should include bullet points and be properly formatted [h1, h2, h3]. Also, your paragraphs and sentences should be concise and easy to read. For instance, the sentences in a paragraph shouldn't exceed four, while the number of words in a sentence shouldn't exceed 25.
When splitting a paragraph, ensure the other paragraph is logically connected and still carries the main idea. By doing so, you can increase your article's readability score. Remember that people want to swiftly get the information they need from your content without necessarily going through the entire article. Always use:
High-quality pictures
Subheadings
Lists
Easy-to-read fonts
Include data
Data and stats shouldn't be overlooked when crafting content for your website. Data attracts readers and compels them to read the whole article, even if they intended to scan through it. Ensure that your data is relevant to the topic and your audience. 
Use relevant keywords
As an Amazon affiliate, understanding search intent in SEO is important to rank your content and drive traffic to your website. Like data and statistics, ensure the keywords are relevant to the content and your niche. Also, rather than just one keyword, have several and spread them strategically across your article. However, steer clear of keyword stuffing, or you may get banned by google.
Additionally, the headings of your article should carry a keyword as it increases the number of visitors to your site. Meta descriptions and meta tags are important and should be added to your content for better optimization.
Use banners and videos
Eye-catching visuals tend to attract readers more than text making visuals a must in your content. According to research, 88% of people stay longer on websites with video content. Also, when creating pictures or videos, they must be easy to understand. You can utilize several tools to create visual data, such as pixlr, canva, and fotor. 
Alternatively, you can embed a Youtube video relevant to your content to increase your conversion rate. Tutorials on how to use your affiliate products are great and can increase sales. At the end of the video, you can also include a call to action to quickly gain a sale from users eager to buy the product.
Write quality, well-researched content
There's no better way to increase traffic to your site while boosting sales than to write quality content relevant to your audience. The content should be well-researched to keep readers hooked and interested in clicking your affiliate links. If you don't have experience creating written content or are too busy to write, you should use an eCommerce content writing agency. Getting professional writers to write your content assures you of plagiarism-free quality content for your website.
To wrap it up
Creating an Amazon affiliate account is easy, but you must be dedicated to succeeding as an Amazon affiliate. Many blogs, YouTube channels, and websites have seen success as Amazon affiliates because so many people already shop on Amazon. However, to be a successful Amazon affiliate, you must post consistently, use visual data and create high-quality content. Give your blog posts time to build up search engine traffic, and you should be able to profit on the side without too much hustle.
Are you new to the amazon affiliate program and need quality content for your blog or website? Posting content that ranks on the Google search engine can increase your sales as an affiliate marketer. At Strategically, we offer SEO-optimized professional content writing services with unlimited revisions engineered to resonate with your target audience.