If you've been reading up on tips for how to attract new leads to your website, you've probably read about featured snippets.
In this guide, we've shared everything you need to know about featured snippets, including what they are, their benefits, how to optimize your content for featured snippets, and more.
Key takeaways:
Featured snippets are excerpts of text and other media that offer quick answers to common queries on Google search results pages.
There are different types of featured snippets, including paragraphs, numbered or bullet lists, tables, and videos.
Being featured in Google's featured snippets increases your clickthrough rate and brings more interested readers to your website.
What is a featured snippet?
A featured snippet is a short piece of text, usually in paragraph, list, or table format, that directly answers the question posed in a search query.
Google automatically pulls featured snippet information from high-performing articles on the first page of the SERPs. The purpose of a featured snippet is to quickly and concisely answer a user's query, effectively addressing their search intent and providing instant value.
There are several different types of featured snippets that you'll see in Google's search results today:
Paragraph Featured Snippets
Paragraph featured snippets, known as "definition boxes", are most commonly used to answer "what is" search queries.
For example, if you asked, "what is jet lag?", you'd most likely be shown a featured snippet definition box with a paragraph that quickly answers your question.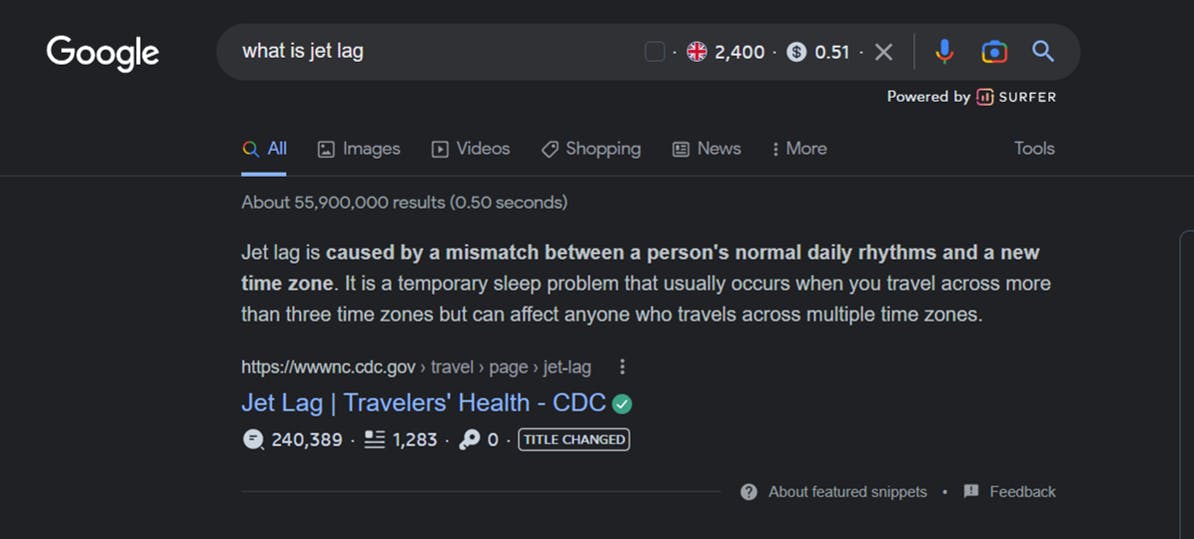 Bullet Or Numbered List Featured Snippets
Specific search queries may be even more simply answered in a bullet list, or the answer may need to be presented in a specific numbered order. In these scenarios, Google may favor bullet or numbered lists in its featured snippets.
An example of a search query that will likely trigger featured snippets in numbered list format is: "How to make a cup of tea".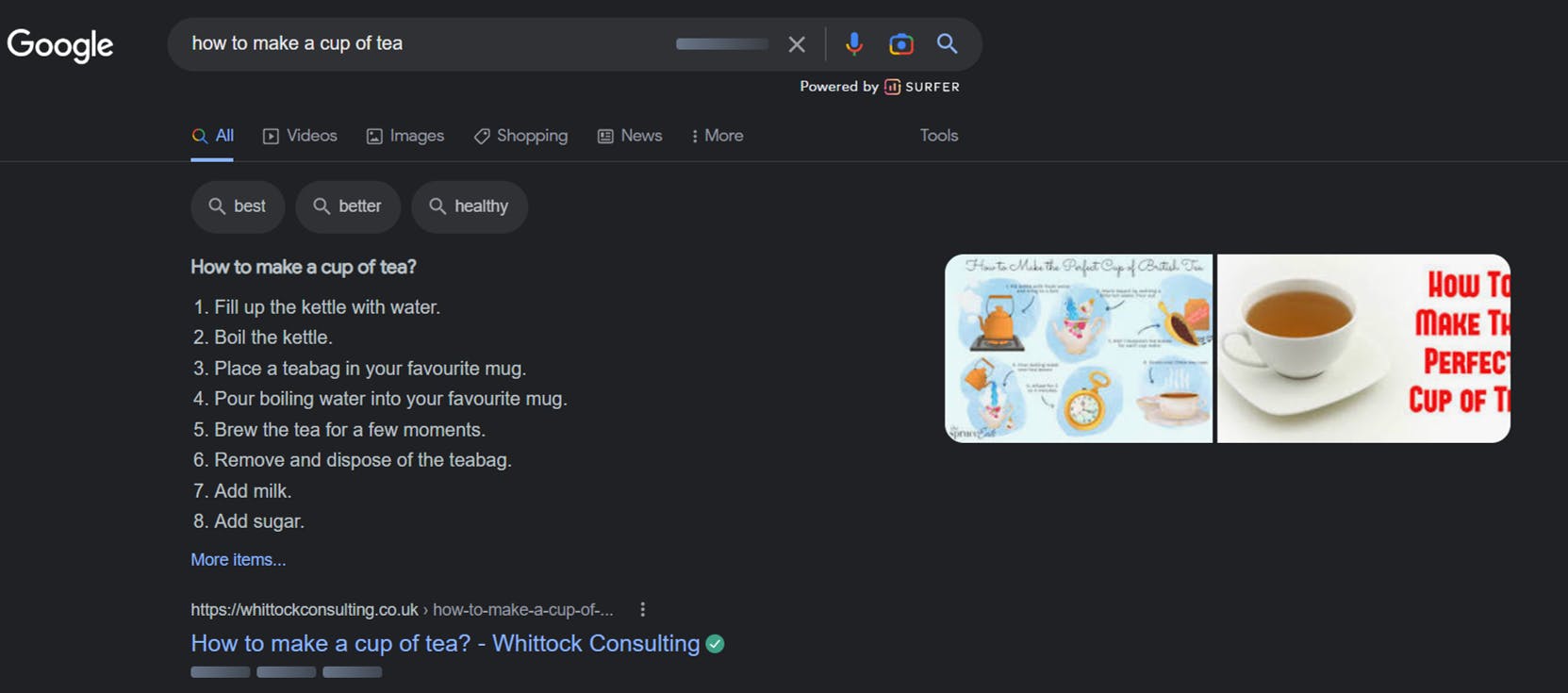 Table Featured Snippets
A table featured snippet is most likely to be used when the answer to a specific question can best be demonstrated with data-heavy information or rankings.
For example, if you asked, "what is the best football team in the world?", you'd be shown a table of rankings of the top football teams in the SERPs. Or, if you asked, "what are the common TV sizes?", you might be shown a table that lists the TV size and its measurements in several different metrics.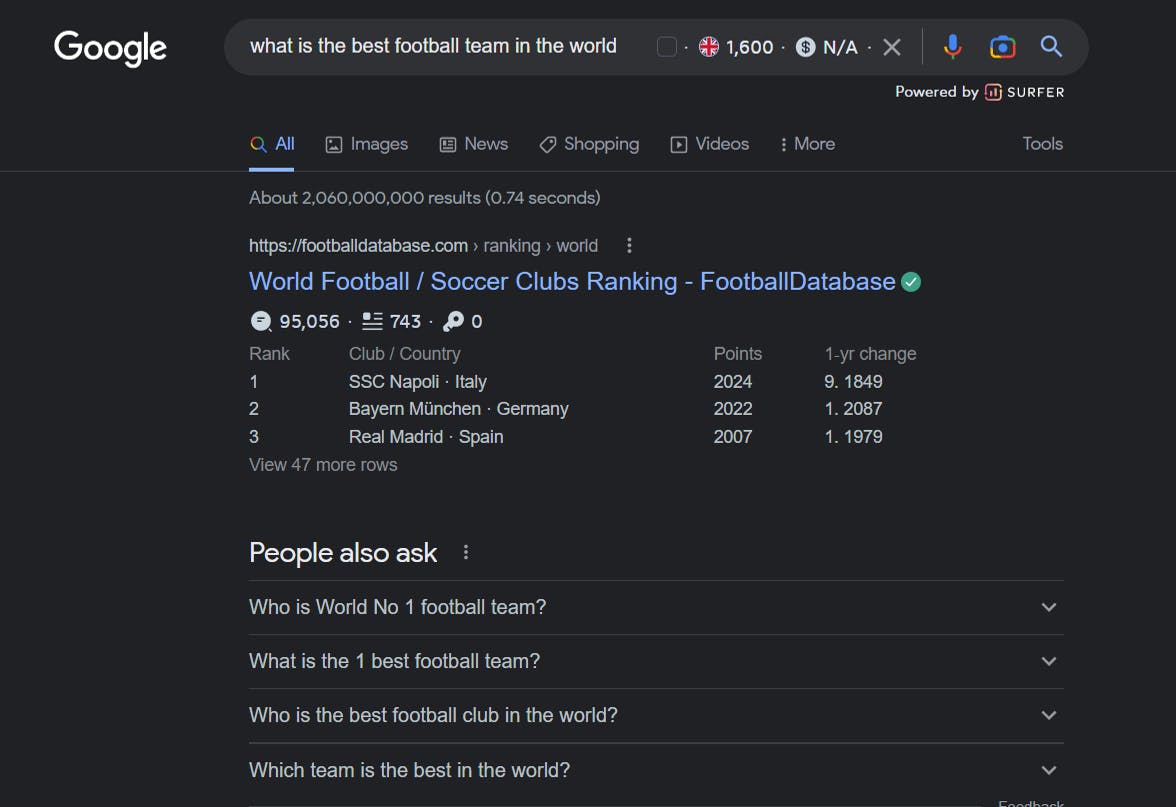 Video Featured Snippets
We've mostly talked about the text-based featured snippets until now, but videos are also a popular featured snippet format.
Videos are most likely to take the featured snipped spots when an answer to a search query could benefit from a visual explanation. For example, a video snippet would be ideal to answer the query: "how to install a refrigerator".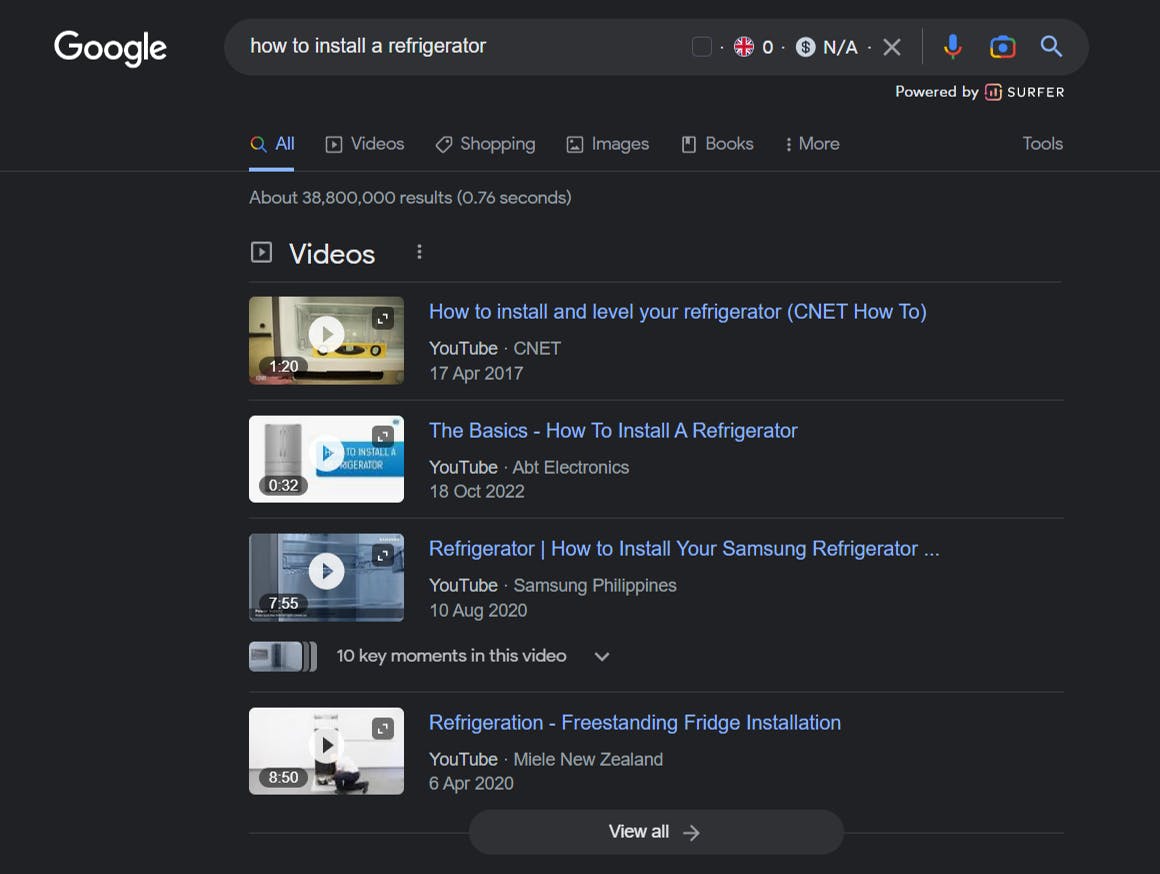 Do featured snippets help or hinder your website?
You might be wondering whether featured snippets are truly a good thing for your website.
After all, if you win featured snippets for your articles, you may lose out on potential customers because users will be given the quick answer on the results page without having to click through to your website.
However, there's an equally good chance that a user will be satisfied with the answer they read in the featured snippet, but hungry for more. In that case, they're much more likely to click on your link beneath the featured snippet than they are to click on another website link, because they already know that your content is valuable and capable of answering their questions.
Also keep in mind that if your business isn't winning featured snippets, you'll simply hand the crown over to one of your competitors. So, boycotting featured snippets will only give your competitors the upper hand.
In short: featured snippets help your website by displaying a snippet of your web copy (and the link to your article) at the top of the search results page, increasing your visibility and boosting your click-through rate.
Benefits of appearing on Google's featured snippets
Let's look in more detail at some of the benefits of securing one of the featured snippet spots on the first page of Google:
Increase clickthrough rate organically
Featured snippets increase your clickthrough rates - and that's their biggest benefit to anyone who wants to bring new leads to their website.
The best thing about featured snippets is that they give you the opportunity to grow organically. When search engines display featured snippets, it's for the benefit of the users, and no money comes out of your pocket.
That means you can use featured snippets to get more clicks from the organic search results, without having to spend a single penny.
Increase brand awareness
Even if a good percentage of the users who read your Google featured snippets don't click through to your website, securing a featured snippet spot could still increase your brand awareness.
Let's say that you've been working on a really effective content strategy on your car mechanics website, and you now have hundreds of articles covering a wide variety of topics in this niche.
Now imagine that a potential customer is in the process of troubleshooting an issue with their car. They make a few different Google search queries over a few weeks as they learn more about the potential issue. And in answer to most of their search queries, sections of your articles are highlighted as featured snippets.
Even if this potential customer doesn't click on any of your article links, they'll notice your website name - and their brain may file this information away subconsciously. When it's time for the user to pay to get their car fixed, who are they likely to trust? You, the expert who answered so many of their questions and helped them to get to the bottom of the issue.
This is an example of the best-case scenario, but it shows just how influential featured snippets can be when you optimize all your content for value and readability.
Experiment with numerous content types
Featured snippets aren't only limited to text-based content. There are numerous types of featured snippets, including video content, so you can experiment with different forms of content and find what works best in your niche.
You'll probably find that creating a combination of content forms, including paragraph snippets, table featured snippet items, and video snippets, gives you the best chances of ranking organically.
Boost overall SEO
If numerous articles on your website are pulled into featured snippet spots on Google, you're showing Google that you're a trustworthy source that gives readers exactly what they're looking for (in other words, meets their search intent).
This is proof that you're adhering to Google's rules and paying attention to Google's helpful content update, which rewards websites that provide genuinely helpful, valuable information.
That's good news for your overall SEO, since Google is more likely to rank the websites that it trusts.
What Does A Good Featured Snippet Look Like?
So, what are the qualities of a good featured snippet?
Conciseness. A good featured snippet gets straight to the point. It answers a user query concisely in one or two short sentences.
Optimal keyword use. A good featured snippet uses the keywords that a person is likely to use in a query. For instance, to answer the question, "what is a good price for a second-hand golf club?", the featured snippet would begin: "a good price for a second-hand golf club is..."
Accuracy. It goes without saying that a featured snippet is only considered valuable if it's accurate. Texts giving false or misleading information are less likely to be positioned in Google's featured snippets box.
We've shared an example of a good featured snippet below. You can see that the featured snippet is concise and to-the-point, answering the user's query directly with science-backed information.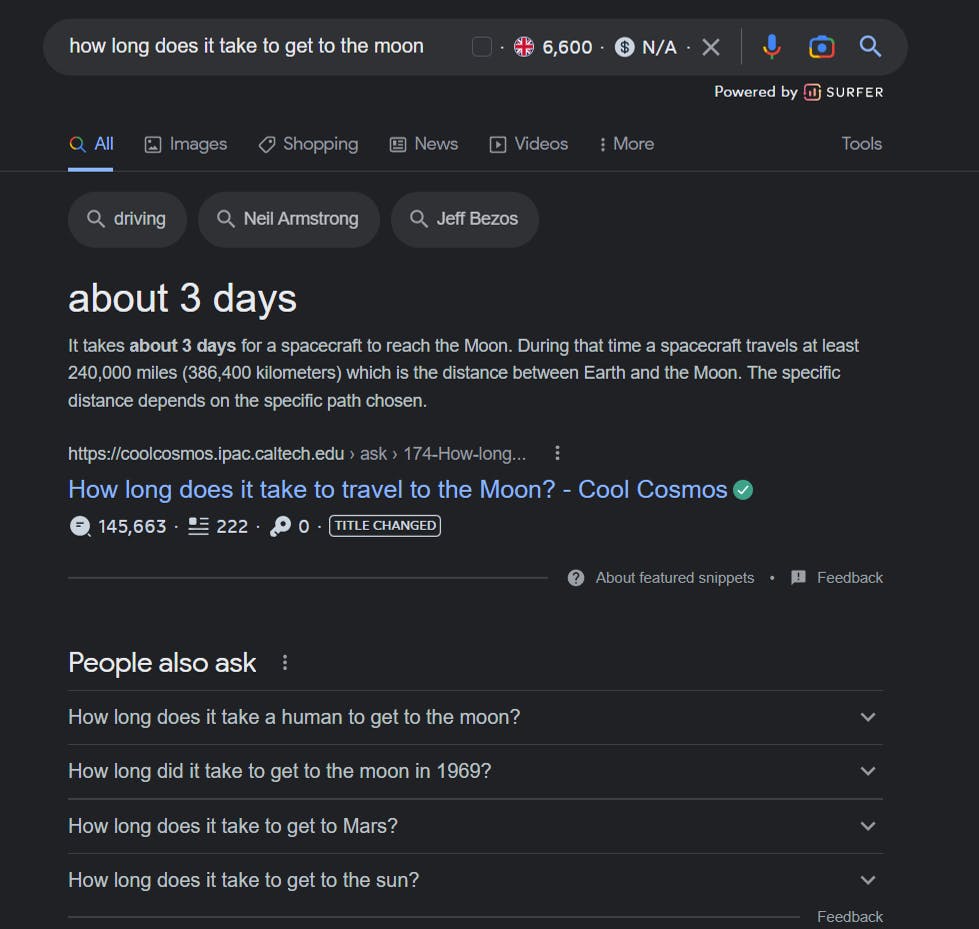 How long does it take to win a featured snippet?
There's no definite time frame for how long it takes for your content to be used in a featured snippet.
The time depends on the quality of your article, but also on the level of competition.
In some cases, you might be unable to ever achieve a featured snippet for a particular keyword or phrase that's particularly competitive.
But for keywords that aren't quite as competitive, your content might get pulled into a featured snippet almost instantly.
7 tips for featured snippet optimization
Now you know about the definition of a featured snippet and the types of featured snippets available, and the pros and cons of securing this top spot on the SERPs.
The next step is to learn how to optimize your own web content to increase your likelihood of winning a place in the featured snippets.
Here are our top 7 tips for optimizing your web copy for featured snippets:
Identify opportunities to be featured
Your first goal is to identify opportunities for your content to be pulled into a featured snippet.
You might have existing content that needs to be tweaked to make it suitable for snippets, or you might need to write fresh content that's more focused on answering common search engine queries.
In any case, the place to start is keyword research.
Queries involving long-tail keywords are most likely to bring up featured snippets in the SERPs. So, keep this in mind when you're researching keywords in your niche. Also prioritize question-type queries (i.e. those that begin with "how", "why", "what", etc.), since questions also trigger featured snippets.
Aside from data from a keyword research tool, Google is also a helpful tool to show you what your potential customers are searching for. Search a popular niche question, then scroll down to the "People also ask" section to find a similar set of questions that you can address in your articles.
We've shared an example for "how to wash sneakers" below.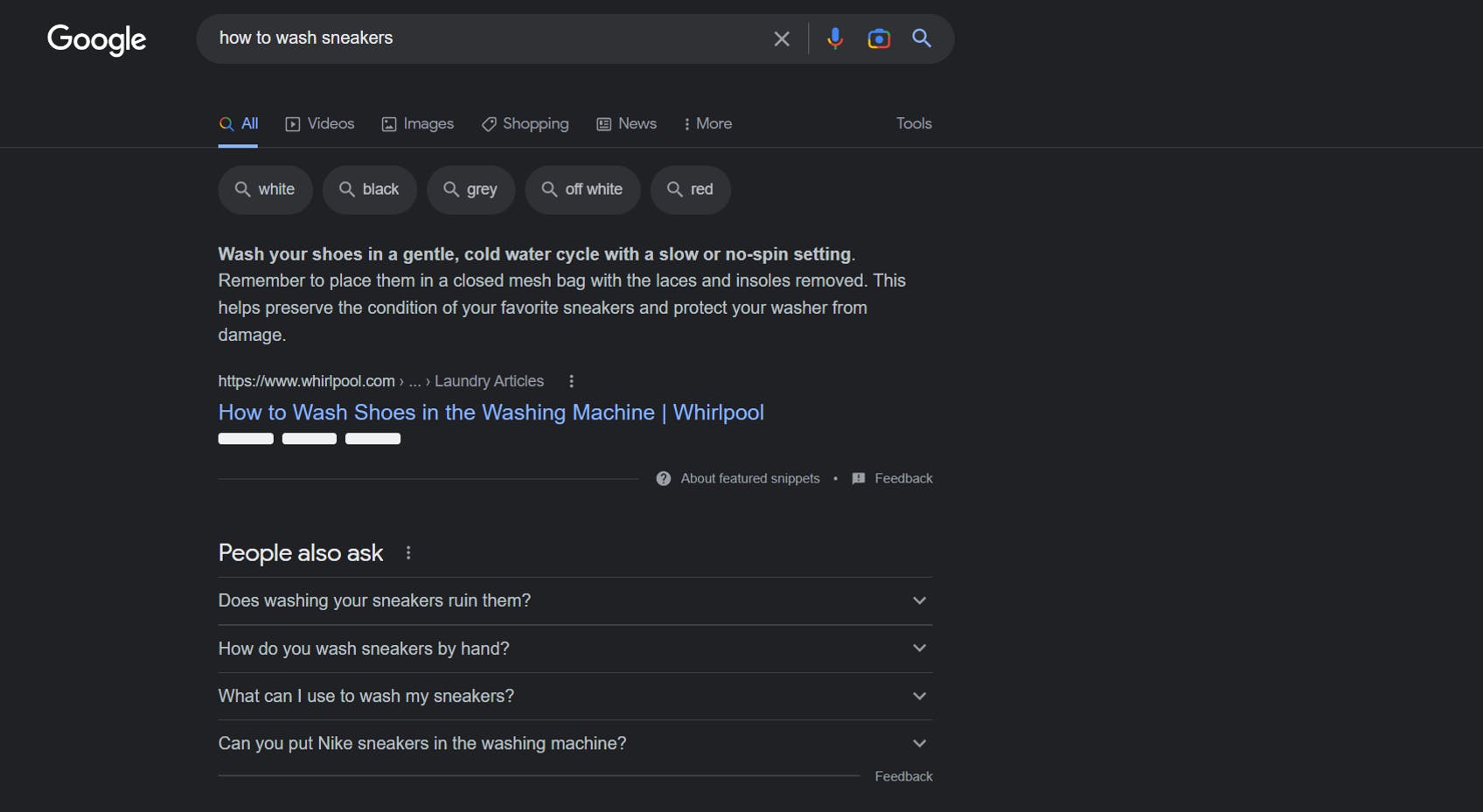 Optimize your on-page SEO
If your on-page SEO is poor, it'll reduce your chances of getting your copy pulled into a featured snippet.
There are a few things you can do to optimize your on-page SEO, including creating high-quality content, developing optimized title tags, writing good meta descriptions for each of your web pages, adding alt-text to your images, and structuring your website so that it's easy to navigate.
There's some technical stuff that goes into website SEO, too, so you might need to hire an expert if you're concerned that Google might be penalizing your website due to a hidden SEO issue.
Prioritize concise question answering
Above anything else, your answer to a potential search query should be concise, clean, and to the point.
Most featured paragraph snippets don't exceed 90 words, and a Moz study found that the average length of a paragraph snippet is just 45 words.
So, your aim with a featured snippet is not to provide as much information as possible - it's to answer the query as best you can within the 90-word limit.
You can always expand on your answer in later paragraphs. (In fact, we recommend doing this, since it'll provide extra value to users who decide to click on your website link). Just make sure to answer the main question first, immediately after your heading.
Be well-organized & factual
When explaining something in your written content, make sure to organize your explanation in the way that makes the most sense to the reader.
This could mean that using a numbered or bullet list, a step-by-step outline, or a table is the best opportunity to claim a spot on featured snippets. Google loves these methods of organization, so use them when you can.
Make sure to use also H2s and H3s when they'll help the user to understand the various different sections of your content. Headings don't just break up your text and make it better organized; they also increase the likelihood that certain sections of your article will be pulled into a featured snippet.
Don't just answer the question
An important ranking factor in Google is word count. So, in most cases, you don't want to only answer the single question in your article if that means your article word count won't surpass 150 words.
It often makes sense to answer multiple questions on the same topic within a single article. For example, for an article titled "how to clean a washing machine", you could also answer the following questions:
What's the best washing machine cleaner?
Can you clean a washing machine with vinegar?
How do you get rid of bad smells in a washing machine?
What does Mrs Hinch use to clean her washing machine?
Many of these questions are likely to come up in the "people also ask" section of the SERPs. Just make sure to answer the main question first in your article before diving into the related queries.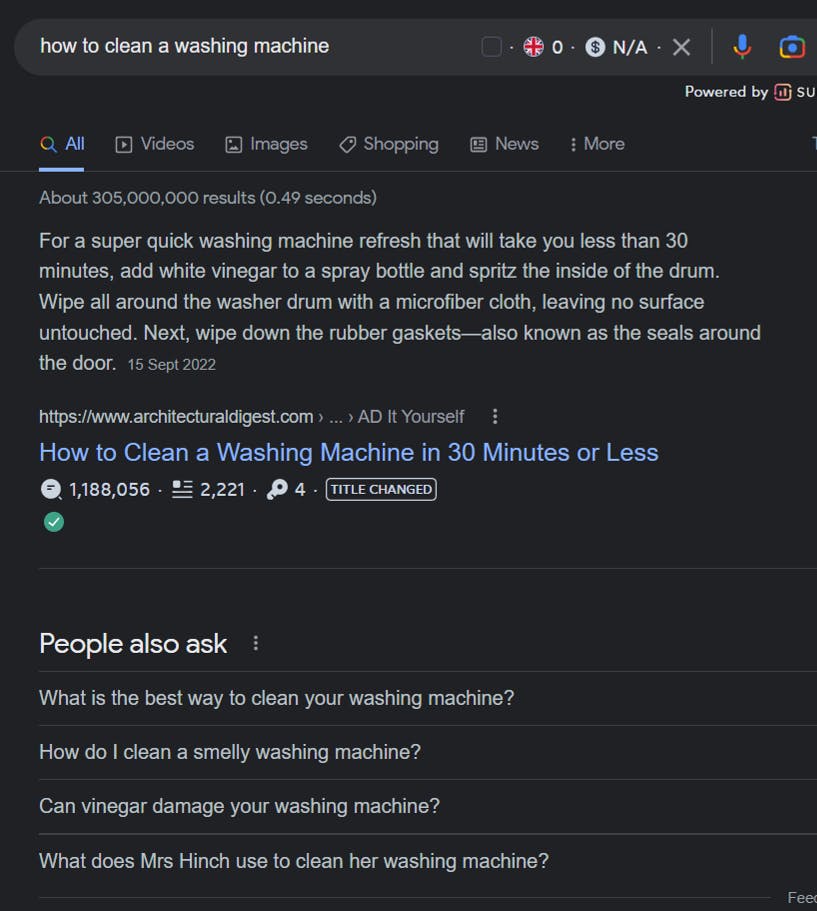 Perhaps you do come across a single question that requires a fairly extensive answer and deserves a dedicated article to itself.
In this case, make sure to answer the question clearly and concisely at the beginning of the article, then break the answer into more detailed sections below.
If you're confused by how exactly you should be writing articles that rank well and get pulled into featured snippets, consider using a professional SEO content writer who can take the hard work off your hands.
Make sure to never add fluff to your article. The included copy should only ever provide value to the reader.
Supplement your article with images
Words are the most important feature of any article when it comes to securing a spot in the featured snippets. But many featured snippets also include an image, which is why it's important to use valuable, high-quality images to support your content.
Make sure all the images in your article provide genuine value. Avoid generic stock images that don't make any difference to the quality of your content. Good images to include are:
Screenshots (to help you explain how to do something online)
Tables and graphs (to organize your content or support data you've shared)
Images that give the user perspective (e.g. in an article titled "how big is an acre?", a featured image would likely show a 1-acre field for reference)
Optimizing these images is essential, since Google pulls featured images from Google Images search results.
Monitor your snippets
It's exciting when you notice that one of your articles has been pulled into a featured snippet. But that doesn't guarantee that it'll stay there forever.
Make sure to monitor the articles that you've optimized for snippets and see how many of them hit this top spot on Google, and for which categories and queries.
You might be able to spot trends in your content that makes it into featured snippets, which may further help you with your keyword research, article planning, and writing processes going forward.
If none of your articles make it to featured snippets, it doesn't necessarily mean there's anything wrong with them. Remember, Google is a highly competitive search engine, and it may simply be that other websites with more authority are pipping you to the post.
As long as your articles are as well-optimized as possible, there's always a chance that several of your articles will make featured snippets in the future as Google's algorithm continues to change.
Final word: provide value beyond the featured snippet spot
It's good to set an end goal of making it into Google's featured snippets for as many of your articles as possible.
But keep in mind that a well-written featured snippet will only bring a reader as far as your blog post. The quality of the rest of the content is just as important as the featured snippet spot if you want to provide true value and encourage your reader to a.) read the entire article and b.) browse your website for other useful content.
Readers leave your website when they don't get what they expect. So, providing an informative, highly valuable article is a great way to satisfy the reader's demands for information - and prove that you're a helpful trusted source to use for any of their other queries in your area of expertise.
Optimizing for featured snippets is one thing, but knowing how to write a complete article that provides the most value to your readers is another. You might want to hire a professional SEO content writing agency, with writers who are well-versed in the best writing techniques to engage your visitors and clearly and concisely communicate what you want to say.
The longer you can keep users on your website, the better. Once you've provided the information that the reader was looking for, you can work on other methods of keeping potential customers on your website for longer.
FAQ
What are snippets in SEO?
In SEO, a featured snipped (or a "snippet" for short) is a portion of a search result that is selected by Google to be featured at the top of the search results page. A featured snippet is either a short paragraph, a numbered or bullet list, a table, or a video, depending on what Google thinks will be the most helpful result based on the user's query.
What is an example of a snippet?
An example of a featured snippet for the search query: "how do I quickly improve my credit score?" is: "To quickly improve your credit score, build your credit history, keep your credit utilization low, make your payments on time, and report mistakes on your credit report when you see them." This is a good example of a featured snippet because it concisely and clearly answers the user's query.
How do you write content for featured snippets?
You can write content for featured snippets by writing question-like headers, then answering the questions in the headers as quickly and concisely as possible directly underneath. Make sure to use similar keywords in your answers as you used in your questions. Provide clear answers with short, punchy sentences or bullet lists.
What is the CTR for featured snippets?
The estimated CTR (clickthrough rate) for featured snippets is 8%, according to Search Engine Land. In some cases, a featured snippet may answer a user's question straight away, so they never have to navigate beyond the search results page. In other cases, the user might want more information, and may click on the article link below the featured snippet to learn more.
How do I find featured snippet opportunities?
The easiest way to find featured snippet opportunities is to find common search queries in your area of expertise. For instance, if you're an affiliate website that markets refrigerators, think about the questions that your readers most commonly have about refrigerators on your website. Create articles for broad topics relating to each question, and be sure to answer the questions concisely.