Marketing campaigns can make or break the success of any brand. And email marketing can be one of the most effective digital channels for businesses to reach customers. But when it comes to B2B email marketing, many companies still struggle to get it right.
We've all seen the spammy emails in our inboxes, prompting us to hit the delete button before even giving them a second thought. But done correctly, it can be a powerful tool to engage customers and build deeper relationships.
Around 64% of B2B marketers find email marketing strategies highly effective in achieving their business goals. With an average of 125 billion emails sent daily, your b2b email marketing efforts can pay off significantly when adopting the right strategy and thoughtful execution.
Some research shows that email can increase a business ROI by 3000%, with $1 spent returning $40 of revenue. But how do you start an effective B2B email marketing campaign? 
Don't worry. We'll explore some successful B2B email marketing examples. From industry leaders to innovative startups, there are examples of successful campaigns that can give you ideas and inspiration. 
What is B2B email marketing?
It's a marketing strategy to reach out and build relationships with other businesses. The marketing efforts help you generate leads, increase brand recognition, and create more sales opportunities in your target market.
Business-to-business marketing differs from B2C (business-to-consumer) marketing because it involves communication between companies rather than individual customers. It's for building relationships with other businesses in the same or different industry. 
Businesses need to be able to reach out to other companies to generate leads and increase their sales. B2B email marketing is an effective way to do this. It allows brands to be more personal and build relationships with other businesses. 
The emails sent out by companies must be well-thought-out and provide value to the recipient. The goal is to establish trust and loyalty with the recipient so they will be more likely to work with your business in the future. 
Want to get the most out of your marketing campaigns? A professional content writing agency can help you with writing emails that convert. 
How important is email marketing for your business?
Email marketing is essential for a business because it brings the highest conversion among all marketing methods.
The industry is so big that Statista estimated worldwide email marketing revenue of around $7.5 billion from 2020 to 2027. So, it's not difficult to assess the significance and potential of email marketing.
It's an excellent tool for reaching customers and has a higher conversion rate than other forms of digital marketing. Results are immediate, and statistics show that email marketing converts 40x better than Twitter and Facebook advertising.
So, it's clear that a well-planned B2B email marketing strategy can skyrocket your customer acquisition rate and sales. 
21 proven B2b email marketing examples for growing your business
Email marketing is relatively low-cost and highly reachable compared to other marketing methods. A solid email campaign can provide fast returns on your investment. However, crafting an effective marketing strategy is easier said than done. 
Check out the following B2B email marketing examples to see how a company can use them to drive leads and sales.
Welcome emails
A welcome email is an automated message sent to a new subscriber or customer after they've opted-in to receive communications from a company or organization. It's the first step of your marketing campaign. 
The email typically confirms the subscriber's subscription or purchase, provides an introduction to the company or organization, and may include information or resources for getting the most out of it. 
Studies have found that, on average, welcome emails have an 86% higher opening rate than other emails. The right content and design can positively impact the customer relationship and brand.
The following email from MarketingSherpa is a perfect example of an effective welcome email. They welcome new subscribers in their email subject line and include a list of newsletters for smooth onboarding. There is also a call to action for better conversions.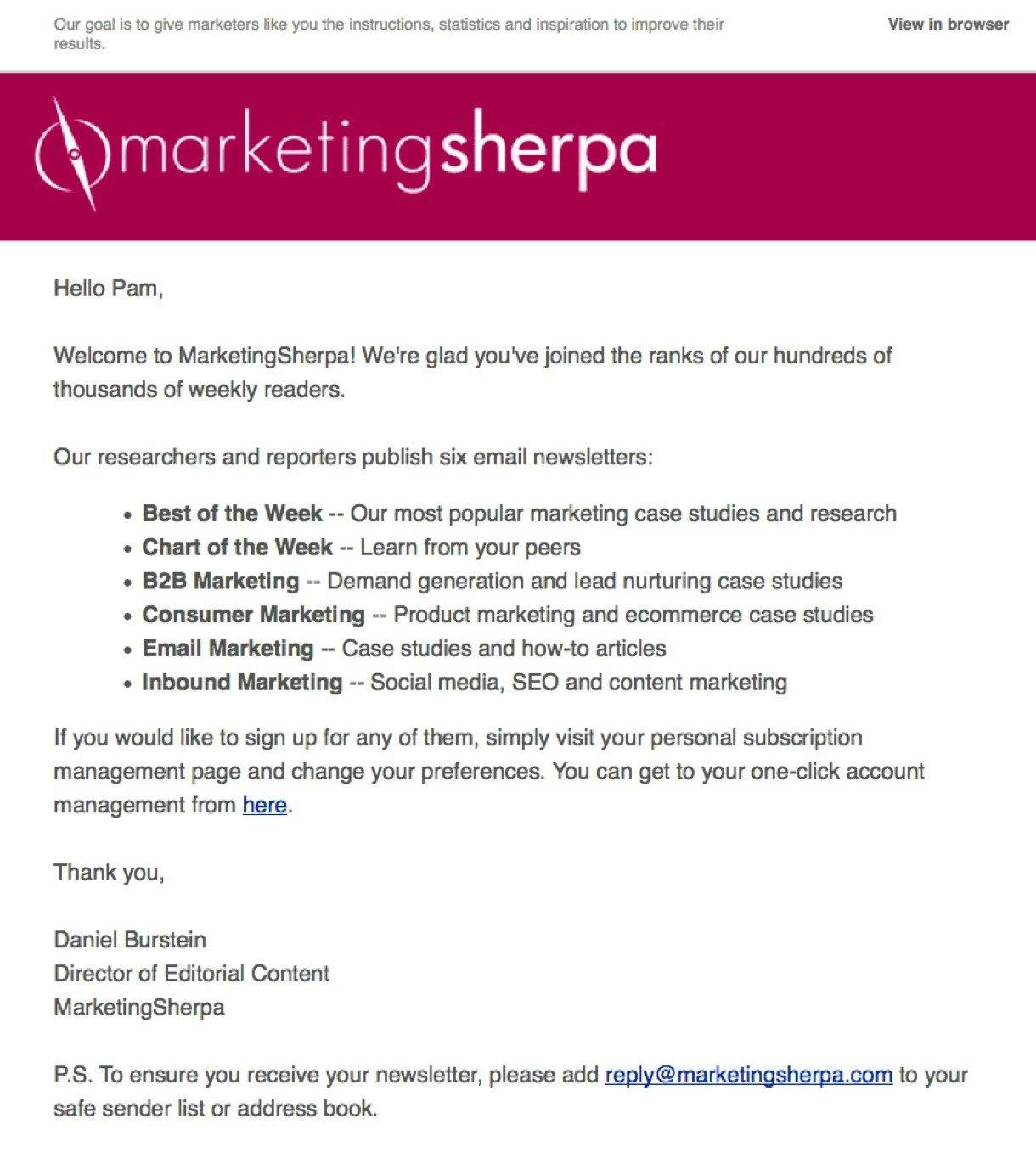 Credit: Mailerlite
The personalized email provides value to the new leads without overflowing them with information. By doing all of these things, MarketingSherpa has successfully made its new subscribers feel welcomed and informed, and this makes for a great first impression.
Templates/curated content email
When you gain new subscribers to your email list, the next logical step is to make them familiar with your brand. You need to provide them with value through regular communication. 
A curated content email typically features a list of posts or resources, encouraging readers to click the links and read the full articles. The email will generate conversions only when it includes resources that interest the targeted audience.  
By providing a link to the full article, you save subscribers' time and let them read your content at their own pace. It makes them feel your company cares about and values them instead of trying to force them.
This curated content email from the General Assembly, sent to the new users, uses visual content to spark interest. 

Credit: MagePlaza
Since General Assembly is an education and career transformation company, they made sure that the content in their email was relevant and interesting to their target audience.
Business announcement emails
An announcement email can contain information about new hires, upcoming changes, or significant updates in a business. These emails are sent to existing and potential customers to inform them of the changes happening within the company. 
These emails can effectively get subscribers to interact with your brand. Email marketing statistics have found that business announcement emails have an average 21.33% opening rate. 
Following widespread public criticism of the company's leadership, Uber informed its customers of significant leadership changes through email announcements. This helped them deal with the crisis and restore brand trust, leading to higher customer satisfaction.

Credit: CampaignMonitor
Re-engagement Emails
These emails are designed to reach out to inactive subscribers. The longer recipients take to respond, the lower your chance of converting them.   
Regular re-engagement emails could prevent those prospects from losing interest in your product.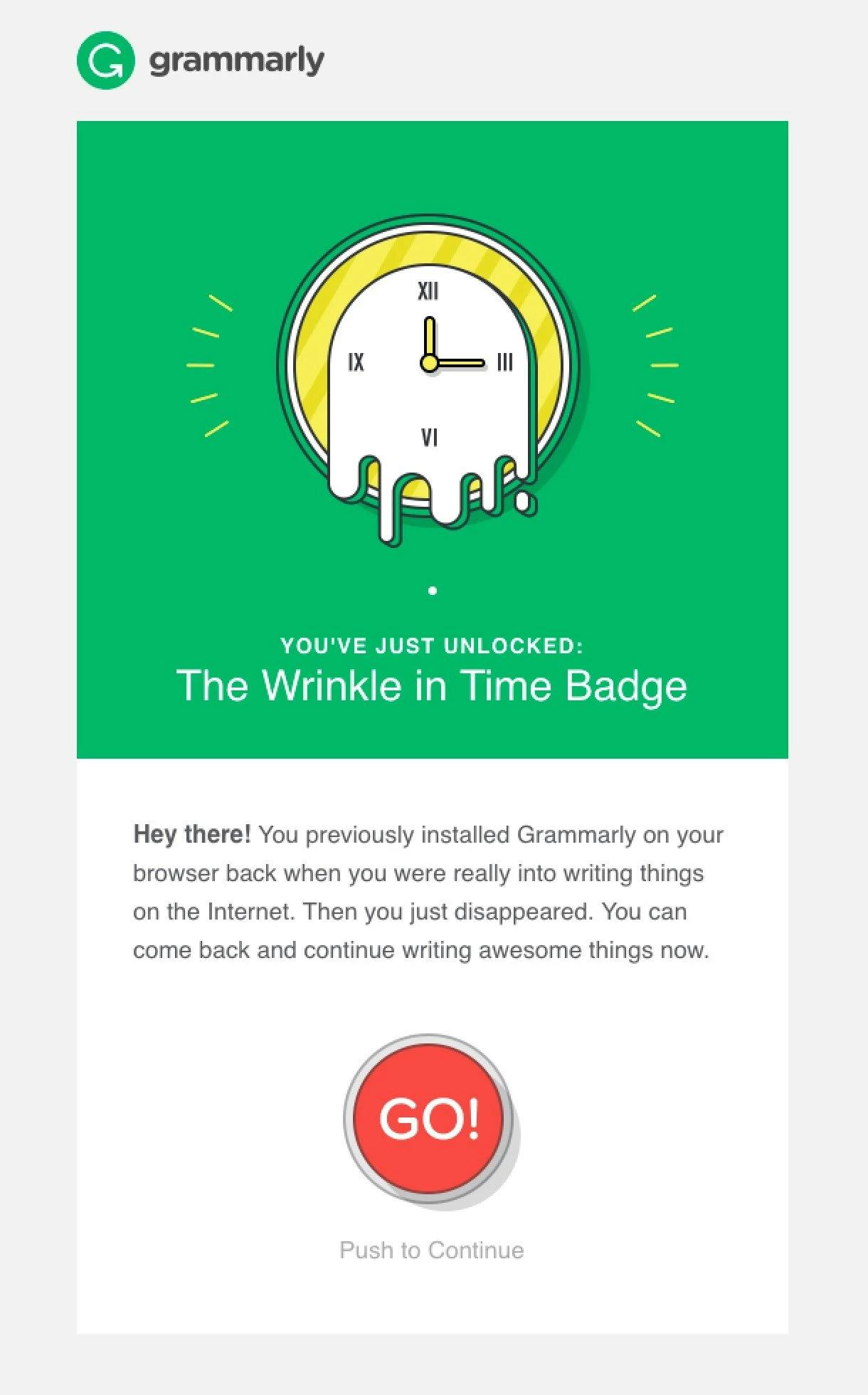 Credit: Mailerlite
This engaging re-engagement email from Grammarly is quite clever in reminding subscribers' about their inactivity and giving them a subtle push. The "Wrinkle in Time" badge is a humorous way to point to the time that's passed. The bright red call to action button is prominent, encouraging people to push it. 
Webinar email 
One of the most effective B2B marketing strategies is hosting and sharing a webinar with your subscribers. More than 60% of B2B marketers host annual webinars to communicate with their target audience. 
This email aims to educate your subscribers and make them feel you care about them. A good B2B webinar email should include the following:
Tagline: Your opening sentence should be short yet informative, conveying the purpose of your email and enticing the reader to continue reading.
Web link: Include a link where your subscribers can visit a landing page and enter their information for the upcoming webinar. 
Exact time and date: Confirm and specify your upcoming webinar date in this email.
Kissmetrics uses a brilliant B2B webinar email. The company explains what it will share in its webinar so the readers know what they are signing up for.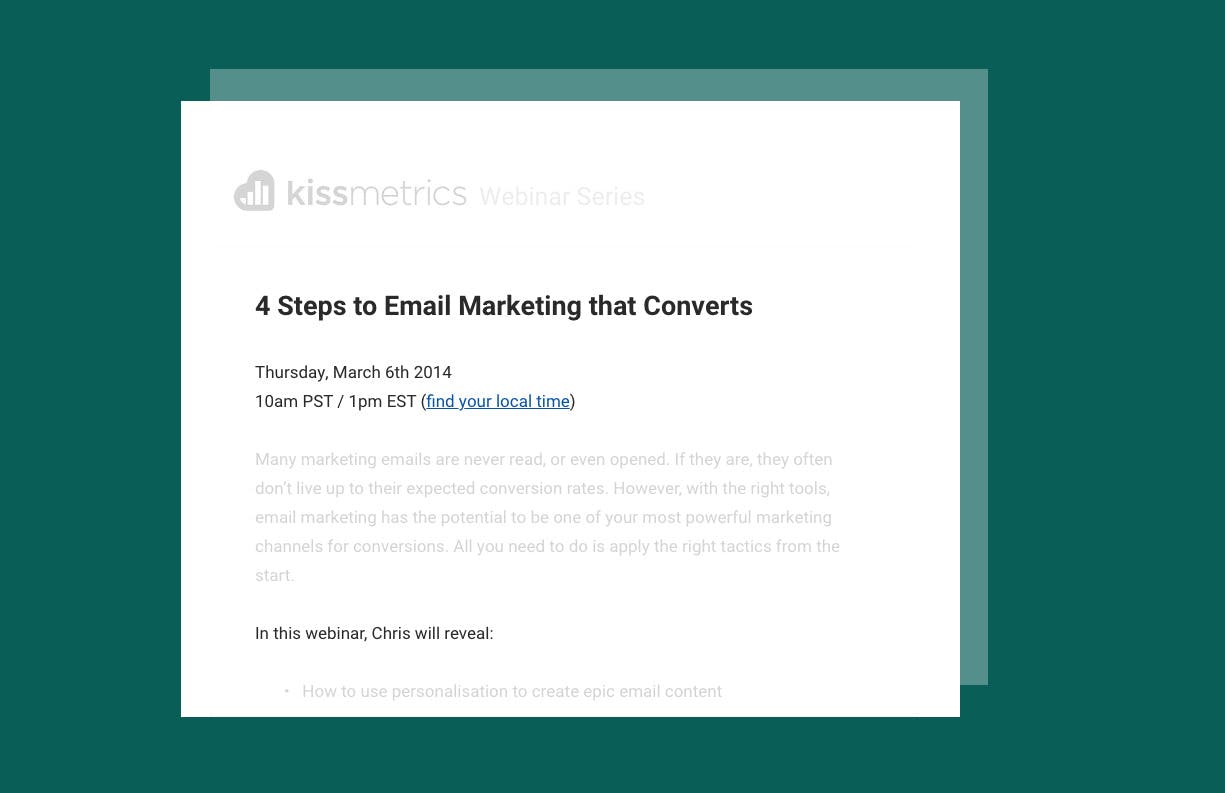 Credit: SuperOffice
Case study email
Over 80% of people consult friends and family before buying something. Case studies demonstrate your product's worth to prospective customers. Your case study presents facts and numbers to address customer concerns. 
Case study emails are a powerful tool for brands to increase their credibility and build trust with potential customers. Businesses can demonstrate how they can solve their customers' problems by providing real-life examples of how other customers have used their services. It will give potential customers a clear picture of what your company can do for them.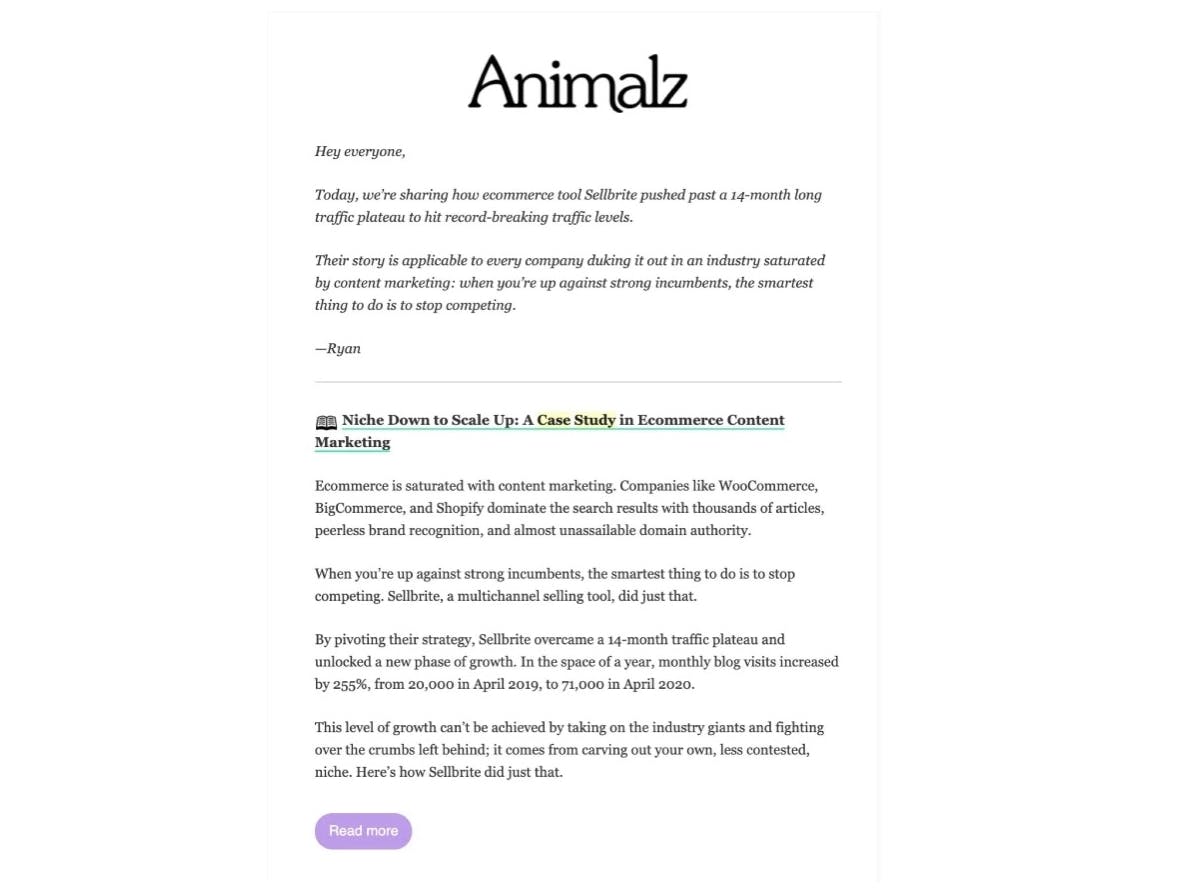 Credit: MagePlaza
Animalz's case study email is short and to the point. It provides an overview of their business, how they can help their audience achieve what they want, and how a previous customer has benefited from using their product.
Promotional email
A promotional email is excellent when you need to make a special announcement to your subscribers. 
For example, if you are launching a new product or service, send a unique promo email to inform your subscribers of the launch date. It may also contain information about special offers, discounts, and other incentives to encourage people to purchase.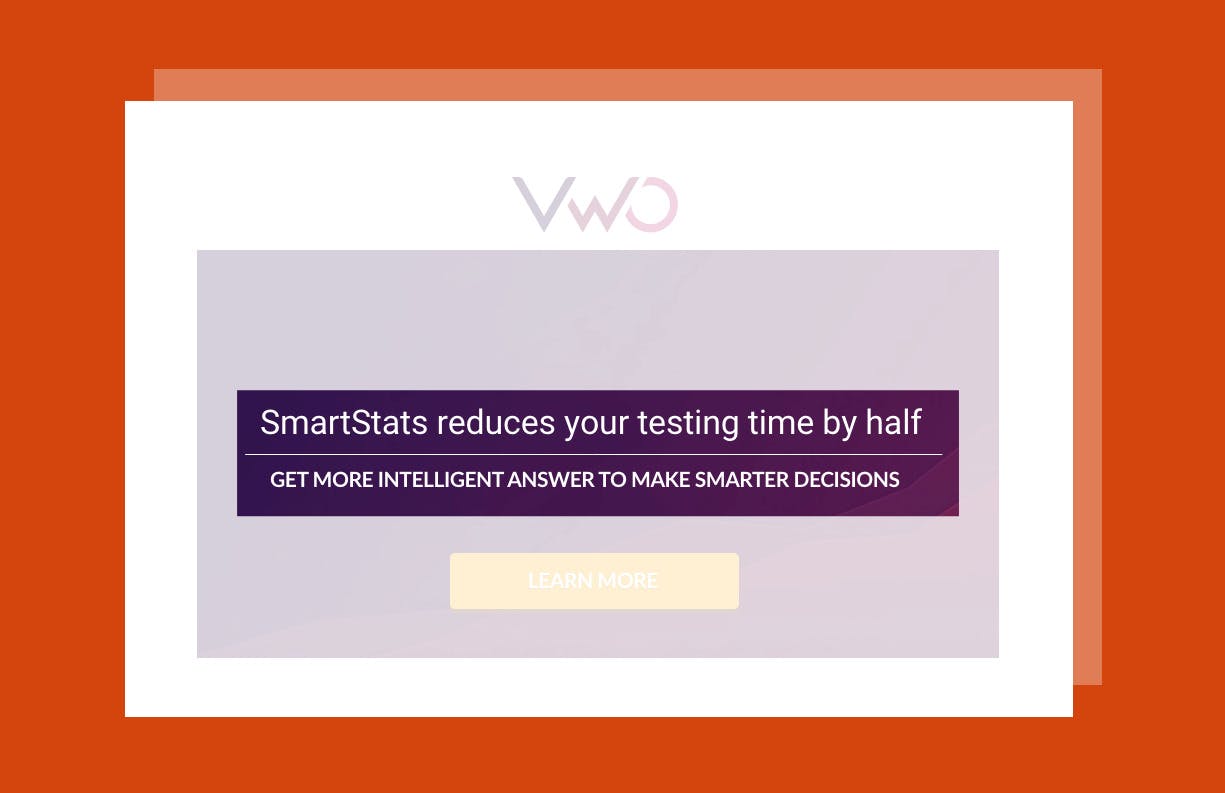 Credit: SuperOffice
This promotional email was from VWO when they launched SmartStats, a new feature in their website analytics tool. As a B2B company, VWO ensured their promotional email was precise and relevant to their readers. It also highlights an exciting feature that makes users curious about the tool.
Exclusive email
Exclusive emails are for particular subscribers, such as loyalty club members. These emails aim to share content that isn't publicly available or accessible to other customers. 
These emails can help expand your audience and build trust with your recipients. They also allow you to "test" an audience segment before launching a campaign.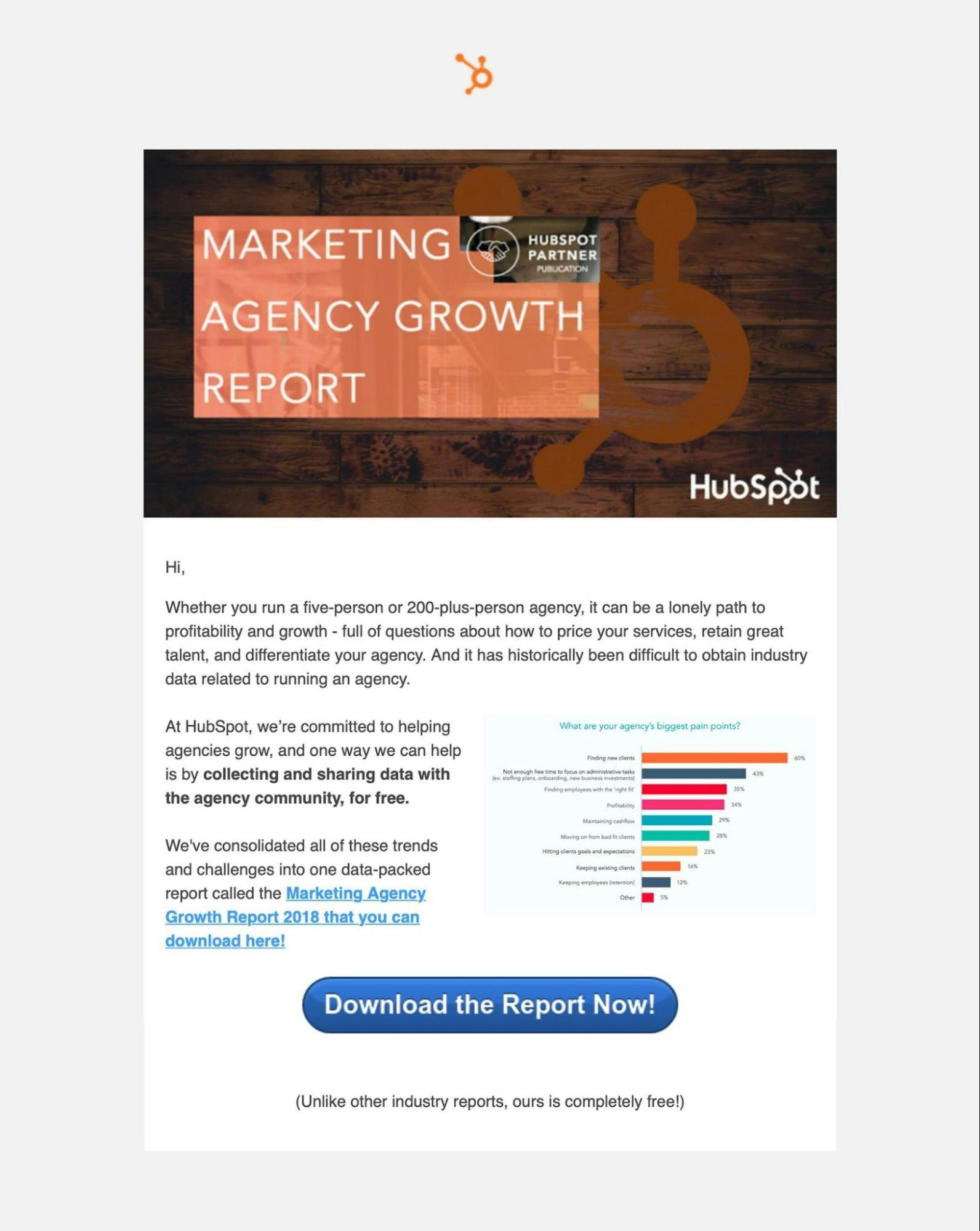 Credit: Mailerlite
Here's an example of an exclusive email from Hubspot about the "Marketing Agency Growth Report." It offers only some subscribers free access to the report.
White paper
Businesses must implement new strategies and technologies to stay competitive in the B2B marketplace. Around 36% of B2B buyers are more likely to purchase if they receive a white paper. That's why almost 71% of B2B marketers use white paper to communicate strategy and ideas to their target audience.
A white paper analyses and evaluates these strategies and technologies to keep businesses up-to-date with the latest trends and developments. Although they go through extensive research and data analysis before creating their white paper, companies must write it compellingly to convince the target audience to subscribe.
An influential white paper is comprehensive and authoritative, and easy to understand. A professional content writer can help craft a compelling white paper that can bring leads without being overly promotional.  
This example of Merkle's white paper on customer behavior after the COVID-19 pandemic and how the business re-emerges is an excellent example of an influential B2B white paper.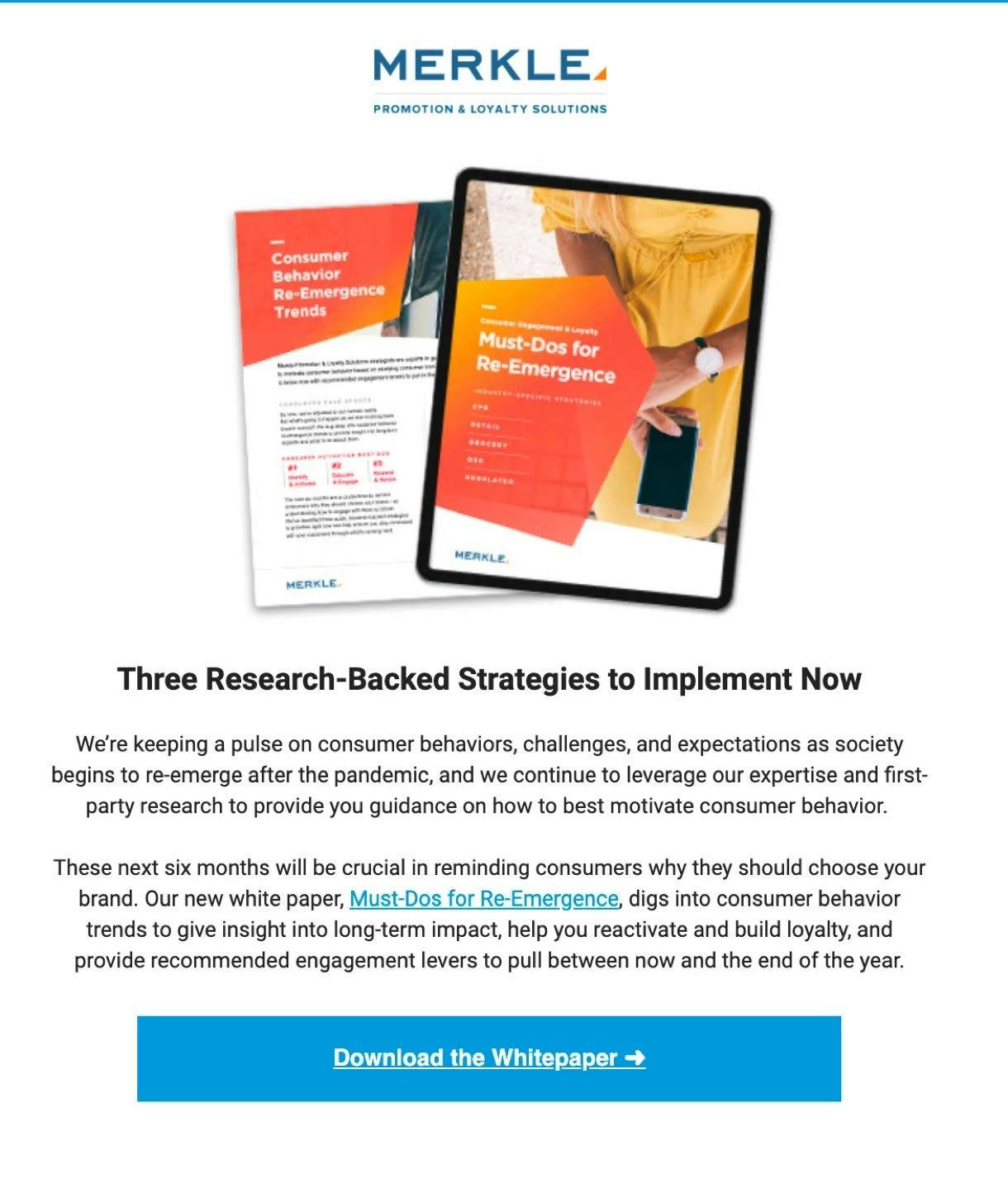 Credit: Mailerlite
Event planning
If you're going to host an event or conference, send an event planning email to your list of subscribers, clients, and other stakeholders. Give them a discount code for tickets or other relevant products at this event to make them feel special.
This type of email usually contains the event's date, time, and location. It may include important details like speakers or sponsors and a brief event description. 
The email may also include a link to a website or other resources that provide more information about the event. It's a great way for businesses to spread the word about the event, generate audience interest, and maximize attendance.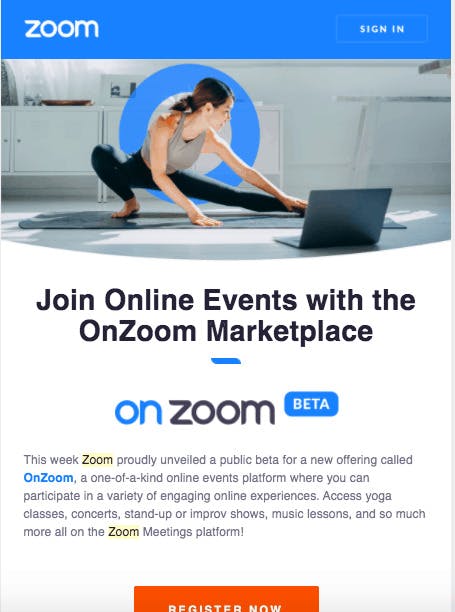 Credit: SuperOffice
The above email is a fine example of an event email. Zoom calls its users to register for an event about a new feature. The copy is short and precise and clarifies what the new feature is about. 
Milestone celebration email 
These are automated emails sent to customers when they reach a specific milestone with a business.
For example, this could be a customer's first purchase, a certain number of purchases, or when they've been a customer for a certain period. Milestone emails aim to engage customers and make them feel appreciated and acknowledged.
These emails could also be about the achievement of the businesses, like collaboration with another company, receiving funding, launching a new tool, or something else. 
Milestone emails are an excellent way for businesses to build customer relationships. They can be used to thank customers for their loyalty and encourage them to continue using the service. Also, brands can use these emails to promote current offers, cross-sell additional products, or encourage customers to refer friends and family.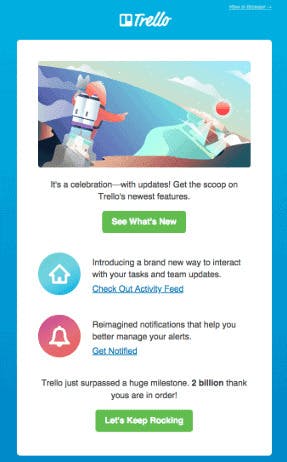 Credit: SuperOffice
Trello, a project management app, sent this milestone celebration. In this email, they celebrated their 2 million user milestone and provided an overview of their new updates.
Upsell email 
Upselling is a marketing strategy to persuade your audience to buy add-ons to the products or services they're already interested in. Upsell offers are expensive but necessary services a company provides to its customers. It can be the case if you offer a discount on annual or monthly fees, a free trial, and limited-time use of your software.
By targeting existing customers, businesses can send customers emails that are personalized and relevant to the products or services they have already expressed their interest. These emails can help customers discover additional products or services that they may not have known about or considered. 
A well-written upsell email could differentiate between a lost sale and a new subscriber.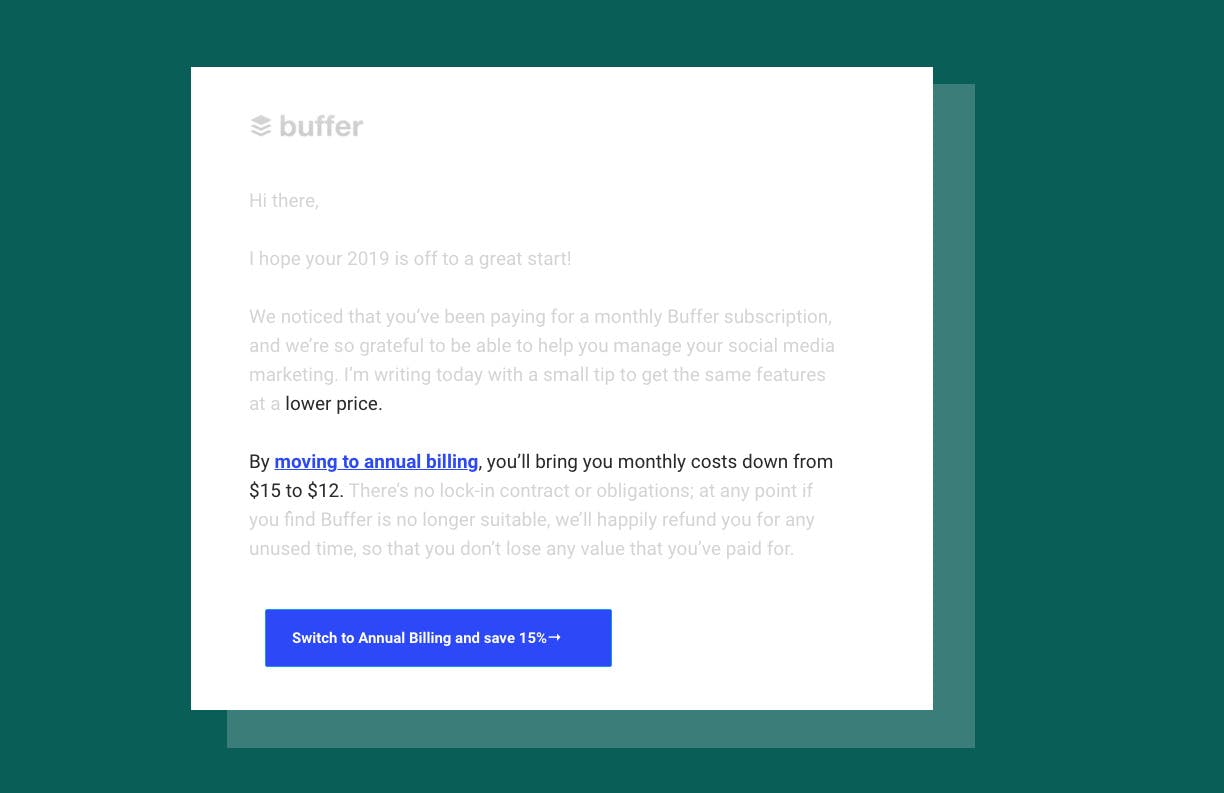 Credit: SuperOffice
Buffer's email clarifies that they offer a 15% discount on annual memberships to their tool. Their sign-up form is so clear and straightforward that the readers will perceive the value of a yearly subscription. 
Survey request email
Surveys are a great way to get insights from your customers and prospects. By asking them questions, you can learn what they like or dislike about a product, how often they use it, and what product features they're most interested in. 
These emails are sent out to customers who have interacted with the company in some way, such as signing up for a newsletter or purchasing a product. By completing the survey, customers can provide valuable feedback about their experience, which helps the business make improvements and adjustments.
An effective survey request email should be clear and to the point, with a reason why respondents should take your survey. It may offer an incentive to help motivate people to take the survey.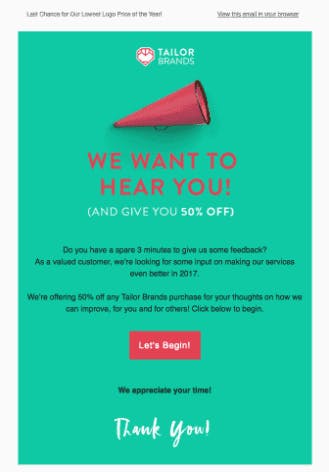 Credit: ZenMedia
This example of an effective survey request email comes from Tailor Brands. It's a good copy because it points out the rewards (50% off in this case) customers can get by taking this quick survey. It will motivate more people to provide feedback.
Free trial email 
A free trial email offers interested people the opportunity to try out a product or service before they commit to buying it. This type of email marketing is beneficial for businesses as it enables them to create a relationship with potential customers and gain their trust. 
B2B customers are usually more skeptical about new products. They are more likely to purchase something after trying it out for free instead of buying it without any trial period.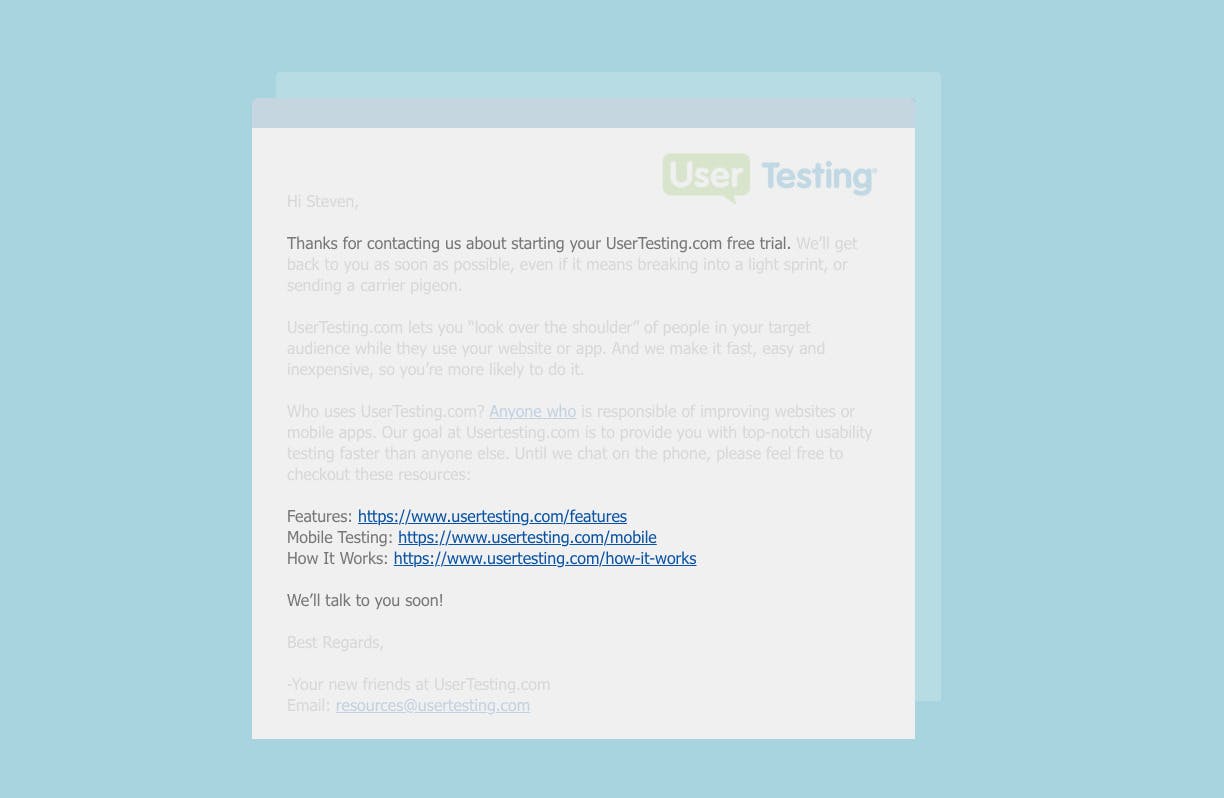 Credit: SuperOffice
User Testing, a marketing solution provider, sends a simple email to promote a free trial of its product. And it also provides some solid reasons why people should use the product.
Product education email
Keep your users informed about your products and services with product education emails. Use them to educate customers on new features and updates, provide guidance and advice on how to get the most out of a product or service, and provide helpful tips and tricks. 
These emails can encourage customers to try out new services they may not have considered. The copy may focus on your users' pain points and how your service can provide a solution.

Credit: MailBakery
This is an excellent example of an education email from Heroku, a cloud programming platform. It shows the customers how to use the product and how it's different from other similar applications.
Video email template
Visual communication is a powerful way to foster relationships and increase engagement with customers and partners. You can share promotional messages, announcements, and training lessons by embedding a video in your emails. A video is better for explaining complex topics or products in a simple, easily understood way.
Videos trigger more emotion than plain text and help businesses capture their target customer's attention. 
If you want to grow your email list, ensure you send a video along with your email campaigns.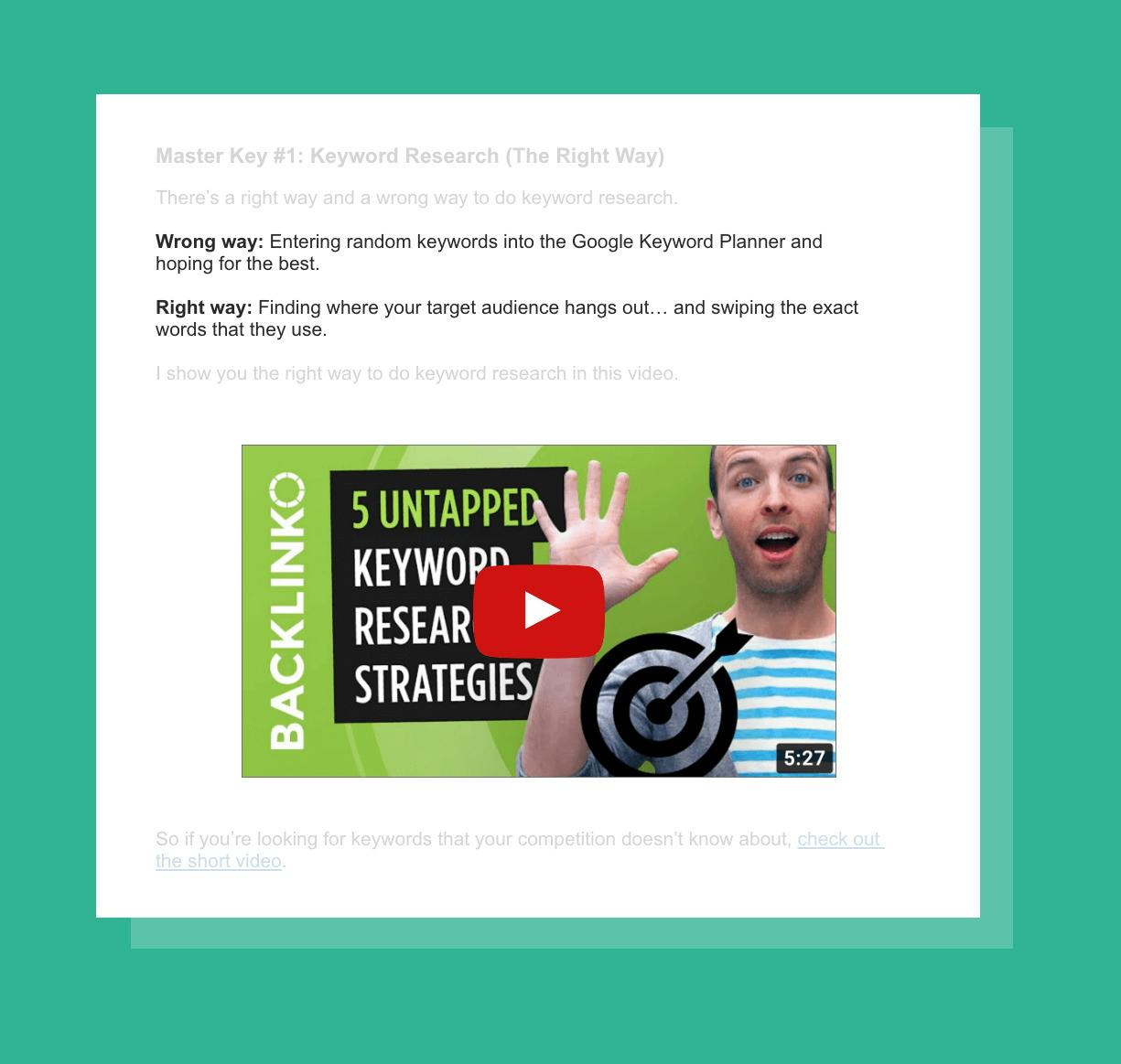 Credit: SuperOffice
Backlinko shares a great example of an effective video email template that drives sign-ups for their blog. Their video email template is simple, to the point, and more effective than standalone text emails.
Product newsletter email
A product newsletter is an email sent periodically to existing and potential customers to provide information about a company's products, services, and news. It can be incredibly effective for businesses looking to increase awareness or promote their products. 
Product emails can showcase customer success stories, new product offerings, and exclusive deals and promotions. They can also keep customers informed on company developments and growth.

Credit: MagePlaza
Moo business card designers know their business and audience very well. They curated the content against several parameters and benefits to maximize engagement and brand awareness. 
Request demo email 
The request for a demo email is sent when you want to get a feel of how your email marketing will perform before sending out emails to your entire list. A large number of marketers send a request for a demo email and use the feedback to fine-tune their email marketing strategy.
Consider sending out an email blast and requesting a demo of your product or service. This approach will help you become more familiar with your subscribers and help you get fresh leads for your sales team.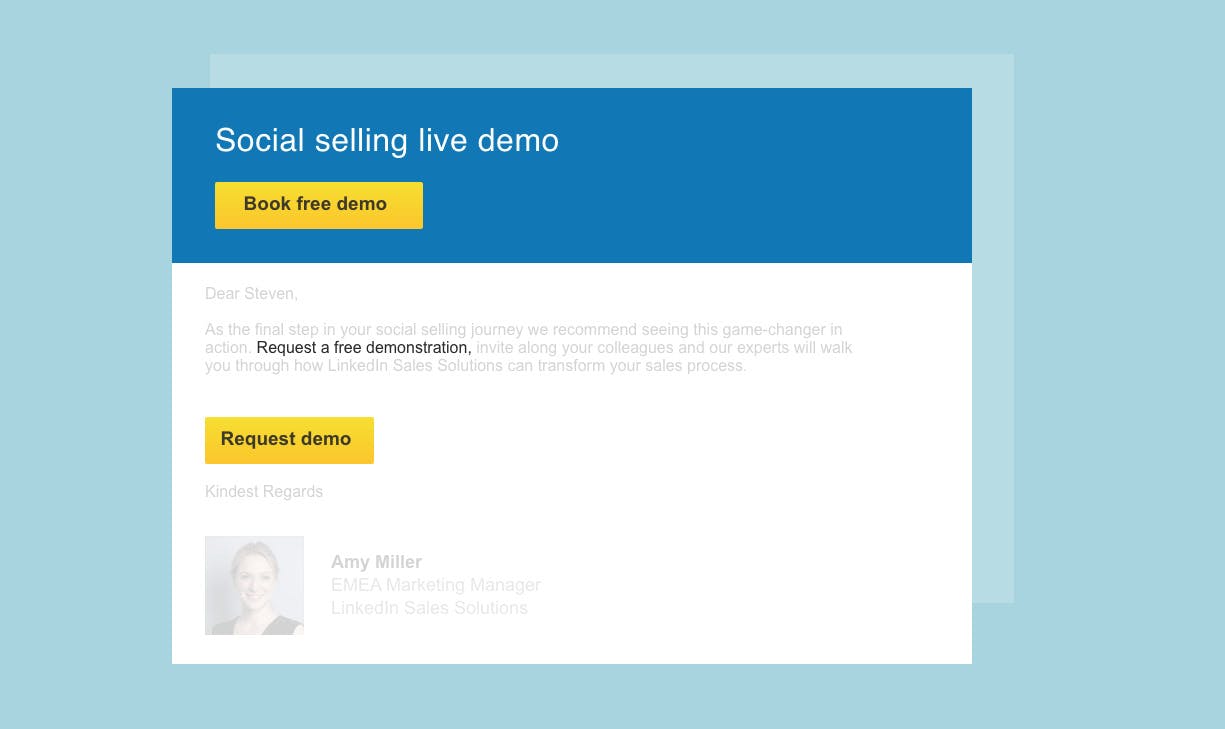 Credit: SuperOffice
Here's an example of how Software Advice uses a request for demo email to generate leads for their B2B marketing automation software.
Thank you email 
Another type of B2B email marketing example is the thank you email. If your subscriber downloads or purchases something from your store, you can send a thank you email. However, refrain from including any follow-up or sales content in this email. 
The only thing you should ask for in this email is customers' feedback. You can include a quick survey about their experience and use the responses to improve your business and make the process smoother for future customers.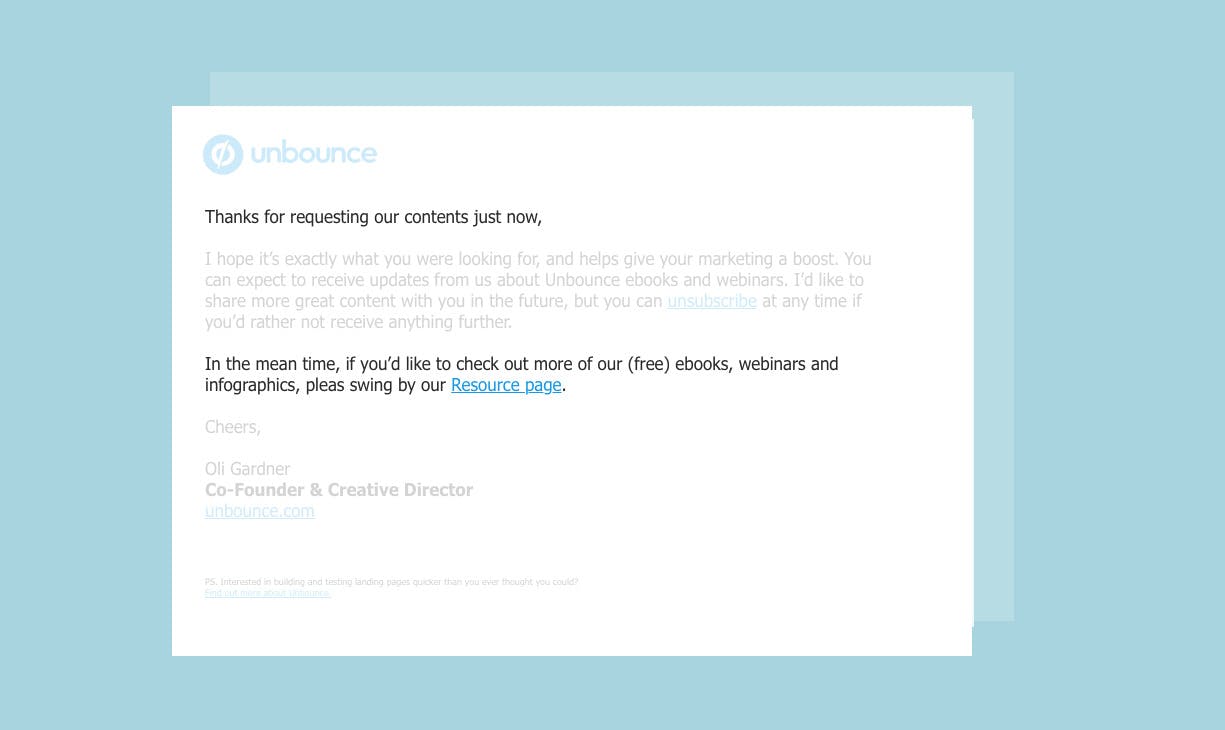 Credit: SuperOffice
In this example from Unbounce, they ask the subscribers to tell them what they liked and what they would like to see in future e-newsletters. 
Asking for feedback right after onboarding a subscriber increases the chance of getting a response from them. 
Activation email
An activation email is sent to new users when they sign up for an account or a service. This email contains a link that needs to be clicked on for the user to activate their account and access the services. It is used to verify the user's email address.
Through this service, businesses get an extra layer of security when verifying new accounts. It also helps to prevent fraud and abuse of services by ensuring that a legitimate user has created the account.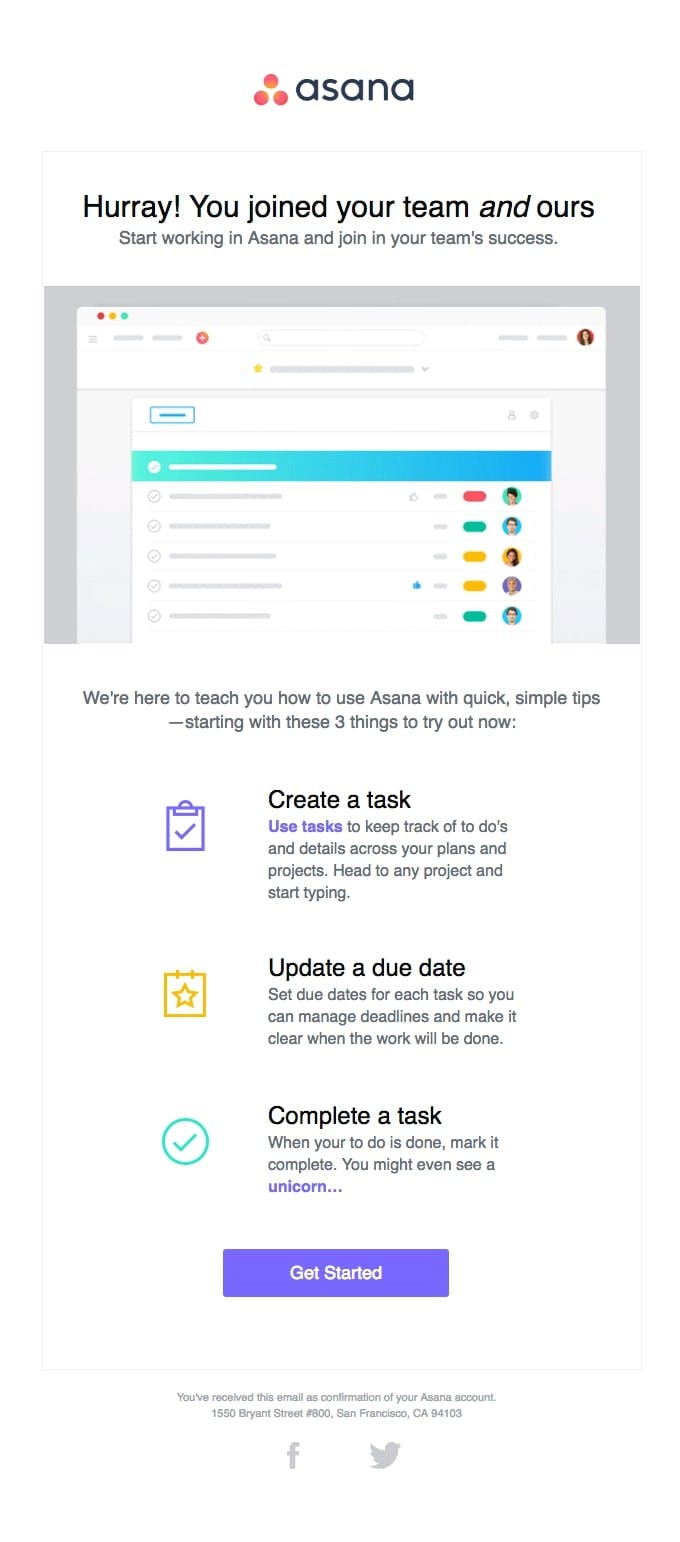 Credit: MagePlaza
However, an activation email could be more than just featuring a verification link. This email from Asana is an excellent example of keeping your customers happy and engaged with a personalized copy, which is crucial to growing your business.
Awareness email marketing
Not all subscribers in your email list are your customers. Brand awareness emails can be beneficial if you want to generate sales from them. 
These emails are designed to create recognition and understanding of a brand. It uses a combination of persuasive copy, visuals, and interactive elements to grab the target audience's attention and create a lasting impression of the brand. It is commonly used as part of a larger marketing strategy to increase sales, as it helps to create a stronger connection between the business and its customers.
Awareness email is one of the few forms of marketing that can deliver significant returns with measurable values. For this reason, it has a much higher clickthrough ratio than other types of emails.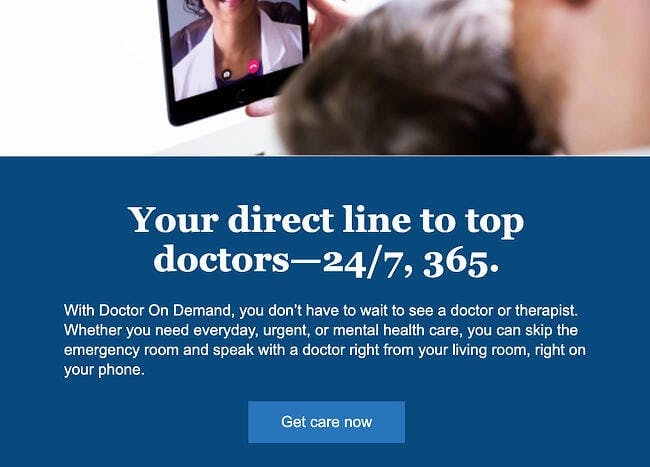 Credit: Hubspot
This is a perfect example of a brand awareness email. It clearly describes the service and its benefits. If the subscribers get more emails like this, they will rely more on your service than your competitors when needed. 
Conclusion
B2B email marketing can be a powerful tool for reaching and engaging with potential customers. By personalizing your emails, segmenting your audience, and providing valuable content, you can increase the chances of your emails being opened and acted upon. 
The B2B email marketing examples provided in this post demonstrate how businesses have successfully used email marketing to drive leads and sales. 
An expert copywriting service can streamline the entire marketing process and tenfold your conversion. That's where Strategically comes in. We can help you create a successful email marketing campaign today.