Scale your content creation with Strategically AI
Write and install 100s of articles with just a few clicks
Get five free articles
What is content writing? Definition and examples
Brands use data to understand the behavior of consumers. They analyze what consumers search for online and the kind of content they would like to consume. They then use this information to create content to market their products or services. 
It's, therefore, safe to say content is what creates a bridge between brands and consumers. If you're marketing, it means you cannot ignore creating content. 
When the content is excellent, consumers engage more. They spend more money, spread word by mouth, and become loyal customers. On the other hand, when content is low quality, consumers will not engage with your brand, meaning no business for you. 
But don't fret. The latter won't happen to you. There are content writing agencies that can help you create 100% authentic, reader-friendly content at scale.
This post will look at different types of content writing and examples to give an idea of what you can do for your brand. 
What is content writing?
Content writing is part of marketing that involves writing, editing, and publishing content in digital formats. This content can be blog posts, landing pages, white papers, case studies, etc. 
Content writing can also be defined as art. This is because there's a lot that goes into writing content. The content needs to have structure. It needs to have thoughts logically put together to paint an idea and drive a point home. It also needs to be grammatically correct and engaging for the audience. 
What's more, depending on the angle you want to take when writing content- whether you want to use humor, be inspirational, or be educative- you should never forget that the end goal is to get the audience to take action. This can be to complete a registration, schedule an appointment or buy a product. 
This is why content writing is part of inbound marketing (a content marketing methodology that involves using content tailored for your audience to attract them rather than cold-calling them). 
According to HubSpot, 70% of marketers are actively investing in content marketing. This is because it's effective and inexpensive. 
Various forms of content writing
This section may be a bit surprising to you as with most people, when you speak of content writing, they think about articles. Content writing is more than writing articles for your website. 
Writing emails to your subscribers is content writing. Writing a social media post for your followers is content writing. Even writing a script for your podcast or videos is content writing. 
Content writing is extensive. Here is a list of the different types of content writing.
Emails
Podcast scripts and descriptions
Video scripts and descriptions
Case studies
Newsletters
Social media posts such as Facebook posts, LinkedIn posts
Sales copy
Web page content
Press release
Keynote speech
 However, even with all this broadness, the content writing process is roughly the same. You start with a content strategy. This helps you come up with topics making it easy to write relevant content in your area of expertise. 
You then do your research. Research is paramount in ensuring you write factual and high-quality content.
Next, you need to create an outline and then write your content. 
Writing content needs all this preparation because you need to craft content that can easily win you more organic traffic. More organic traffic means your readers are finding your content helpful. It also means you're likely to generate more leads and sales. 
That said, let's look at different examples of content writing to fill up your creative juices. 
Examples of content writing
There are millions of content writing examples on the web. 
And today, we will look at a few of these examples.
But before that…
While you may be a pro at writing some nice pieces of content for your brand, having someone specialized craft the content for you is unmatched. A professional content writer knows how to use words to evoke emotions and connect with your audience. They know how to write helpful search-engine-optimized content.
A great example of where you can get top-tier content writers is Strategically. We offer award-winning content writing services that are sure to make your content marketing efforts bear fruits. Get started for free on whichever content you need to be written. 
Now to examples!
How to start investing as a freelancer blog post by Indy
An email by Jon morrow- I want you back
Youtube video content by Income school and Think Media.
Case study by Strategically- 0 to £1 million in revenue in 12 months
Podcasts content writing by Tiny Leaps Big Changes and Beyond the to-do list
Newsletter by Medium
Social media posts by Keia, Mailerlite, and Amazon
Landing pages by Curology and Canva
Product descriptions by Myka and Thesus 
White papers by Samsung and BBN
Press releases
Keynotes speeches by Oprah Winfrey and Mel Robbins
Sales copy by MooseJaw
Product reviews on SurferSeo and Samsung S20
Web page content by Trello and Codeable
How to start investing as a freelancer blog post by Indy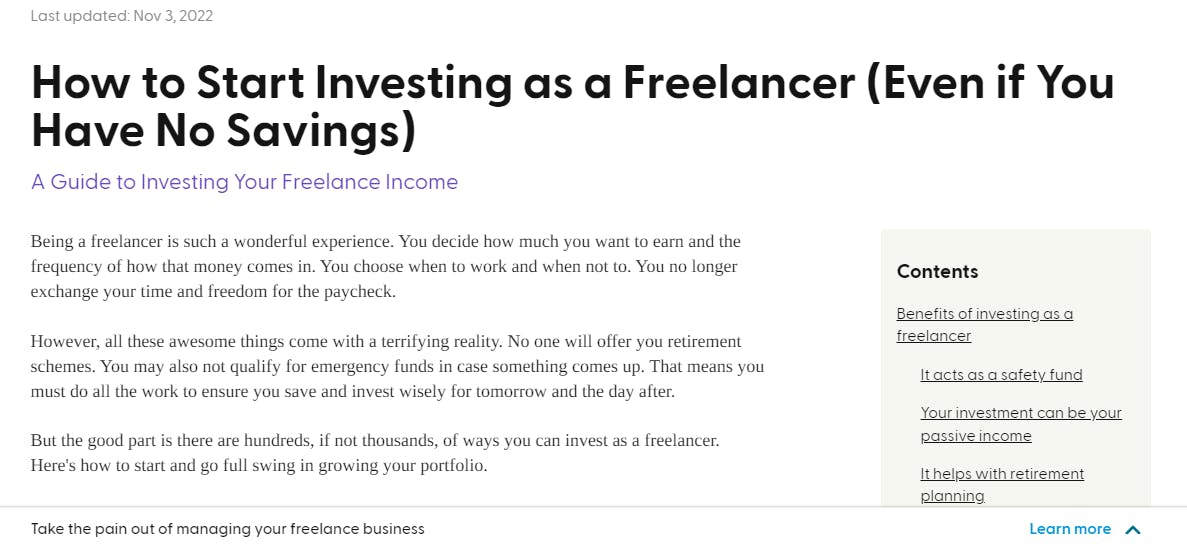 Image: A screenshot of Indys blog post being discussed
A great example of content writing as a blog post is this article written by Indy. Indy is s project management software, and they know how to best not just talk about the technicalities of software. To be honest, their target audience doesn't want to know how the software is made and the rest of the unexciting information. 
Their audience wants to know how the management software will benefit them. But there's a caveat to that. You cannot always discuss the benefits and features of the service you're selling in all your articles. You'll run out of ideas. 
You need a new fresh angle for each article. And that's what Indy did with this blog post. They looked at what freelancers (their base customers) need and matched that with what they offer. 
The whole piece is very engaging. A look at the intro, you can feel the great balance of both sides of having a freelance job and still not having a solid financial backup.- "Being a freelancer…You decide how much you want to earn and the frequency of how that money comes in... You no longer exchange your time and freedom for the paycheck. However, all these awesome things come with a terrifying reality. No one will offer you retirement schemes. You may also not qualify for emergency funds if something arises."
This section screams, "I want to start investing right now." This is a great way to hook readers and get them reading to the end.
An email by Jon morrow- I want you back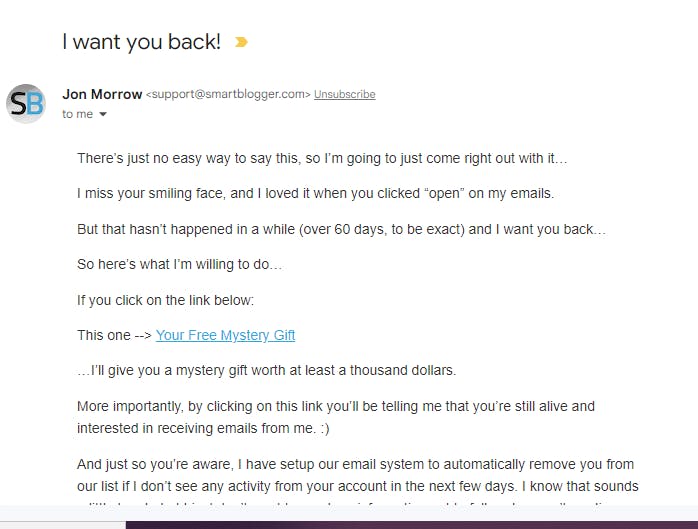 Image: A screenshot of Jon Morrow's email
This email by Jon Morrow is so powerful that you will never miss any of his emails again. The subject "I want you back" is very personal and intriguing. 
The entire content in the email has a conversation and friendly tone, which makes subscribers want to engage. 
The first two sentences show he has been thinking about you and have noticed you have not been present. He then moves forward to entice the subscribers with a free mystery gift. This shows he's willing to work to get you back to engaging with him. 
This is very powerful because, as a brand or just as an individual marketing something, your followers will need to forever feel like they matter. They need to feel that subscribing to your emails doesn't make them feel any less of a person. They want to feel valued. And that's a principle Jon understands very well. 
What's more, he gives the subscribers a gift that is relevant to what he teaches about. The gift is also very accessible, meaning subscribers can quickly take action. The email is an excellent piece of content writing.
YouTube video content by Income school and Think Media
Video content is a great place to start if you're eyeing long-form content. This is because you can pack lots of information in a video. 
However, you need to do it strategically. You need to have an outline or a script for the video. This will help you have a clear way to communicate and not forget important things. 
 An example of a Youtube video script includes this video on "4 Ways to Make Extra On Every Article" by the Income school.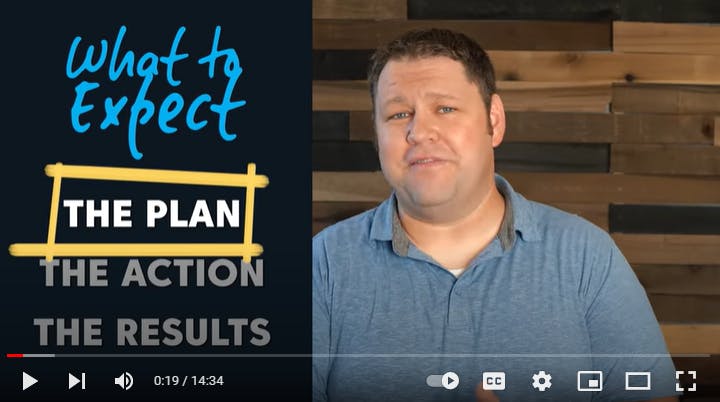 Image: A man talking in a YouTube video
The video starts with the host admitting that he also has not been doing too much for his blog in matters of making extra money through affiliate marketing. This gives the audience the "comfort" they will monetize their blog together. He is not teaching something that he saw somewhere. Rather he is teaching something he is willing to try out. That's powerful.  
He then moves ahead and gives the plan, the actions he will take, and the results. This creates interest and makes the viewers want to stick to the end to see the whole strategy.  
Another video script example is "How to Create a YouTube Channel for Beginners (Step-by-Step Tutorial)" YouTube video by Think Media. 
The video starts with the host addressing what the video will be about. This helps prepare the viewers on what to expect and if they are interested in sticking by to learn more. The host then moves ahead and starts discussing the basic steps, from how to get a google account to how to verify your YouTube channel. 
Case study by Strategically- 0 to £1 million in revenue in 12 months
Strategically has several case studies; among them is the Original Kettlebell case study. The title of the case study is very enticing. Many people would click on it, especially because it highlights three important things. 
The starting revenue, the end revenue, and the time used to achieve this. Many businesses would want to know the details and the process needed to take a business from $0 to £1 in just one year. And that's just what Strategically did with this powerful, exciting title. 
The case study starts by explaining who the client is, where they are from and what they want to sell. It then goes over the problems the client had in matters of content creation. 
The client even said, "We've worked with other writers on past businesses, and we knew that the speed we were working at wasn't going to be possible for freelancers. We also were wary of agencies that take months to get going, then deliver little of immediate value." 
It's a great idea to quote what the client struggled with when writing a case study. This is because it helps paint a picture of what other businesses may be going through. It also builds trust and authenticity. 
The case study then discussed the solution offered to the client. With case studies, you show, not tell. And that's why Strategically added another quote to show that the solution worked. 
The clients said. "The deliverable was simple, understandable, and, most importantly, quick to implement. The team had done an excellent job listening to our needs and sticking to the task." 
The last part was the impact of the work done for the project.  
Podcasts content writing by Tiny Leaps Big Changes and Beyond the to-do list
Podcast scripts, descriptions, and outlines are also part of content writing. An example we can look at is the Tiny Leaps Big Changes podcast script. Episode 100 has the title "Your idea of success is wrong." The host, Gregg Clunis, uses a script to deliver his message. 
As the topic is quite heavy, the writing is reasonably necessary to stay on the topic and not wander around. 
Beyond the To-Do List is another example we can look at. The podcast doesn't have a published script but a published description. 
The description is clear and to the point. It discusses the importance of having a mentor and the rewarding experience of having one. 
What's more, the description creates interest. It starts by introducing the guest, gives a snippet of what happens in the podcast, and then ends with a summary of what will be discussed. 
Newsletter by Medium
When it comes to newsletters, there is a lot to think about. Newsletters are pretty different from emails. And that's where most people go wrong. With newsletters, you have to think about the design and ideas that will make your messaging effective otherwise; your subscribers won't read whatever you have to say. 
For a general newsletter, there are many angles you can present your messaging. This includes using the following:
Round-up of popular or recent content
Vacant jobs in your business
New case studies or product launches
Deals and promotions for your customers
Recent tips you're using
News in your field of work
Quotes
Interesting FAQs and answers in your field of work
Upcoming webinars or recordings of past webinars
Some great examples of brands doing great with their newsletter include Medium. 
Medium is a blog-publishing platform. Writers from all around the world use it to share their content with their audience. And as you can imagine, there are very many articles. Even if you are interested in one particular topic, there's too much for your eyes to filter.
Due to this reason, Medium uses its newsletter to bring great content to the surface. They pick several articles from the people you follow and send the articles as a newsletter to you. 
Medium newsletters work because, first, it feels very minimal. The brand uses section dividers that hold tons of articles without making the email look overwhelming. Second, Medium offers a daily and weekly newsletter that allows readers to opt-in to any of the emails they feel most comfortable with its frequency.
Social media posts
Social media posts tend to be short and to the point. They are typically used to introduce something, for example, content on the website, a new product launch, discounts, etc.
If the post is going to be posted on your personal social media page, it doesn't have to be "serious." It can be personalized. You can share your journey. You can also write an inspirational or motivational post. 
Some examples of social media posts include:
Linkedin post by iCheckGateway CRO Keia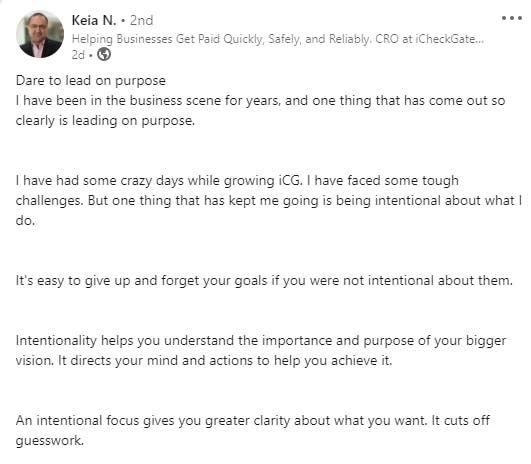 Image: Personal post posted on LinkedIn
This is a personal post, and it hits the nail where it should. The post is motivational and touches on Keia's personal life. He creates a connection with the audience by being open and authentic. A part of the post reads, "I have had some crazy days while growing iCG. I have faced some tough challenges. But one thing that has kept me going is being intentional about what I do."
The language used is friendly and uplifting. And Keia doesn't leave his followers stranded wondering if being intentional helped him succeed. He concludes by saying it did help him. He also uses a call to action at the end; He asks the audience to tap into the mindset of being intentional about their day. 
MailerLite Linkedin post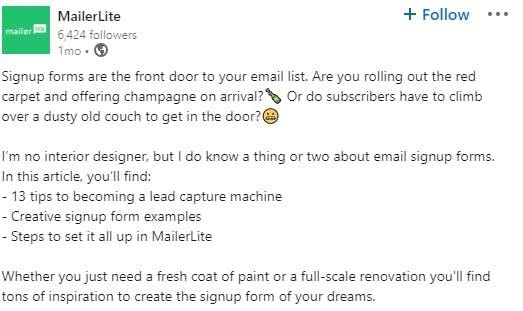 Image: A Linkedin post by Mailelite 
Mailerlite is an email marketing tool. They have a social media presence, and one of their posts on Linkedin that's a great example of content writing is this post on best practices for newsletter signup forms. 
The post is an introduction to a blog post on their website, and they don't make it boring as most businesses do with a "click here to learn 123".
Mailerlite uses a language that's very lively and engaging. They use questions, bullet points, and emojis, which are great ways to break the text and make it more engaging. 
Something else to love about the post is their use of figurative speech. "Whether you just need a fresh coat of paint or a full-scale renovation, you'll find tons of inspiration to create the signup form of your dreams." This is a great example of a well-written post. 
Amazon LinkedIn post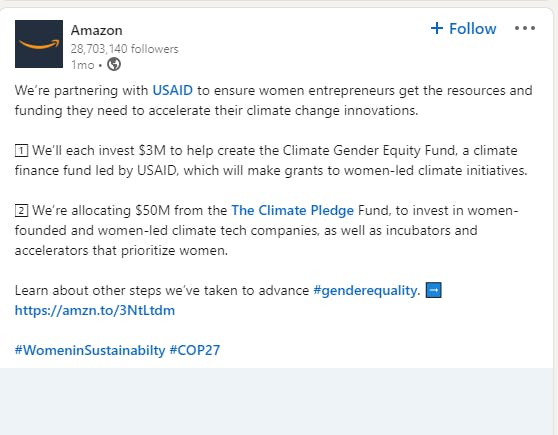 Image: Amazon Linkedin post
Amazon is an American e-commerce company that sells electronics, books, clothes, housewares, and so much more, either from retailers to customers or directly. 
Amazon has hundreds if not thousands of LinkedIn posts, and one that is sure to catch your eye is this post on them partnering with USAID. The post involves funding women's climate change innovations. They are keen to discuss what they are doing and how much they are spending on this. At the end of the post, they leave a link for the audience to learn more about this initiative. This is an example of content writing. 
Sales copy by Moosejaw
This is content written to persuade the target audience to take action. Many businesses use copywriters to craft persuasive content for their websites. This way, the audience feels engaged and intrigued to take action from the home page to the about page to the product description.
An example of a brand that has a great example of sales copy is Moosejaw. The brand uses humor to build a connection with its audience while at the same providing valuable information.
This helps them be engaging and memorable to people visiting their site. Some of the content on their site include: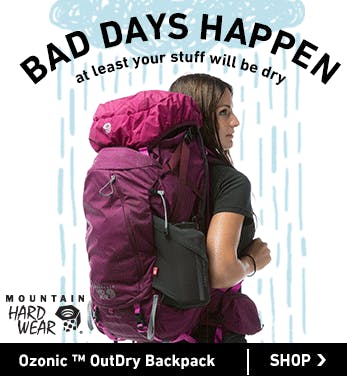 Image: Moosejaws product description of a backpack
When you hover your mouse over a product image, you get this: "Look This Cool."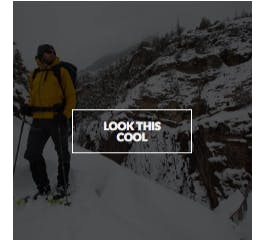 Image: Moosejaw call to action.
The use of humor doesn't stop there. Their product descriptions are also fascinating. Look at how they describe the following product.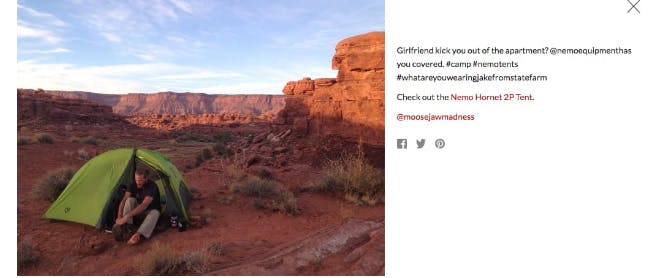 Image: Moosejaw product description for a tent
Landing pages by Curology and Canva
A landing page is another type of content writing. A landing page ought to be unique and well-crafted for your ideal audience. One thing about landing pages, they have to be outstanding. This means the choice of color, images, and text should match your message and, at the same time, be interesting enough to capture the audience's attention. 
A landing page should be a standalone web page specifically used for digital marketing. It should be uniquely made to make your target audience take action. When writing a landing page, use words that create a connection with your audience. Find out your audience's pain points and what they would like to achieve.
A great example of landing page content is this page by Curology. The page is simple and to the point. Every line is precisely written to create interest. From "I was made for you" to "Personalized by experts for clinically-proven results."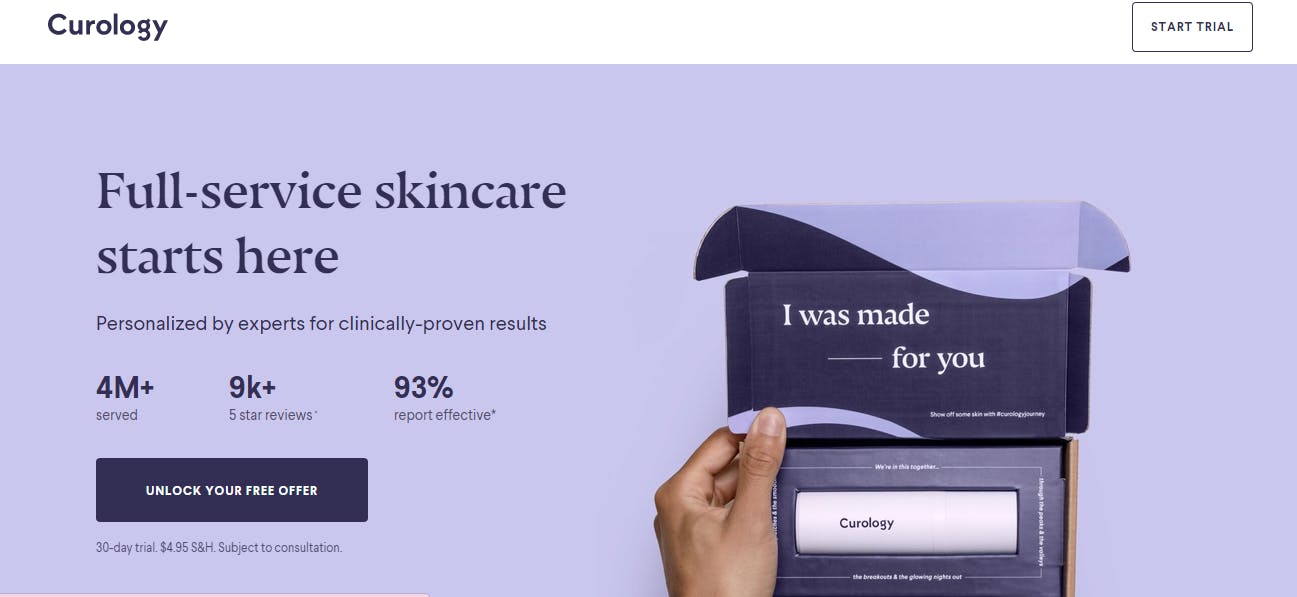 Image: Screenshot of Curology landing page
What's more, the use of different statistics makes it even more exciting to try the free trial.
Another example of a well-written landing page is this canva landing page.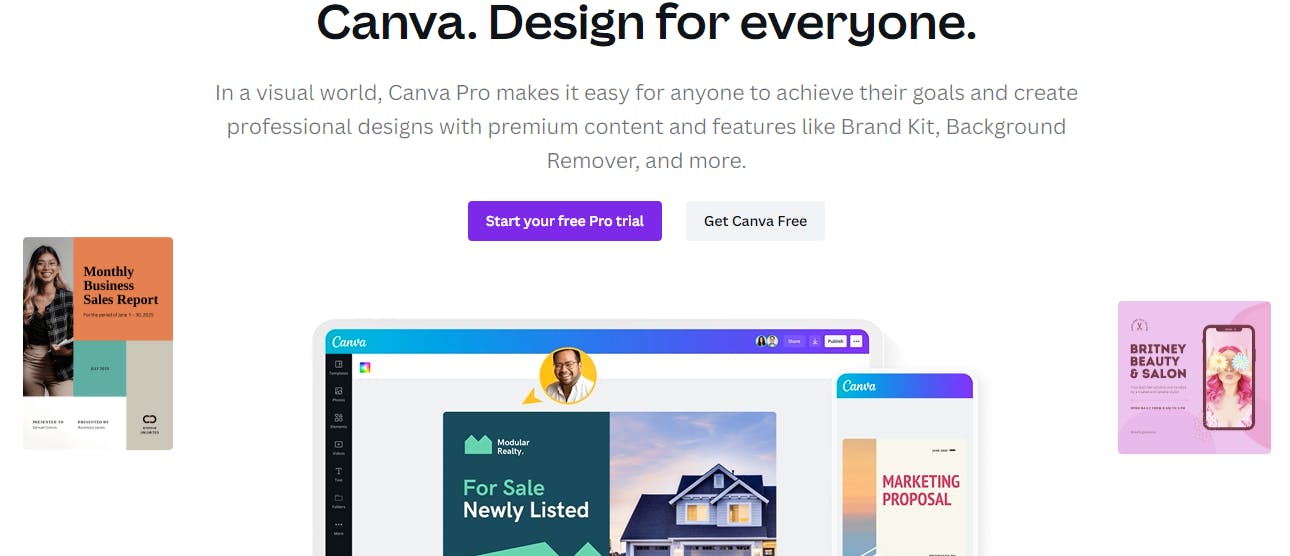 Image: Screenshot of canva landing page
The landing page is long and has everything someone in design would want to know about the tool. They made use of images. They included their pricing. They also listed the features and benefits of the tool. At every end, they have an FAQ page which is also great as it helps answer common questions readers may have before signing up for the tool.  
Product descriptions by Myka and Thesus
A product description plays a significant role in how your buyers will view your business. A well-crafted description makes a considerable difference in the number of sales you make. And Myka, a jewelry eCommerce store, understands this very well. The language they use for their product description reflects the value of the item. 
What's more, the description is short but very helpful in making a purchase decision. Look at this "This mom necklace… can be dressed up or down easily depending on your style, plus it carries a certain charm because of its custom engravings." This encourages the buyers to take action as it shows there are more ways to wear this jewelry. 
Thesus product description is another example we can look at. Thesus is an eCommerce brand that sells outdoor hiking boots.

Image: Thesus product description for boots
The brand makes comfortable, sustainable, and waterproof boots. And instead of the brand just listing these three significant features, they play with words and create an authoritative description that's also very digestible. The description is short, but it ensures the main features, benefits, and where to wear the boots are clearly highlighted. 
White papers
A white paper is a document crafted by a company to advocate that a specific solution is best for a particular problem.
A company that has a well-written white paper is BBN. BBN is a leading B2B marketing agency. It evaluated the effect and benefits of 5 different technologies on marketing outcomes and came up with this white paper.
Samsung also has a white paper that can help you have an idea of how a white paper is written. 
In essence, a well-written white paper should have a format that follows:
Title page
Introduction- include a problem Statement.
Background. Here's where you present all the information you find in your research. You need to research heavily for this part.
Proposed solution
Conclusion
References
Press releases
A press release is an official piece of information made to the news media members to provide information or make an announcement to the public. 
Some examples of press releases include: 
Apple press release on the 2022 Apple Podcasts Award winner.
Press release on J. M. Smucker Co. Issuing a voluntary recall of select Jif products sold in the U.S. with potential salmonella contamination.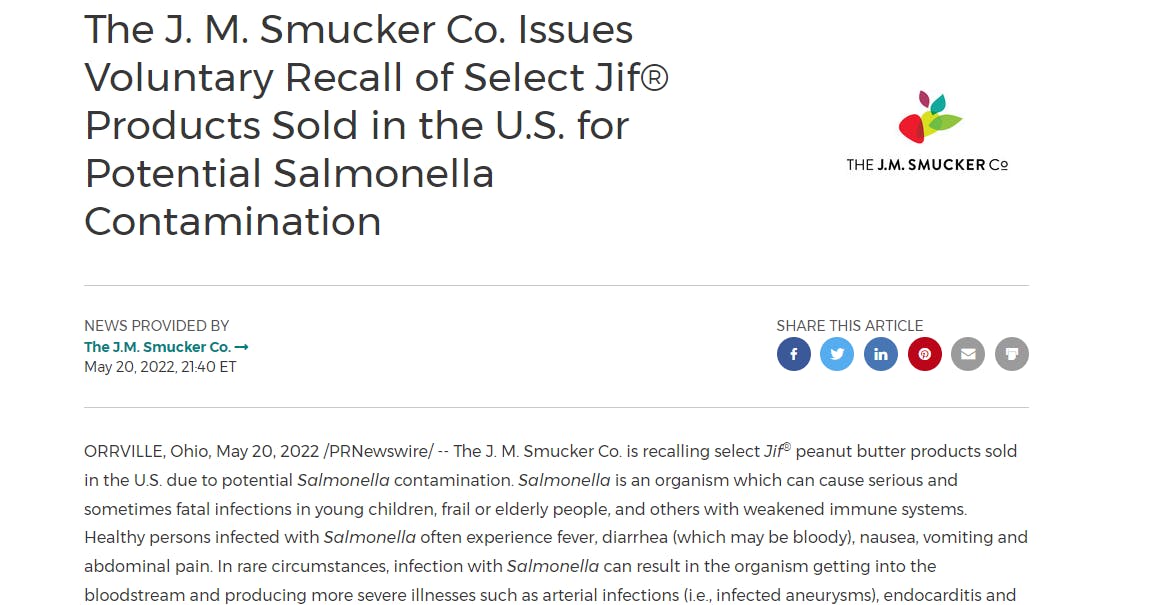 Image: A screenshot of a press release by J.M Smucker
Keynote speeches
A keynote speech is a type of speech that presents an underlying theme of a more significant idea. It's usually based on the speaker's experiences and knowledge but can also include inspirational and motivational messaging.
A well-written keynote speech engages the audience and holds their attention until the end of the speech. It also challenges the audience to take action and be different. 
Examples of keynote speeches include:
How to stop screwing yourself over by Mel Robbin.
Oprah Winfrey's keynote address at the 2018 commencement for the USC Annenberg School for Communication and Journalism.
While you may be a great speaker, there are many elements you need to ensure are all taken care of before and during your speech. This includes:
Building credibility. Your audience needs to trust you to connect with your speech.
Engage emotions. Use emotions to connect with your audience. This can be achieved by using words that evoke emotions, varying your tone as you speak, using facial expressions and gestures, and sharing an emotional story. 
Demonstrate logic. Use logic to present your messaging. This way, the audience can follow through and get the main idea quickly. 
Product reviews
A product review is typically written by someone who has tested the product or service and can give genuine feedback. Product descriptions tend to be long-form because of all the content that needs to be included from an introduction about the product, its features, its benefits, what can be improved, and even its alternatives. Due to this reason, product reviews are typically published as blog posts in the blog section.
Examples of product reviews you can check out include this SurferSEO review by Brian Dean. 
The review clearly shows Brian definitely used Surfer before coming up with this review. With product review, if you pretend you have used a product before and haven't, it'll show in your writing. 
So, aim to review items you have used so as to provide fresh, genuine content for your audience. If someone else is writing on your behalf, send them the product or a link where they can buy the product. 
Another example of a product review is this Samsung S20 review by Techradar. The piece seems honest and doesn't take sides. 
To help you create excellent product reviews, aim to do the following. 
Have a product review summary box- like the one Tachrader has. 
Write from an empathetic point of view.
Identify the product's target audience.
Introduce the solution the product offers
Highlight the product features and benefits
Offer social proof
List product alternatives or compare the product with its recent version or models.
Web page content
Your website has pages. It probably has the home, about us, blog, and product or service page. All these pages have some content that helps tell your audience and the search engines what each page is about. 
Different websites use unique styles for their web pages to connect with the audience and simultaneously drive the message home. 
An example of a well-written web page is the Trello home page. This page uses words that uniquely describe what Trello does for its customers. For example, at the very beginning, they use this sentence. "Keep everything in the same place—even if your team isn't." 
The language used throughout the page is clear and concise, which is what users need to learn how to use the tool. 
Another example is Codeable. Codeable uses short, descriptive sentences, making it easy to digest the information. They also use short paragraphs, making it easy to skim through. 
Something else that stands out is the use of statistics and quotes from past customers. This is very powerful. It helps site visitors quickly understand what they can get from the platform. 
Need top-notch content for your business? We can help!
As you can see, content writing is broad. It cuts through social media posts, web content, marketing copy, and so much more. 
If you are already creating content for your brand, that's great. You need content to sell your products or services. You also need content to establish yourself as an authority and thought leader in your field. 
As a brand, you may need different types of content. You may need content for your website, social media platforms, and even content for other websites, aka guest posts. 
You may also need content written by professionals and at a large scale. And that's where Strategically comes in. 
With Strategically, gaining 600% more traffic in just 12 months is not a far-off fetch dream. We offer SEO-optimized content that's reader-friendly and 100% original. Our content writing agency has expert freelance writers who are experienced in various niches, so we can work with you no matter your industry. 
See what our customers say about us:
"This company has been like a breath of fresh air for me! Responsive, inventive, and always has great ideas. I'm really enjoying working with them and loving that they deliver on time and what they promise."
Lucy Cohen, Mazuma Money
"The team was able to wrap their heads around the product we work with, which is a metrics product for SaaS. The content is filled with specific product-related knowledge that really speaks to our audience and helps us talk with our customers! Definitely recommend working with them!"
Lindsey Rogerson, Baremetrics
 We have the experience and knowledge to help you craft top-tier content. So contact us, and let's discuss your content writing needs.